NEREIDA, MISTRESS OF THE AMSTERDAM FETISH SCENE!
Living in Amsterdam for six years, Nereida Lopez has taken the local kinkster scene by storm. From dramatic stage performances at the biggest fetish parties for straight and gay alike, to modelling for top fetish designers, and now as assistant manager at the Mister B shop in Amsterdam, Nereida has us all bound and gagged waiting for more of her fiery, kinky ways. As her in-shop colleague and friend, I am excited to have a chat with Nereida to ask her all the questions about her past, present, and future as leading lady of the European fetish scene.
Frank: 'Nereida, thanks for chatting with me today! I'm very excited to be interviewing you. It's sort of like the professional version of me being nosey and asking you all the questions I normally would at work. Today I want to dig deep with you into the abyss of your dark mind to give the people what they want, up close and personal. Without further ado, let's dive right into the questions! I already know about this first one myself, but for our readers: can you tell me about working at Mister B?'
Nereida: 'Thanks chico. Well, to be honest, it's like a dream come true. Mister B has always been a very iconic name to me, one that I've been following for a long time and which I have always loved for what it represents. I'm really happy to be part of the Mister B family, I love my naughty colleagues, I can be 100% myself when I'm at the shop, and I get to do all that ànd give sex and fetish advice to our customers. It's the best of all worlds. I really love talking about sex and fetish all day!  Plus, some people think Mister B represents something perverse and wrong and I really love being part of that.'
F:  'She says with a smile on her face. I love it, me too! Okay, more about your other (bodies of) work. You've done some amazing fetish modelling in the past few years, can you tell me about some of your favourites?'
N: 'Yes, I've had the opportunity to work with amazing designers, like Sebastian Cauchos, my favourite, but also Demask and Brigitte More, as well as some very cool new brands like L'Adinda Latex and Xanthé. I also did some amazing, extreme bondage scenes with Bob RopeMarks which was a lot of fun too!'
F:  'Yes. I love Sebastian's stuff, it's so sexy and sophisticated. Now, for some juicy, wet, personal questions. What was your first experience with fetish?'
N: 'Ohhh, I can't remember that far back haha!'
F: 'Okay, fair. Then tell me how fetish became a steady part of your sex life?'
N: 'I've always been a very curious person, but especially when it comes to sex. I've always been really excited about trying new and wild things, so, I think I have always been doing new and wild things in sex since I started, so I guess fetish has always been a natural part of it all since the beginning.'
F:  'It's like it's simply in your nature to be kinky. That's fab! So what kind of scene really turns you on?'
N: 'What turns me on? Mmmmm, I'm excited by the forbidden. [*smiles mysteriously*] I like doing the thing that we shouldn't be doing, you know what I mean?'
F: 'Oh, I know what you mean.' [*winks*]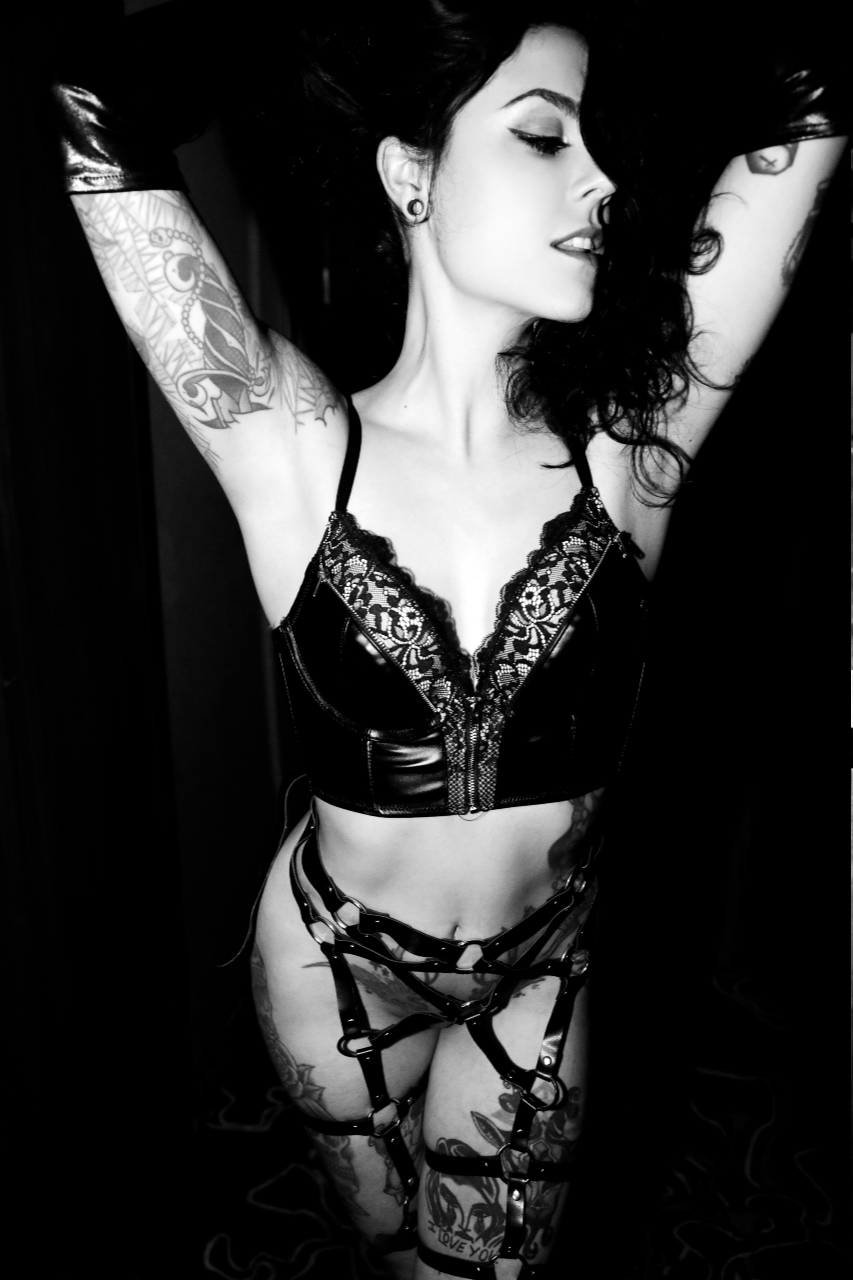 Photography by: Lior Nordman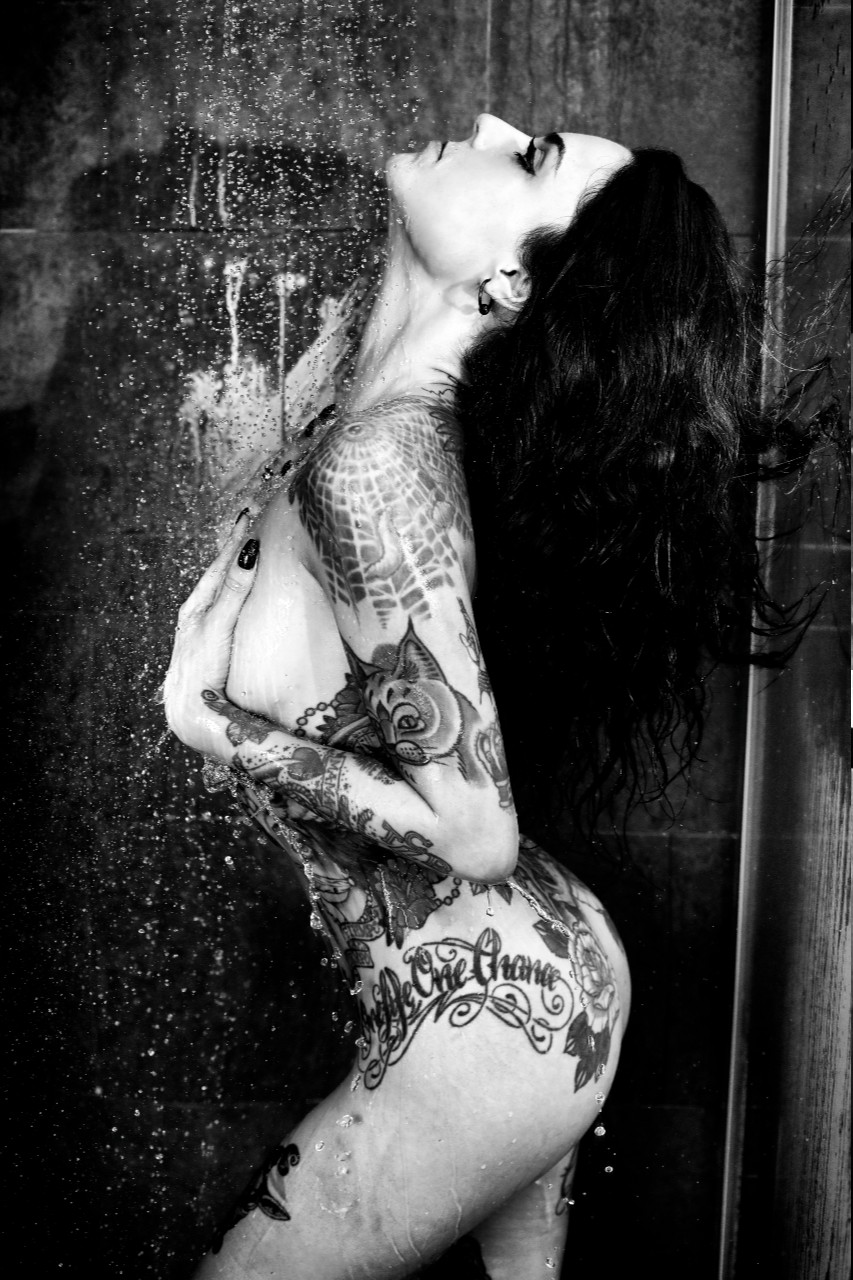 Photography by: Lior Nordman
N: 'Yes, the adrenaline generated by a naughty situation or scenario can get me very excited. To be honest, that actually goes for all things dangerous, I just can't help it….or myself ☺'
F: 'I think danger is your middle name!'
N: 'Yes! I love danger! I love what most people are afraid of,  the unusual, the wild, the risky ànd the risqué. However – and maybe this may not seem as obvious – I also get really turned on by flirting. You know: that first look, the first touch, the tension, feeling the anticipation of something new, the buildup. I love all that stuff when you meet someone new because there is so much mystery and tension in the air.
What also turns me on, partially because I have such a strong personality myself – and I know I do – is to be with someone who has the confidence to take control. Like, I hate when a guy asks me if he can do something when we are having sex, like, no, don't ask me, just do it! Be brave! I think It's basically all about the passion, you know. I don't want an ordinary lover, or a boring guy, I want someone who can keep up with me, I want madness, I want a fucking thunder storm! [*laughs out loud*] For this, I guess I need someone strong, right. I don't mean just physically strong, but I mean emotionally strong: someone who is brave, not easily afraid of things, intelligent, a good man, humble, compassionate and not afraid to show how much he cares about me.'
F: 'Yes, you are definitely one to keep up with. You are also very brave, intelligent, and compassionate, so it sounds like you're excited by a man who can be all those things with you. And I think that answers my next question a bit already. What turns you 'off' completely?'
N: 'I don't like it when a man doesn't have confidence.  I like a guy who knows what he wants and then  goes for it. You know what I mean? To be honest: so very few men can really handle me, and that's okay, I don't want just any man anyway! If it's too easy I don't want it. I know guys that can fuck every girl in town because they are good looking, but that's not enough for me, I need more than a nice face and a good cock. He has to be more than just that. I need to be challenged.'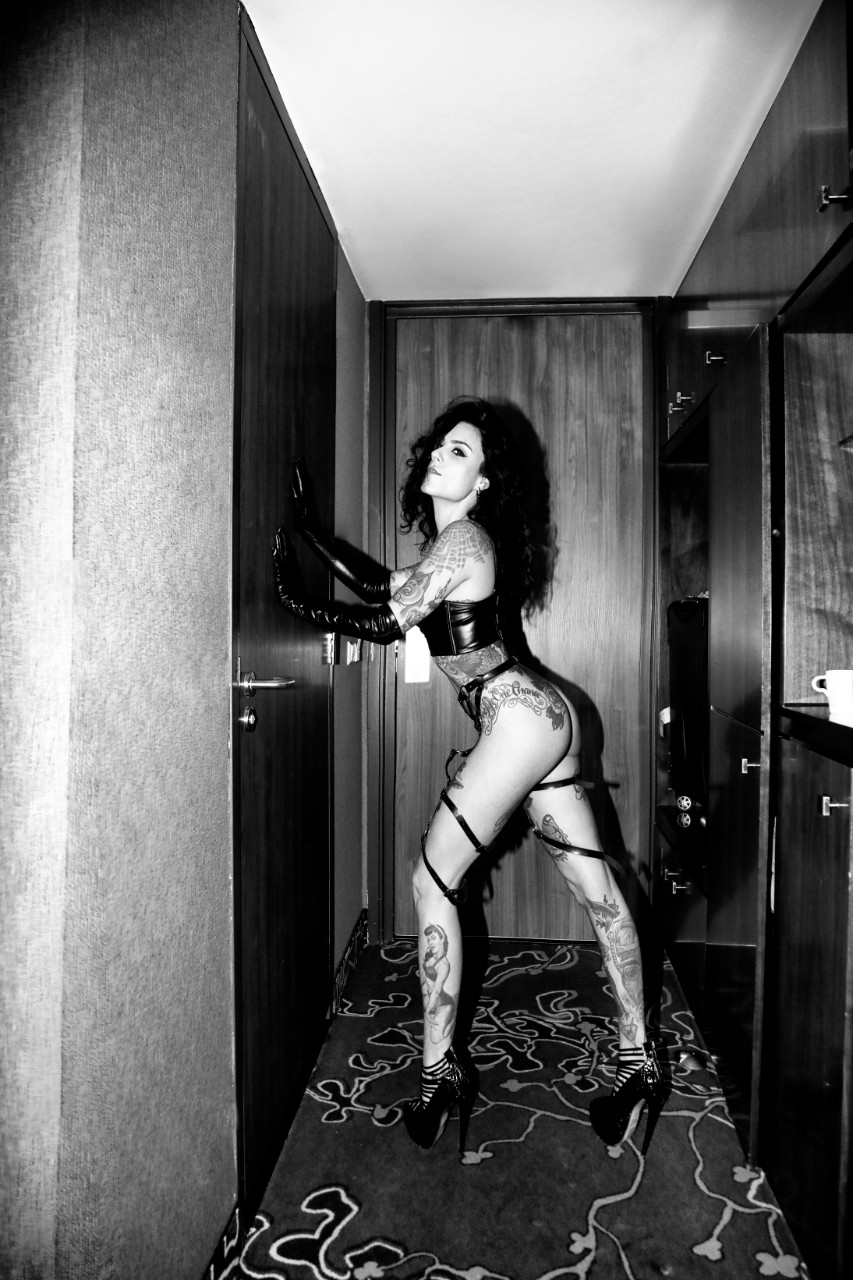 Photography by: Lior Nordman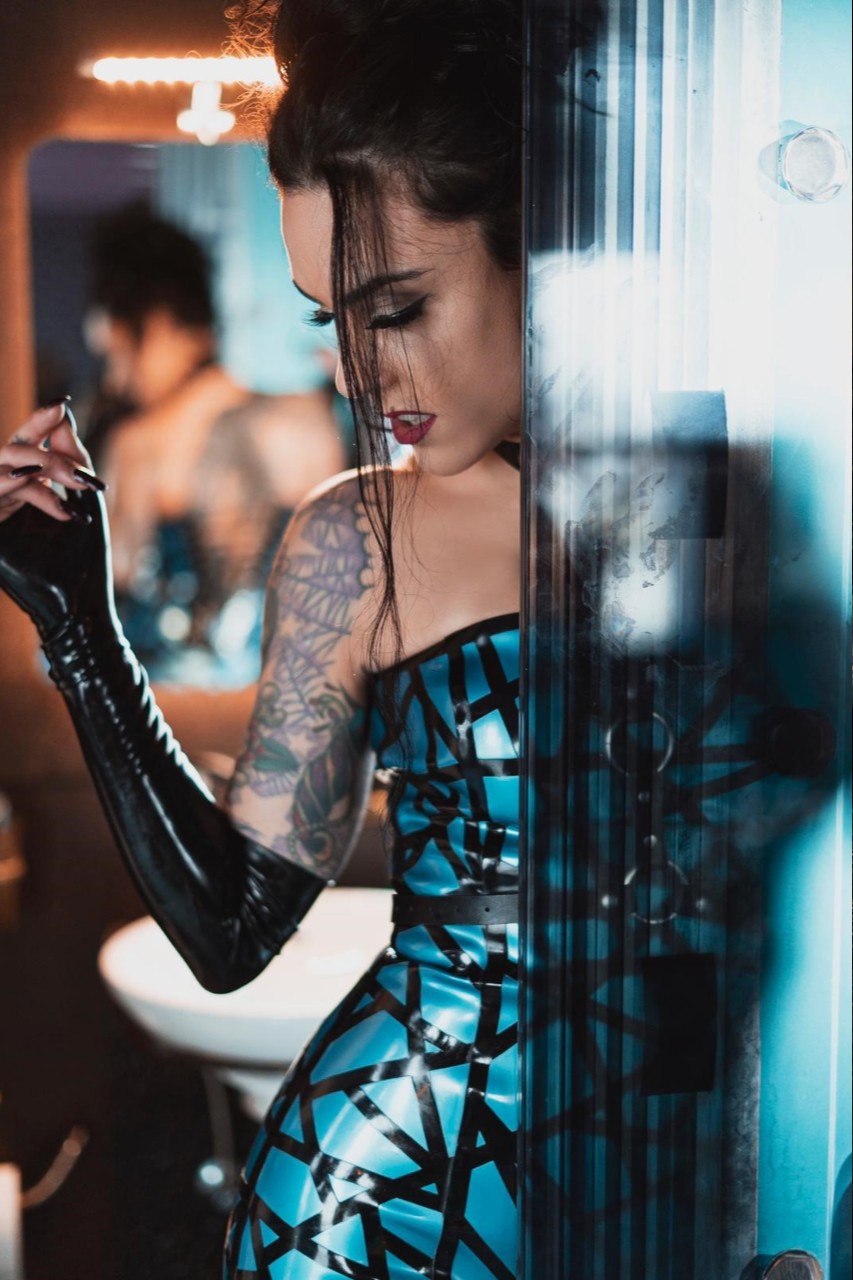 Photography by: Vignesh Rajendran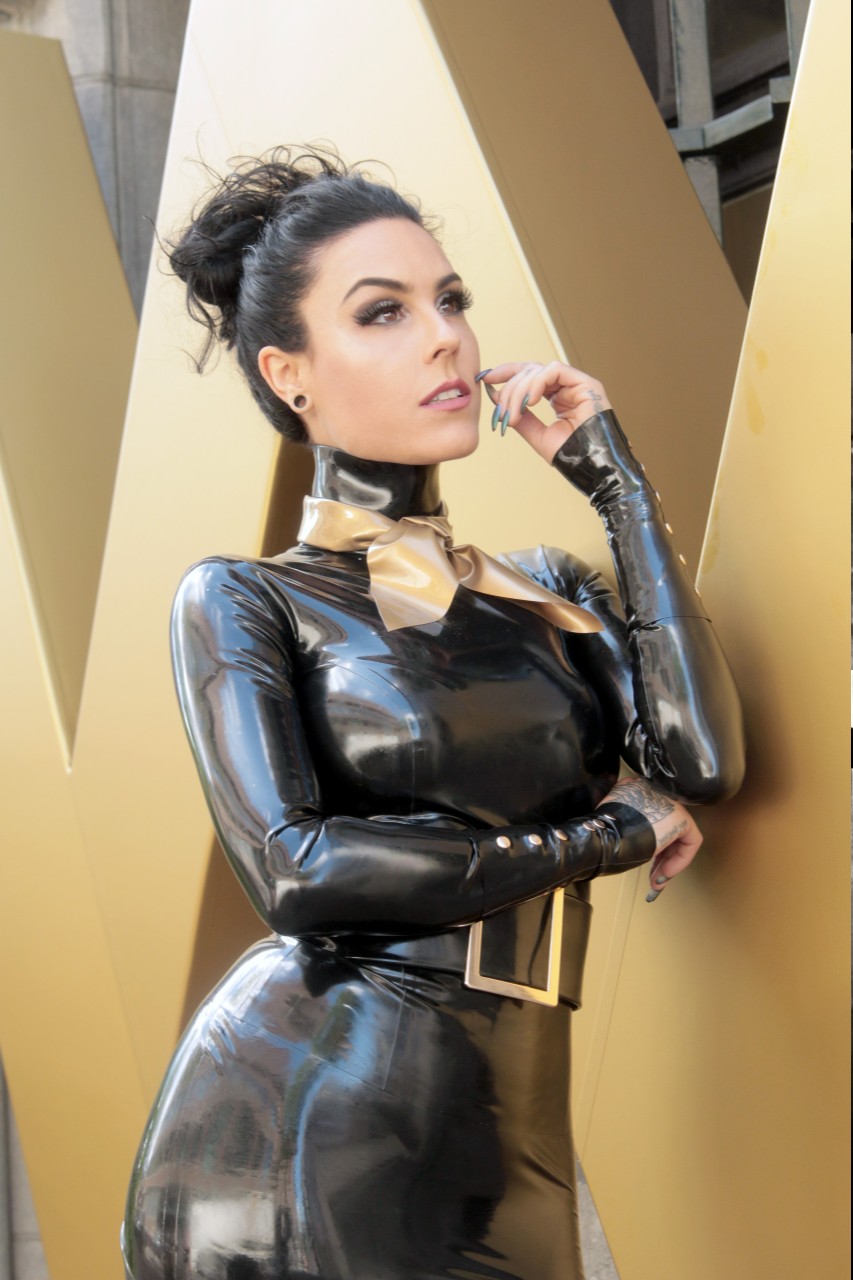 Photography by: Sebastian Cauchos
Styling by: Sebastian Cauchos
F: 'Yes, you seem to always be up for a challenge. I noticed that you recently added fire breathing to your list of fetish performance talents. That seems like a dangerous challenge! Right up your alley!'
N: 'Yes, exactly. Well, as you know, I like to try everything, so when my friend asked me to try performing with fire I said yes, of course, let's do it! And we just got into it right away. I didn't hesitate because, obviously I love danger, but next to that love to put my body to its limit, focusing on something intensely and pushing myself to do things that many other people may be afraid to do, in this case: working with fire. I honestly get such an adrenaline rush from it; It thrills me. Like when I did hook suspension: I wanted to push my body to its limit and see what I can handle and how much I could handle. It's that feeling of being on the edge. I can handle pain, I can handle emotions, and I am definitely addicted to adrenaline, so it only made "sense" for me to do it.'
F: 'You certainly are a daredevil!'
N: 'That's right ! But I also love working with fire simply because it is so mesmerising to watch. It adds extra excitement to a performance, something that I love to do. Performing on stage makes me feel powerful. Having all eyes on me, getting all that attention, keeping people waiting for my next move. I get very excited by that.'
F: 'Of course you do! So then, what is the wildest thing you've ever done?'
N: 'Oh I don't know, there have been so many crazy things. There are some things I've done that were crazy the first time I did them, but, I do regularly now so it's hard to say. I do always say it only seems kinkiest the first time you do it, whatever it may be!'
F: 'Right, what does wild mean anymore anyway? And what's normal nowadays? I definitely don't know any more! [*laughs*]  I'm sure your list of generally considered wild things is long though. We'll just have to keep checking Instagram to see what wild thing you post next then!  Speaking of which, I am sure that of the thousands of followers you have, there are many young people who look up to you. Who are, or have been your sexual or fetish role models or idols?'
N: 'Well, when I was little, like 6 or 7, I became obsessed with Elvira, Mistress of the Dark ☺'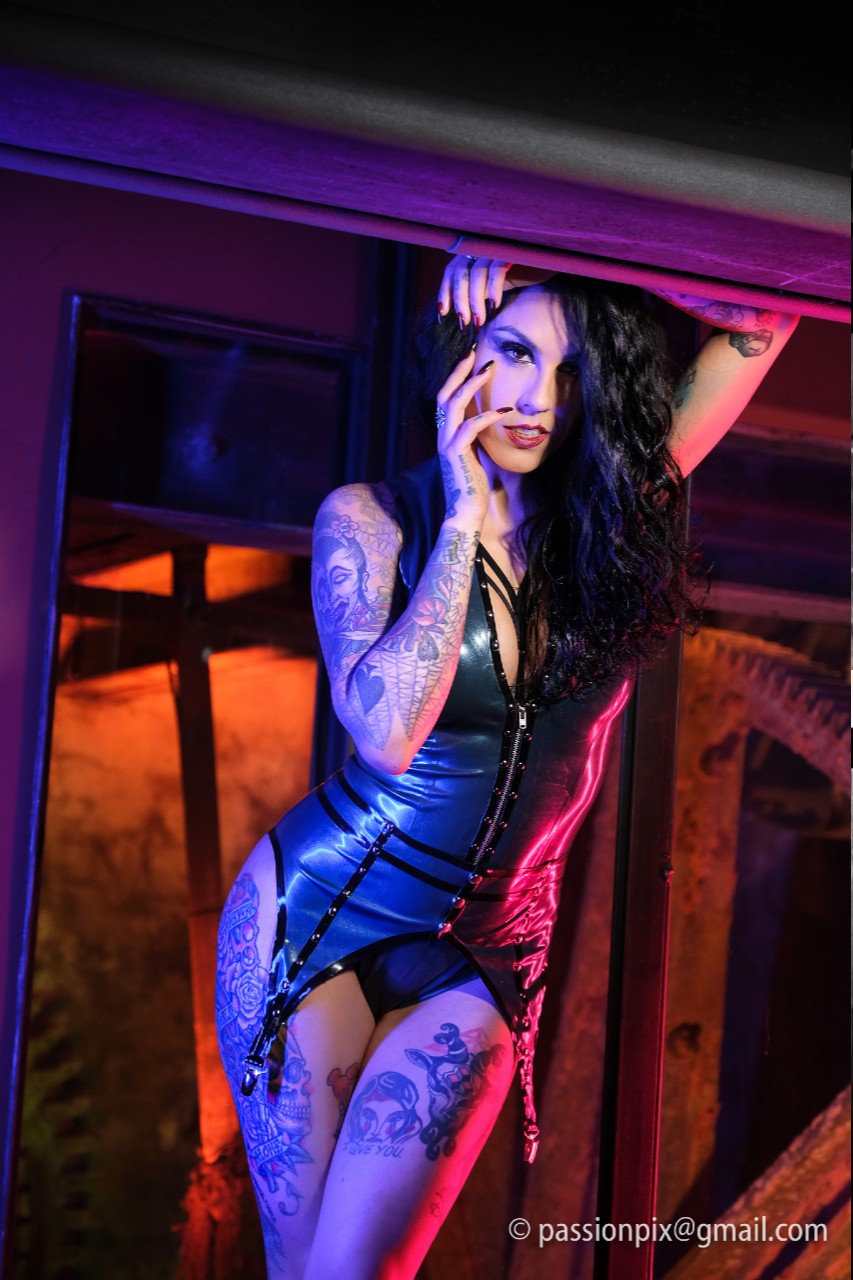 I think danger is your middle name!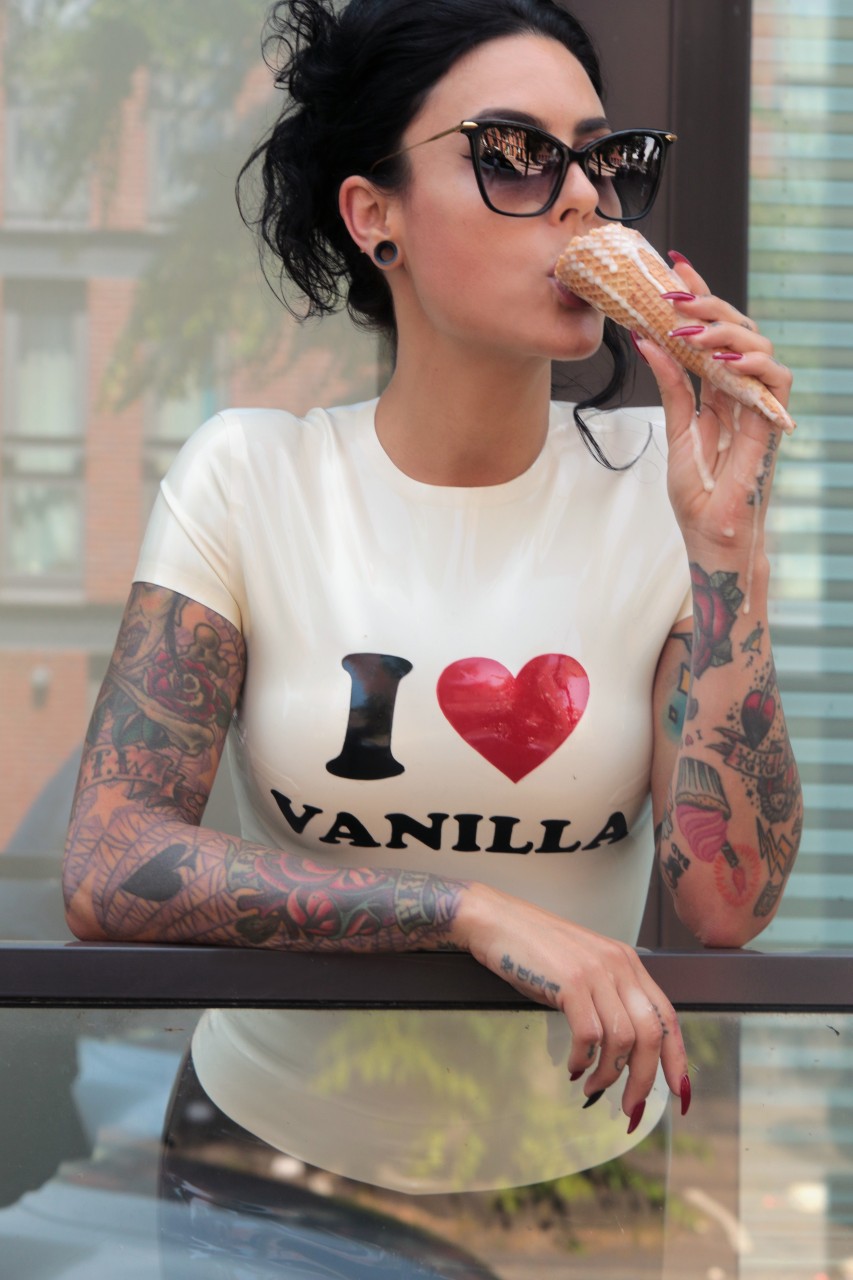 Photography by: Sebastian Cauchos
Styling by: Sebastian Cauchos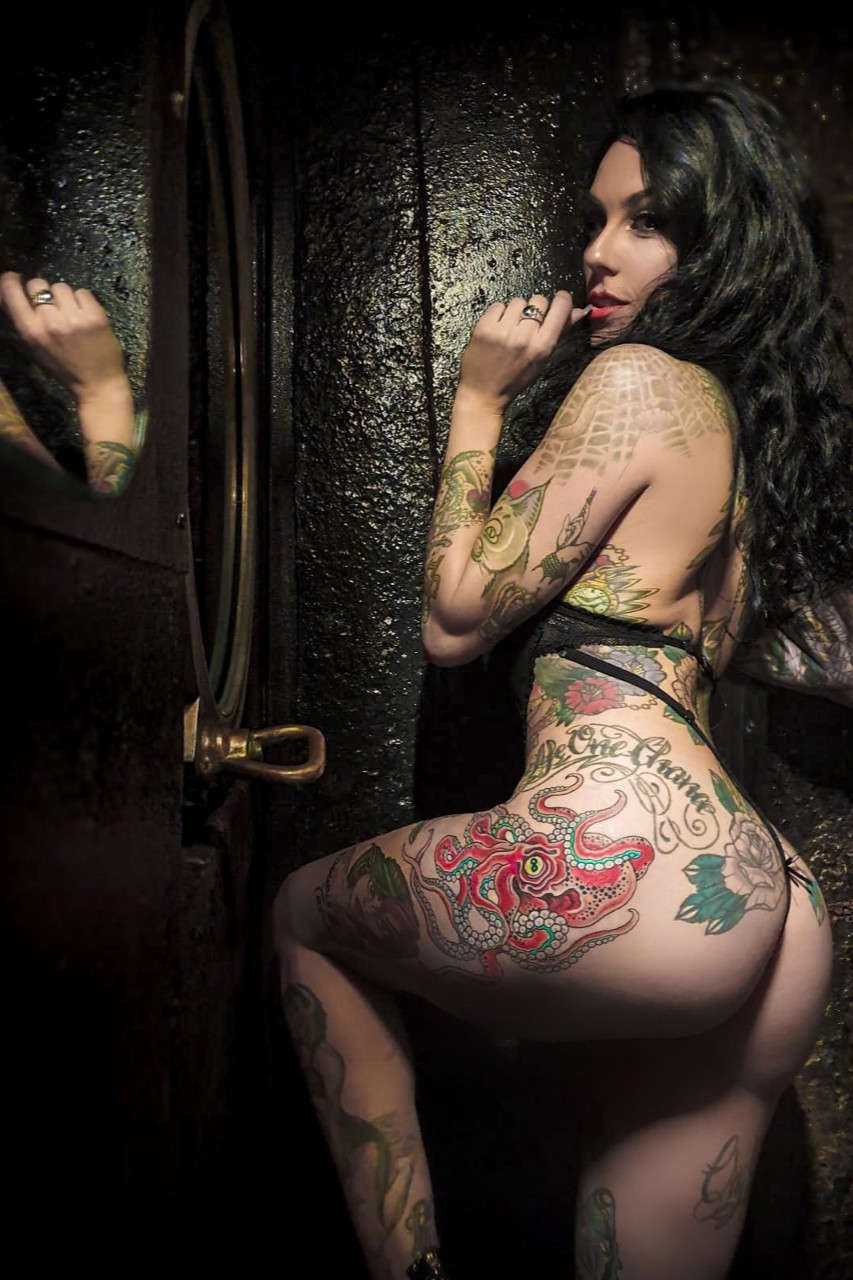 Photography by: Vignesh Rajendran
F: 'Hahaa! Of course you were! I love her too!'
N: 'Ya, I loved how she was such a powerful and independent woman with high heels and all this sexual, fetish-y expression: tight black dress, red lipstick…I loved it all! I wanted to be her. I didn't know exactly what it all meant at the time and I didn't really understand the sex jokes, but I knew it was sexy somehow. She was sexy and I admired her for it. I still think she's amazing.'
F: 'I agree.  Iconic. Okay, just a couple more questions. What would you say is the proudest moment of your fetish career?'
N: 'I know this is gonna sound corny, but it's working for Mister B.'
F: 'Go on.'
N: 'Besides admiring the brand for so long, and besides the fact that I hung out at the shop on Warmoesstraat a lot in my spare time, as well as doing shows and other work with the company for so long, it basically has brought my fetishes to life. Like, I don't go to the office and do this on the weekend – I'm fully living in a fetish world. It's all around me all the time and I couldn't ask for anything more.  I really love my job and it makes so much sense for me to be working here and I am very proud of it.'
F: 'That's amazing and I completely understand. As a true slut, I'm also so happy to be working around sexuality all day, so I totally get it. It's so much fun and such a privilege to be in the middle of the Amsterdam fetish world.
Okay, last question. What is some advice you have for a 'newbie kinkster' who is just starting out?'
N: 'Well, I always say if it doesn't fit, spit on it! [*laughs out very loud*]'
F: 'Hahaha! Classic & classy advice!'
N: 'No, but seriously, I'd say: if it feels good – just do it!'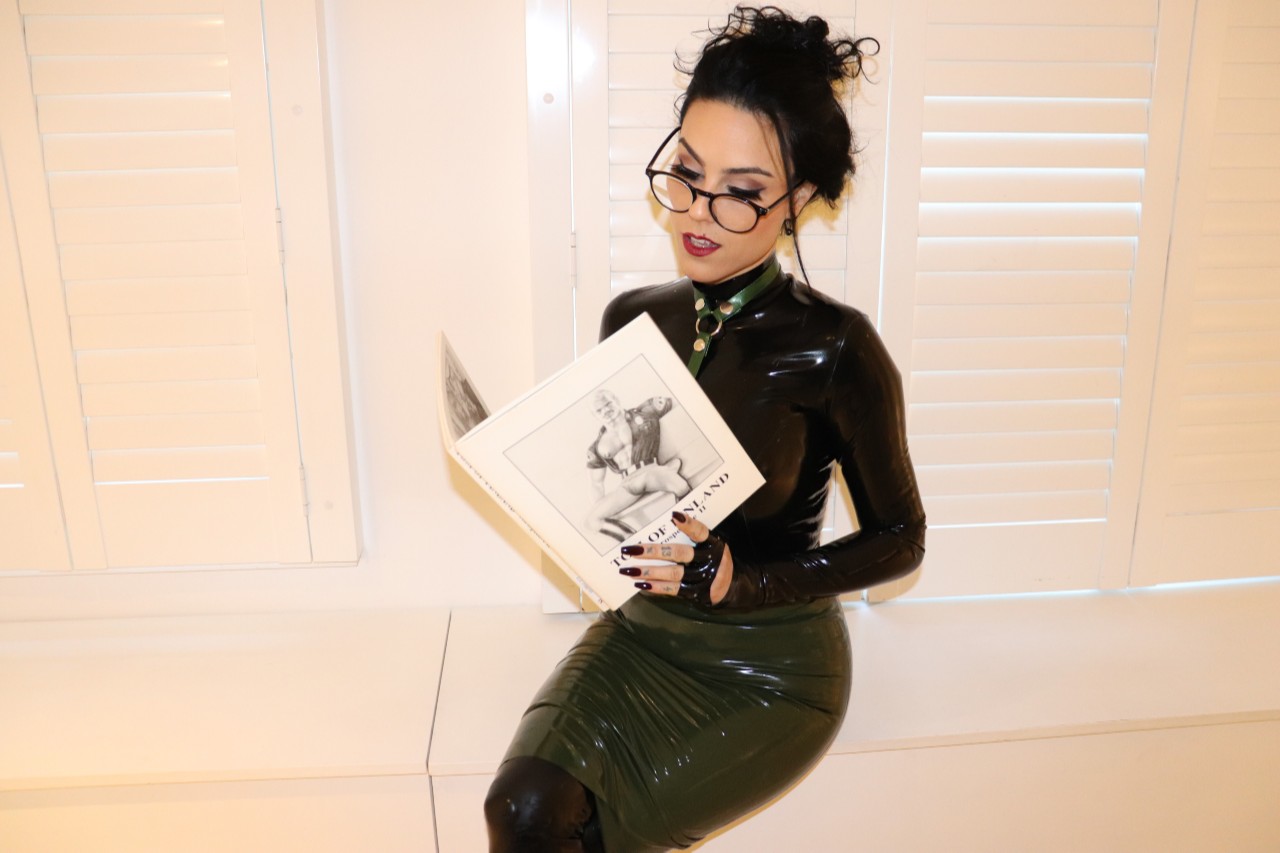 YOU CAN SEE ALL OF NEREIDA'S AMAZING PERFORMANCES, LOOKS, AND GET THE LATEST ON HER DARING ACTIVITIES ON INSTAGRAM @NEREIDADEADLYSIN
OR STOP BY THE MISTER B AMSTERDAM SHOP TO SAY HI!