In our new segment, 'Love & …', WINGS set out to explore the 

intricate 

and often 

complicated

 

nature of romantic relationships entwined with

 

fetish. For its first edition, we sat down with Rich and 

Horia

 – a recently engaged couple in love

, 

who share an active and extremely

 kinky sex life.
So first, tell us the love story! How did you guys meet? 
R: Well, it is not the most romantic beginning of a love story. We just met on Grindr for a sex hook-up. We did that in May and then again in July, but it wasn't until August that we actually had our first proper romantic date. 
H: I planned that. It was during the week, so he had to work the next day. I wanted to play it safe for the first date, so I booked an Italian restaurant close to where he worked. I was very presumptuous, however, and went ahead and booked a restaurant that had rooms above! 
R: It was quite an old restaurant, and the walls were very thin. After dinner, we went to our room to… you know! And then, around midnight, we got angrily knocked on. We didn't know by who, obviously. At breakfast the following day, there was just one other guy in the place, and I found out from the waiter that it was indeed just the three of us staying there. It was so very awkward – having to sit across from him, humbly eating our breakfast as he scowled furiously at us! 
How has your relationship developed since then? 
H: We have been dating for just over two years, but it feels like we have been together a lot longer than that. Things have moved quickly – we are getting married in December! 
R: Quarantine definitely pushed things along. About six weeks after that first date, I got a new job which took me to London. I lived there for about two months, and then the pandemic happened. They closed our office, and there I was, potentially going to be held up in my London apartment with my flatmate. So, I told my boss that I would work from Nottingham for the foreseeable future, and I moved up here. 
H: Well, he didn't 'move up' here. He came here for a weekend. And then, when they closed his office, he never left. I didn't really get a choice with him moving in or not! But I am happy he did. 
Let's talk about sex! What are some of your fetishes, and have you tried anything new recently? 
R: There is a lot, but I would say the main one is rubber. We also like ass-play, fisting, water sports, CBT, nipple play… the list goes on. We both match so well with our kink interests. We have actually discussed at length during our time together that it is one of the reasons we got into this relationship. 
H: When we first met, he came over and fisted me. Back then, he couldn't take it himself yet and… well… let us just say we made good use of our time during lockdown! Now he loves it. Another thing we tried recently is medical play. We did the whole catheters thing and stuff like that. He also let me pierce his nipples in the middle of a session because I had the clamp and needles and spare bars. 
Sounds like you two know how to have a lot of fun! Do you share the good times with other guys? 
R: We have a strict rule that we only play together. There is not necessarily any fetish that we don't get in our relationship that we would need to go elsewhere for. And we are both versatile. So, if people are joining, then they have to be prepared that it is going to be three of us or more. And I would say people are only joining us to add to the fetishes we already have rather than fulfill a fetish that the other one is not into. 
H: I think one of the reasons we invite someone to play with us is because we both have a bit of a cuckolding fetish. But it is also a recognition that absolute monogamy doesn't work for us. We have found a balance that allows us to have that satisfaction of getting with other people without some of the trust issues that sometimes come from fully open relationships.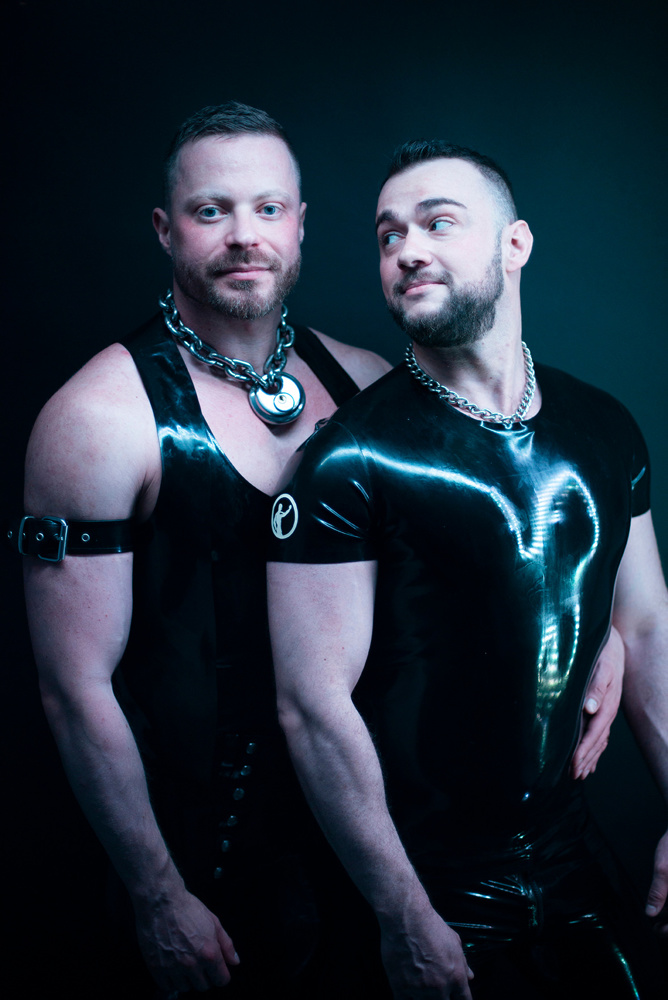 With such a wide variety of kinks and both of you being versatile, how do you approach planning a session? 
H: I guess the key factor to making a kinky relationship work if you are closed, or relatively 'monogamous', is being open with your partner. If one of us wants to try something that we haven't done before, we will sit down together, discuss it, and agree before anything else happens. 
R: Both of us go through our own phases of being sometimes more dominant and sometimes more submissive. It's about how horny we are feeling and the type of horn we're feeling. There can be periods that last even several weeks where one of us is in a really submissive headspace and just wants to be used and abused. The other will go along with that. And then, all of a sudden, we will switch roles. We are always open to that. Especially if we are planning a kinky session for some time, we are usually quite good at saying how we feel and what we want from it. 
How do you balance the fetish aspects of your relationship with the romantic part? 
R: We have both gotten really good at being able to get deep into that kinky headspace and then get out of it just as easily. That way, it never prevents or disturbs the romance. When we just want to sit here and cuddle on the sofa and watch a movie, it's not like one person is going to say, 'Hey boy, find something on Netflix, I can't be fucking bothered!'. 
H: For us, it's more about bringing fetish into a sexual act and not into every aspect of our lifestyle. I guess a lot of people would call that compartmentalizing. But in actuality, we are just very aware of when it is the right time and place for fetish and when it is not. 
Thank you for sharing your story with WINGS, and congratulations on the wedding! Wishing you both a happy and kinky marriage. 
Head over to Instagram and follow
Rich @RubberRich and Horia @RbberKink
there you will be treated to hundreds of pictures of these two sexy men in an impressive selection of rubber outfits!
All images by @papi_photo_uk