In our segment 'Love & …', WINGS set out to explore the intricate and often complicated nature of romantic relationships entwined with fetish. For its second edition, we caught up with Marcus and Nick – two leather men from Russia, who are dating and making it work for them, despite both preferring the active and dominant role in BDSM.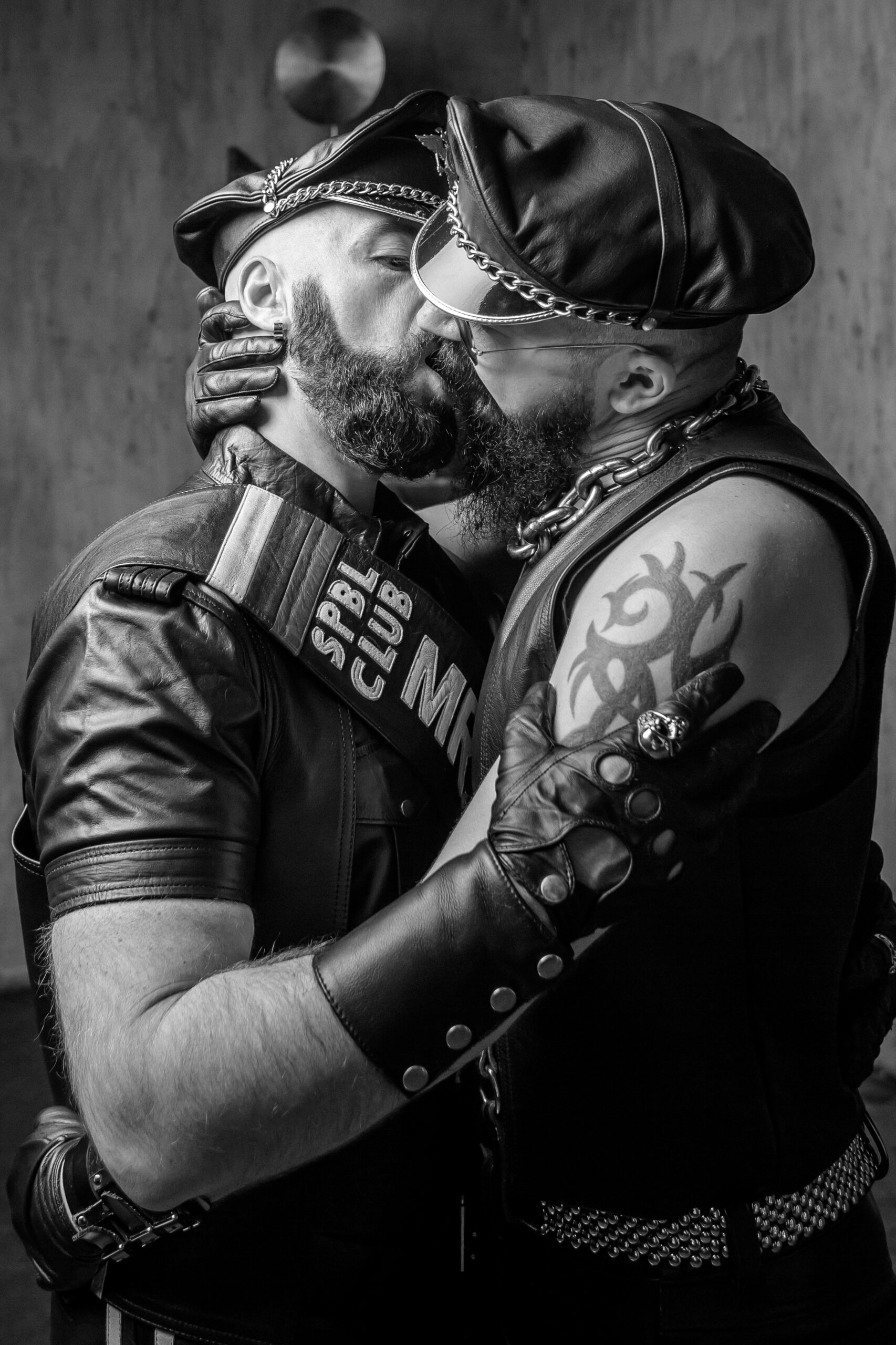 Let's start with love! Tell us when, where and how the two of you have met? 
N: "We met just over three months ago in October of '21, on stage during the Mr. Leather Russia contest. It was the first time we'd ever even seen each other. Neither of us had followed the other on social media or hit each other up on the dating apps, so it was like starting with a blank slate. Nowadays, with everyone being so present online, you go into meeting people already with expectations of what you think they are, which can somewhat tarnish the experience, especially when the preconception doesn't match reality. We carried none of that with us as we walked on to the stage that night." 
M: "Our connection, which sparked right there and then, was and still is based solely on the intangible chemistry and physical attraction we feel towards each other. I won the contest, and I am the current Mr. Leather Russia. On the other hand, he may not have gotten the title, but he got the titleholder, so he won something! The contest was in St. Petersburg, but we both happened to live in Moscow. So, a couple of weeks after we'd both gotten home, we met up for a drink, and then things escalated pretty quickly. And here we are!" 
Definitely a story to tell the grandkids! Now for the part of that story you would probably leave out, let's talk about your fetishes. 
M: "Well, asides from leather, I am also into rubber, and Nick loves cigars and finds smoking extraordinarily hot in general. He's a regular smoker anyway, so he can't pretend it's only as part of the fetish, but it sure does go well with the whole subculture of being a kinkster! However, leather is definitely our biggest and most prominent fetish and where our interests align. The look of leather is our favourite aspect and that unbeatable smell that penetrates your mind. The feeling of the leather on your skin, tight on your skin and giving you a constant hard-on. Also, the slight squeaking and crackling sound it makes as you walk and fuck. And lastly, of course, the taste on your tongue as you lick it. All five senses ignited – hot bliss!"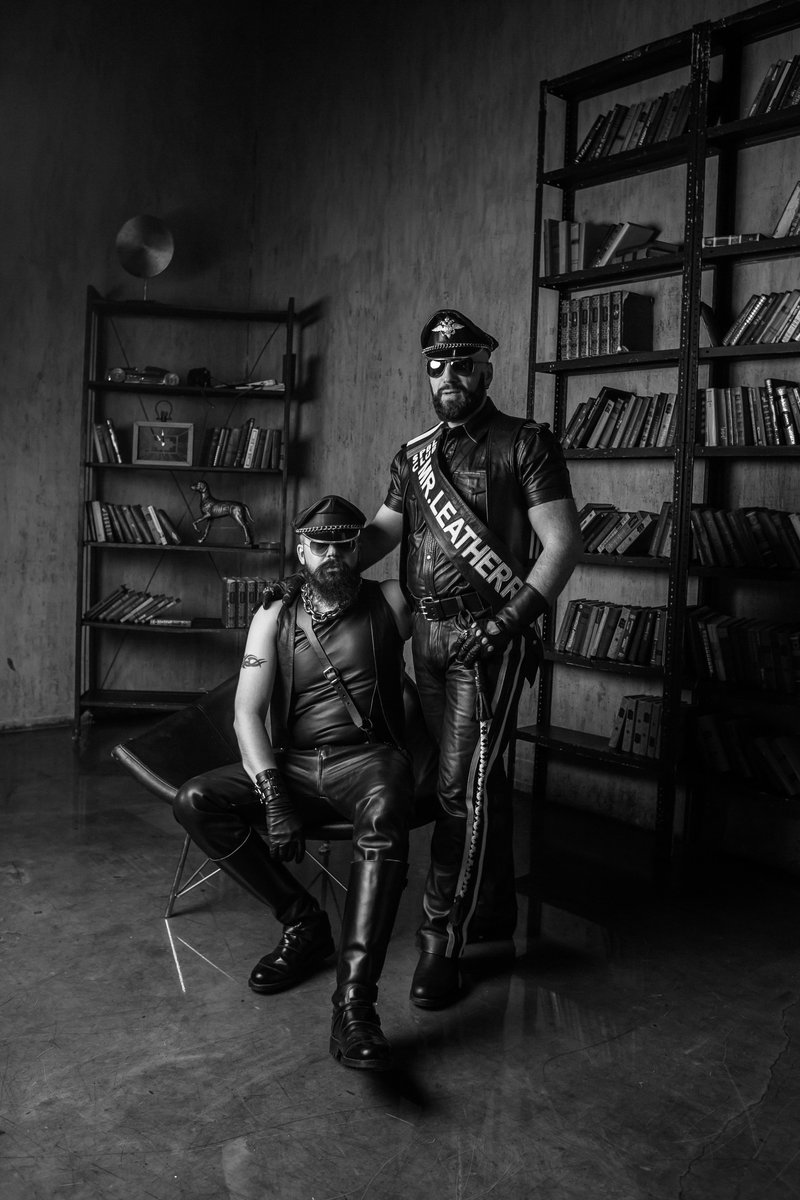 Aside from both being leather men, you are both tops and extremely dominant. How do you then balance love and sex? 
N: "That is something we've had to overcome and make it work for both of us. We aren't the kind of guys with a clear separation between the 'normal' part of our relationship and the kinky part, which is so integral to who we are. We both wear our leather out and about, and around the house, and we would never want to diminish our mutual admiration for each other's pride in their fetish. Since we do not compartmentalise love and dominance, it brings its own set of challenges. We've learnt to build and strengthen our relationship with love and seek out a third person to exercise our dominance." 
M: "It's not to say that we are never physically intimate with each other. We do, of course, play around with each other and explore ways of pleasing each other that doesn't require a top and a bottom! Let's say there is always some sort of bruises or bite marks and swollen nipples, which is a little vanilla for us. To really unleash the dominant side we both have, a sub (or multiple) is required because we're into intense and hardcore BDSM sessions."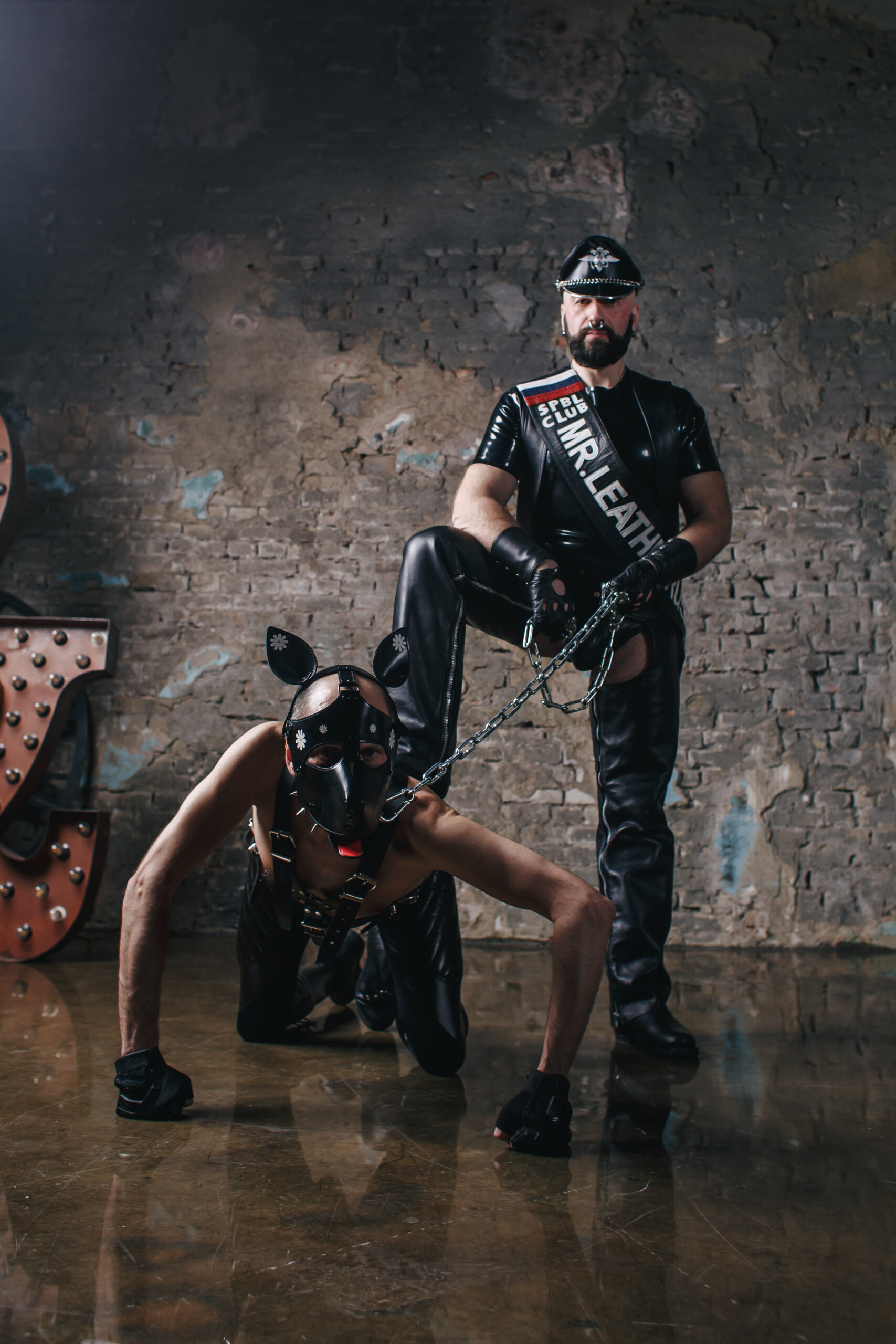 Has being somewhat dependent on finding a third person changed the way you both plan to navigate your relationship from now on? 
N: "Even finding a 'regular' hookup can sometimes be time consuming and exhausting. Trying to find a sub who, firstly, is into us both and who can take it hard is an even bigger challenge. Many people say they're subs with zero limits, but then they come over with a long list of demands and boundaries. We've also had it when we finally find a sub, where there is an instant click and with the session is hot, and yet they didn't want to meet up again. And the other way around, when we did not enjoy the session, they didn't want to ever leave! Because of the extra challenges that this brings, we are seriously looking to find a full-time sub and third person in our relationship to close that gap between sex and love for us."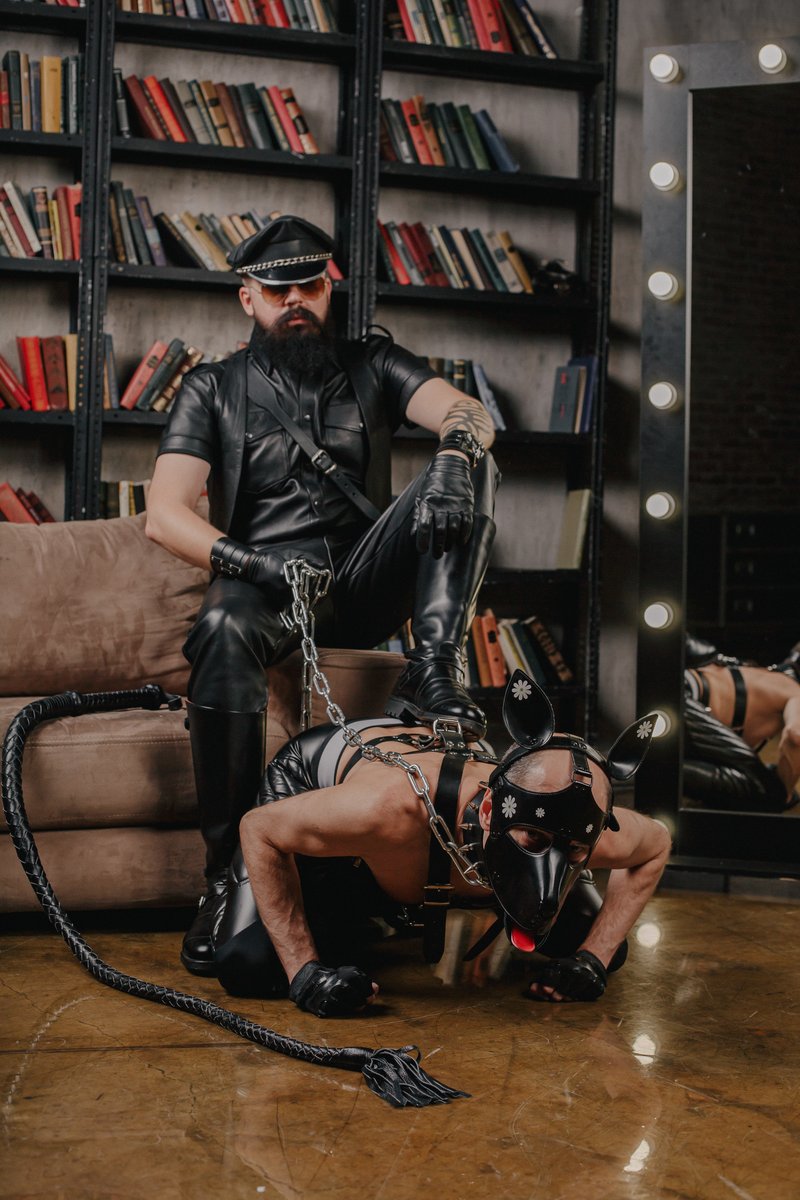 Lastly, how is it to be not only a gay couple but also a kinky gay couple in Russia? 
N: "Obviously, living where we do brings a unique set of rewards and challenges to integrating our sex life with our everyday life. It is certainly not easy to be a gay man in Russia, but being leather men is almost a way of being more discrete, which is different from the Western world's experience. Due to the naivety of people here and the fact that they are uneducated due to prejudice, we can walk around in broad daylight in head-to-toe leather. Onlookers will probably think that we belong to some sort of motorbike club. No one sees two leather-clad, bald and bearded men as two queens expressing their fetish or sexuality!"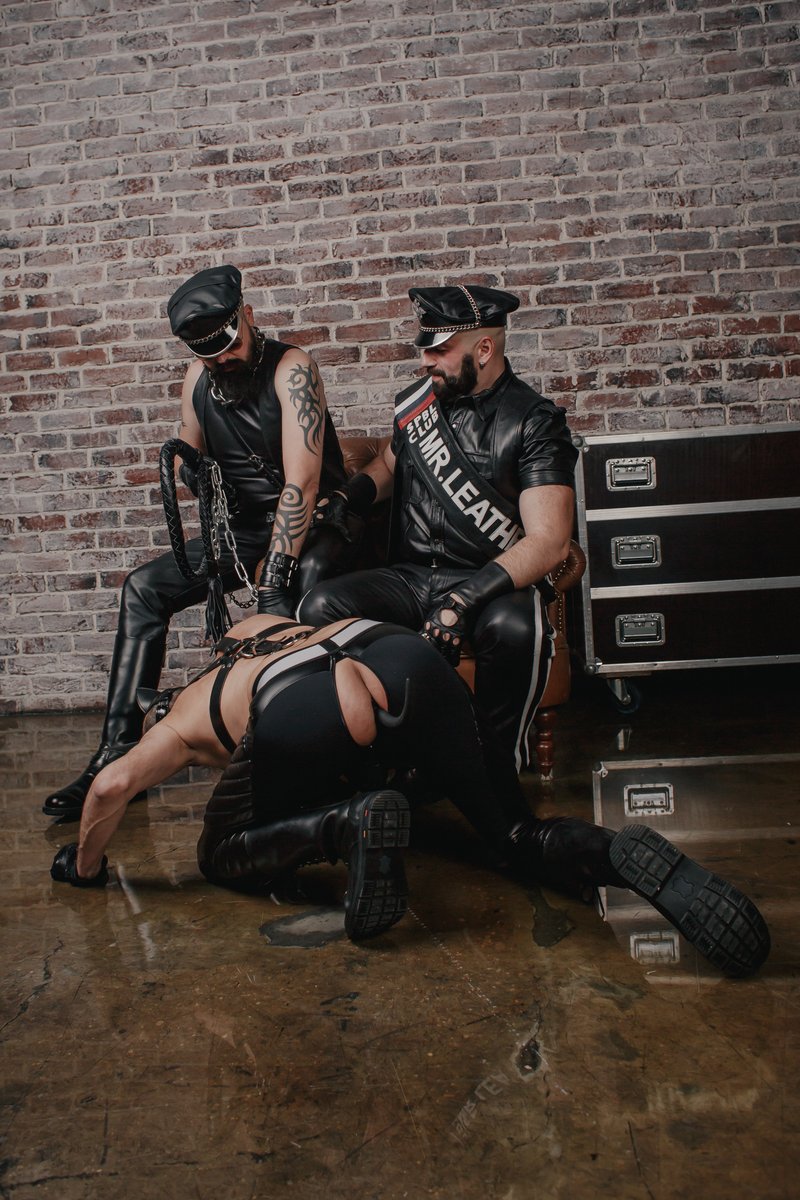 Suppose you are interested in seeing more of Nick and Marcus (or perhaps applying for that position of 'full-time sub'!). In that case you can follow them on Instagram @dom_of_pigland and @mr_marcus_1980, or alternatively find them on Recon by searching for 'domofpigland' and 'mrmarcus1980'. Just make sure you're a good boy and can take a hard flogging… 
Photos are taken by Yohan:  Instagram @vansf12