WINGS had the opportunity to probe the friendly fellas of the Leathermen of Ireland on what is happening in the land of rugged landscapes and Guinness stout when it comes to the gay fetish community. They answered some questions about the scene, the club and the big event coming up this winter season. Check it out!
WHAT IS LEATHERMEN OF IRELAND ALL ABOUT? 

 



Leathermen of Ireland was started as a Facebook group in May 2020 at the height of the Covid 19 Pandemic. There had been a plan for a new leather group in Ireland for some time and as it became clear that the virus wasn't going to disappear any time soon it seemed a good idea to launch the group. The group is all about bringing together people with similar interests in leather and fetish to hold social events and support people who need an outlet for their fetishes. 
 
In May 2020 a group of us in Ireland were asked by the Spanish Leather & Fetish Club to take part in their Worldfetish Show and they needed our logo, so it was the perfect time to make this happen. We had been waiting to launch the Leathermen of Ireland group and the show seemed like a good platform to do so. After that, we began holding monthly Zoom events that incorporated Bingo and a General Knowledge Quiz. We eventually included the musical Bingo which has proved to be very popular. A Zoom event is held every month.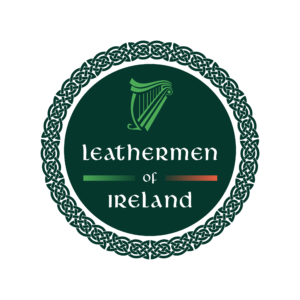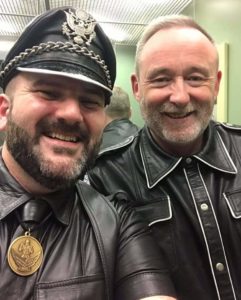 *Cathal Mulvany & John O'Brien
WHAT IS THE

 

LEATHERMEN

 OF IRELAND PHYSICAL EVENT ABOUT?

 
Apart from a drinks reception in Sally Bowles Cocktail Bar on the Saturday night of Folsom Berlin 2020, Leathermen of Ireland haven't held a physical event so far. For this reason, it was decided to finally plan a launch which is now set for Dublin Leather Weekend 2022 (DLW) in January. It's an opportunity to meet members that had mainly only seen each other online. It's a chance to introduce Dublin to the many people who haven't visited before and to remind Dublin that there is a vibrant fetish community here in Ireland, even if it seems as though it has been dormant for a while.  
 
The event list includes a museum tour on Saturday afternoon, a leather and fetish dinner night and brunch on Sunday, plus various meet–and–greet socials over the weekend too. The plan is to incorporate a good mix of events, many of which are free in order to make DLW 2022 accessible to all. The weekend also provides an opportunity to support popular pubs and venues that have been starved of income during the various lockdowns.  
WHO STARTED 

LEATHERMEN

 OF IRELAND?

 
The group was the brainchild of Cathal Mulvany (Mr Leather Ireland 2016 – Sean Cathal O'Maolmhana on Facebook) as he wanted to create a safe space where fetish guys could get together and share their common interests and help newcomers to the scene. Cathal has been an active member of many fetish clubs in Ireland and represented Ireland at both the Mr Leather Europe 2016 and International Mister Leather events 2017.  I have been involved in many different fetish clubs in Ireland over the years and I was very willing to help Cathal launch the group and I act as Secretary for Leathermen of Ireland.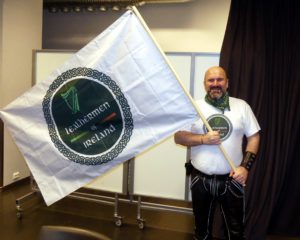 WHAT ARE THE GOALS OF THE LEATHERMEN OF IRELAND GROUP AND EVENTS?
The main goal during the Pandemic has been to provide a virtual fetish themed event over Zoom where people can join the call and have a bit of fun playing Bingo and trying out the quiz questions. The very nature of Zoom meant that we could have people joining from all over the world and we have had people join from the UK, US, Europe, Kuwait, Canada and we have even held joint events with the Leathermen Scotland Group.  We believe it has helped people who might otherwise be very isolated during the various lockdowns where most of us were deprived of a social, fetish outlet.  Also as we use the rooms feature on Zoom we can create Quiz Teams of people who don't already know each other and help create fetish friendships and connections. The after-event chats have also proved to be both fun and informative with many discussions going on into the early hours. The many connections made during the virtual events have increased our excitement over meeting people in person in Dublin in January for the inaugural DLW 2022. 
WHAT VALUE DOES THE LEATHERMEN OF IRELAND CLUB HAVE?
Apart from the aspects mentioned above, the group has sponsored and held two fundraising events for The Switchboard Ireland ( www.theswitchboard.ie ), a helpline for LGBTQI+ people and their families. More than €3,000 was raised by the Leathermen of Ireland by hosting two virtual fundraising events this year. We are also planning a second-hand gear sale in early 2022 in order to raise more funds for The Switchboard Ireland, but with the added benefit of providing good quality gear at reasonable prices both to those already involved in the scene and to encourage newbies.  
WHERE CAN PEOPLE FIND MORE INFO OR CONNECT

 WITH 

LEATHERMEN

 OF IRELAND

?
The email address of the group is   

lmi@outlook.ie
Instagram @leathermen_of_ireland 

The group is private on Facebook.