A new event is about to hit Easter Berlin on Wednesday 13 April. If

you've been to any of the fetish concerts in Berlin or Antwerp, you'll

also have

heard Greg Winn perform his magic

there

on the piano.

This time, however, you'll get the chance to see him performin

g

a

solo concert in Berlin, so we sat down with Greg to talk

about the event.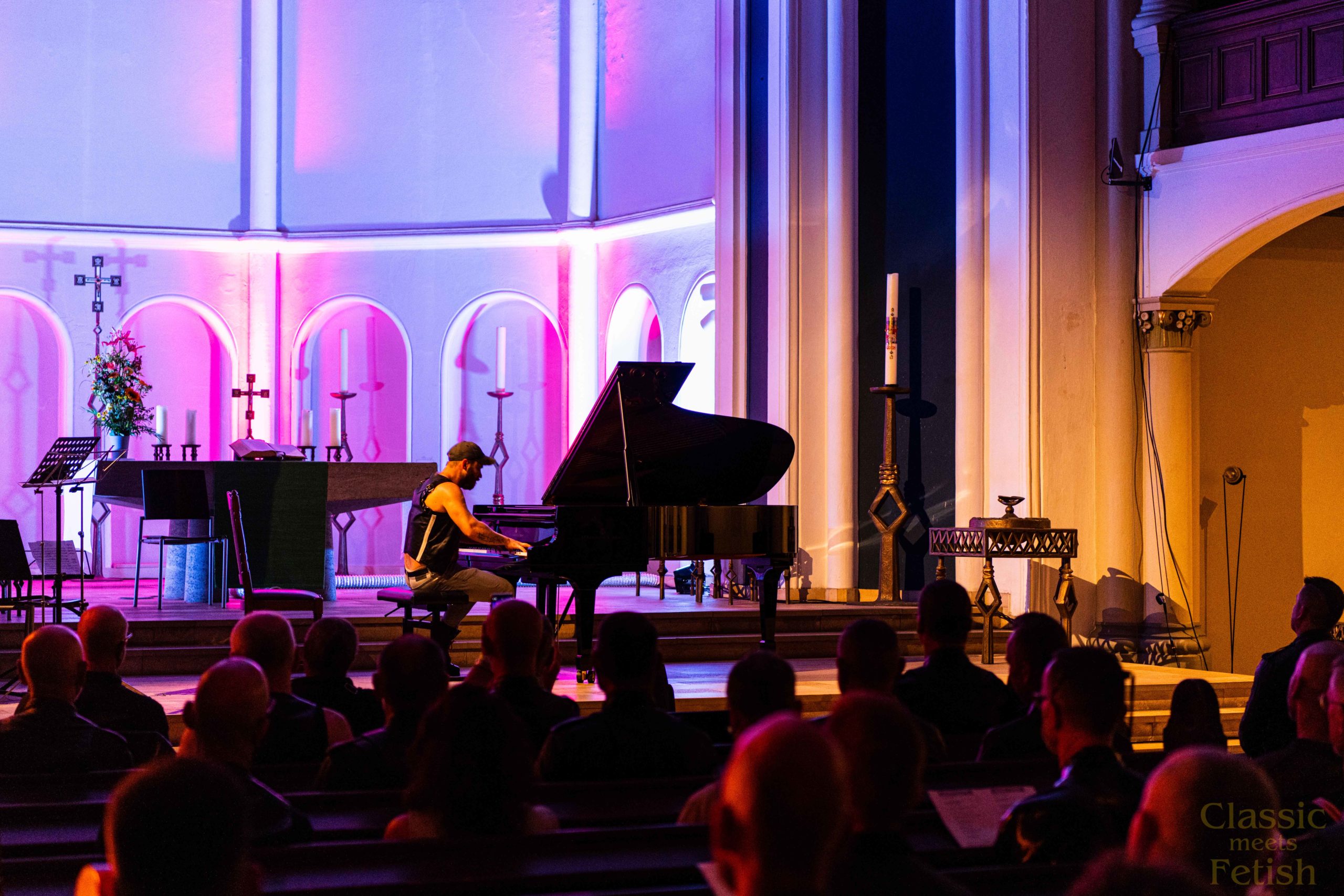 You're doing a solo concert with a very virtuous programme at the Easter Berlin edition of "Classic Meets Fetish". Are you a professional pianist?
Yes, I'm a laureate of the International Piano Competition and I've been performing professional concerts since my graduation from the Academy of Music in Kraków. I'm currently a student on the Artist Diploma programme at the Royal College of Music in London. 
I hear you're the only musician who has played at every "Classic Meets Fetish" since it first began in 2015. Why? What does this event mean to you?
I just love the concept behind it and I love what it does by donating the proceeds to support our LGBTQ community. When I perform in something other than a tuxedo, I feel that I can really be myself on the stage. Already at my very first performance at "Classic Meets Fetish", I realised how comfortable I felt and that it was because of the gear I was wearing – even if it wasn't very fetishey in those days. I also think it's great that the audience also attends the event in fetish gear. It's an all-around interesting and almost sexy experience.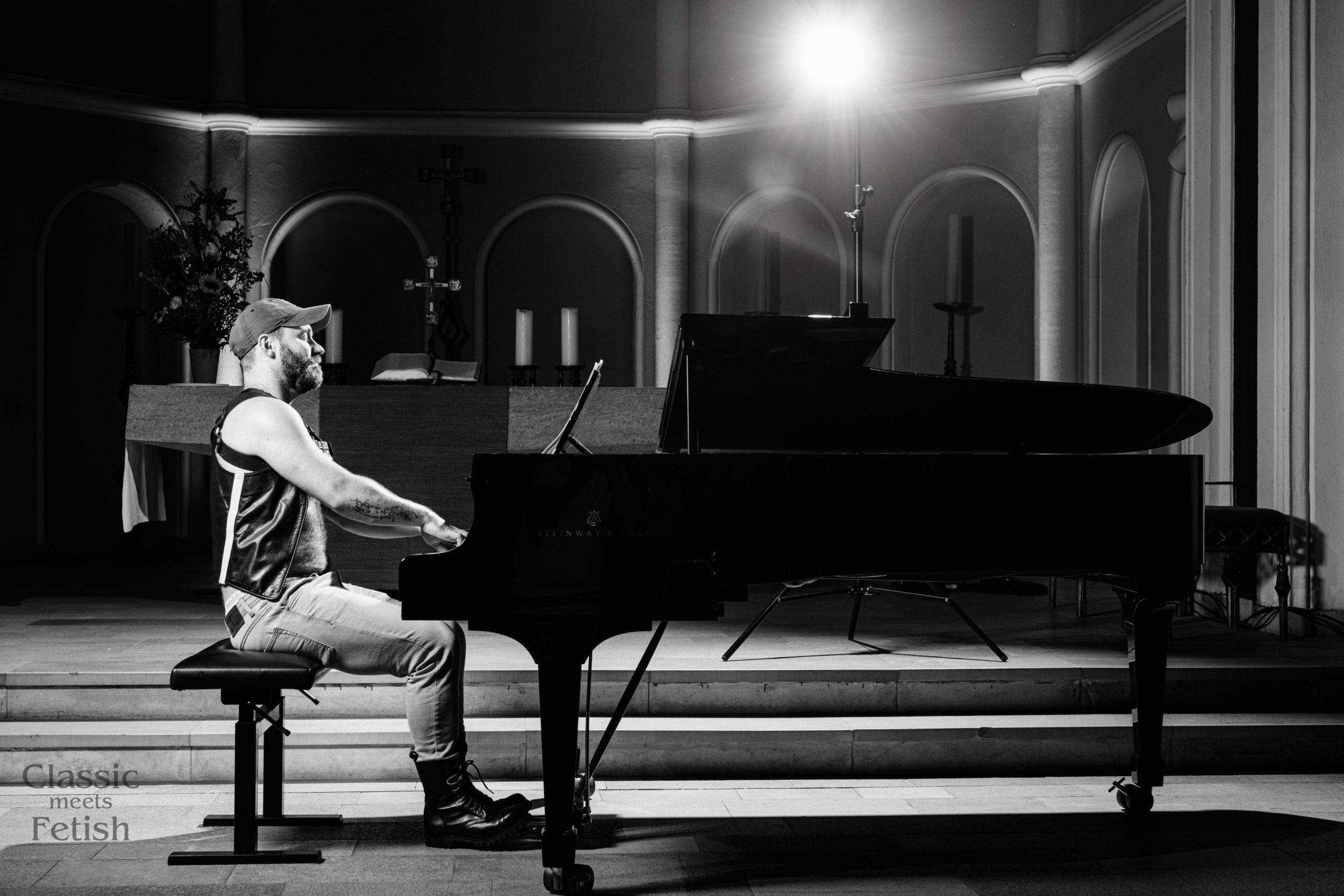 I hear that the audience loves you every year! Is that because you play so well or because you play topless or in a leather harness?
Hahaha! I hope the audience loves me for my piano skills! But I get quite a lot of positive feedback about the other things, too. Let's see what this all leads to. Especially after all these pandemic lockdowns, it'll soon be a good time to find out – if you know what I mean … 
What's your favourite fetish to perform in?  
I really enjoy performing in my military gear, and preferably wearing a harness and a leather waistcoat. But I like playing in sports gear as well. 
What's it like behind the scenes at these concerts? Do you guys all make out in fetish at the back? 
Oh no! We would never do that! But we often have to hold ourselves back from scratching each other's eyes out! You have to remember that we're all basically competing against one another. My thing is to cover the whole place with as much lube as possible because no musician likes slippery fingers when they're performing. And of course, we have to seriously lick Tyrone's boots because he has the last word in everything.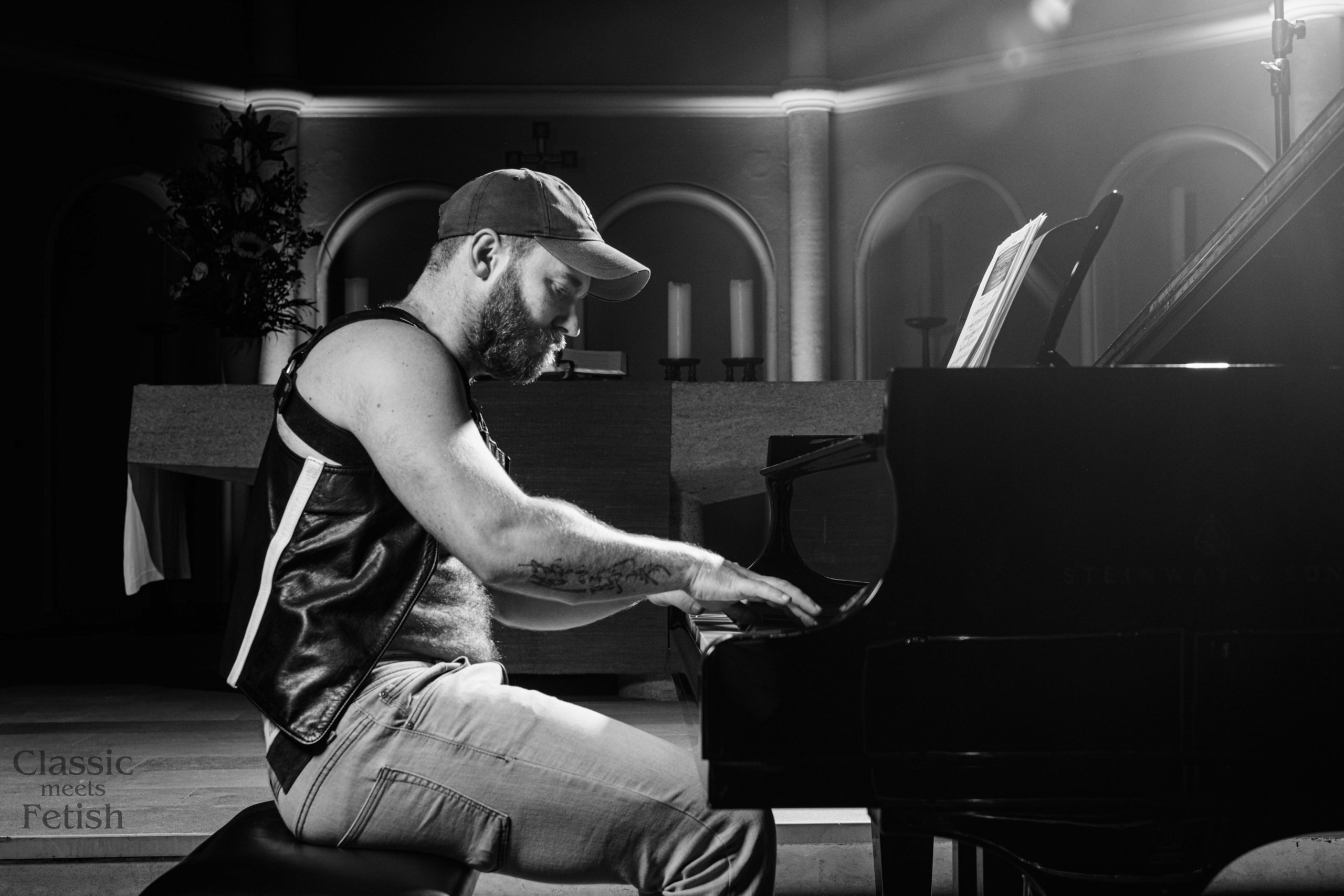 Please whisper it into my ear: What's it like working with Tyrone Rontganger? Does he throw mobile phones and whip you? 
Hahaha! Totally! He is a really aggressive, dominant boss! No, honestly, he's the sweetest concert organiser I've ever had the pleasure of working with. I think we also share similar music tastes which are really helpful when I'm putting my repertoires together. 
You're playing a solo concert with a very virtuous programme at the Easter Berlin edition of Classic Meets Fetish. How long do you need to practice all of these pieces? 
Most people have no idea of the effort that goes into practising each piece before a performance. I practice about 5-6 hours a day. I usually perform some pieces on stage before the "Classic Meets Fetish" concerts, but I still have to practice for hours to stay in shape. In general, I start practising certain pieces from the programme about four months in advance and put the finishing touches on them about one month before the concert. From that point on, I feel like I could literally perform them in public the next day.  
It's quite obvious that there's only one Russian composer on the programme … 
What's going on in Ukraine at the moment is very sad. When we started planning Piano Unchained, I had a lot of Rachmaninoff in the programme but later decided to take these out of my repertoire. Of course, what's happening now has got nothing to with Rachmaninoff, but as an artist, I think I also have a little bit of a voice that I should use. I wouldn't feel comfortable playing music by a composer whose country is currently attacking another country. Again, it's not about the composer but instead about the country's current leader. If some of the world's biggest companies are reacting by cutting their relations to Russia, then why shouldn't artists do the same?  
The last piece, though, is by a Russian composer, Mussorgsky – "The Great Gate of Kyiv" from "Pictures at an Exhibition". The point of any event like this is to bring people together and I want to end the evening by promoting peace. 
It's been nice talking to you, Greg. Thanks, and break a leg on the night! Where can we get tickets to see you? 
Thank you so much! I've had fun answering these questions. It's been a laugh! I'm looking forward to performing for you all on 13 April, so make sure you get a ticket.
They're on sale at www.classic-meets-fetish.de.