Only 30 minutes by train from Brussels, an hour from Paris, an hour and a half from London and some 3 hours from Amsterdam, Lille has become the 'alternative' hotspot for a cool city trip over the years, and a pleasurable pièce de résistance in the region of Belgium and northern France for 'gourmets' of all kinds. It is therefore not without reason that Babylon set up their first love shop in the very heart of this city – vibrant in both scenery and 'scene'  – and recently expanded their shop space to create a Mister B Shop-in-Shop! We talk about all this good stuff with Maxime Figula, Babylon's Marketing & Communications Manager, and proudly loving Lille 'local'.
What kind of store is Babylon Loveshop Lille?

'First off, and above all: we are a boutique for the whole fetish community, and all-inclusive in the broadest sense of the word ! In 2006, the doors opened of this first Babylon Loveshop right next to Lille's central Flandres station, and over the years, alot of hard work and emotional investment went into its development. This has made this boutique into the success it is today, and a great 'template' for Babylon's expansion – currently 8 stores – throughout Belgium and Hauts-de-France . We can therefore say without hesitation that this particular love shop has a special place in our hearts…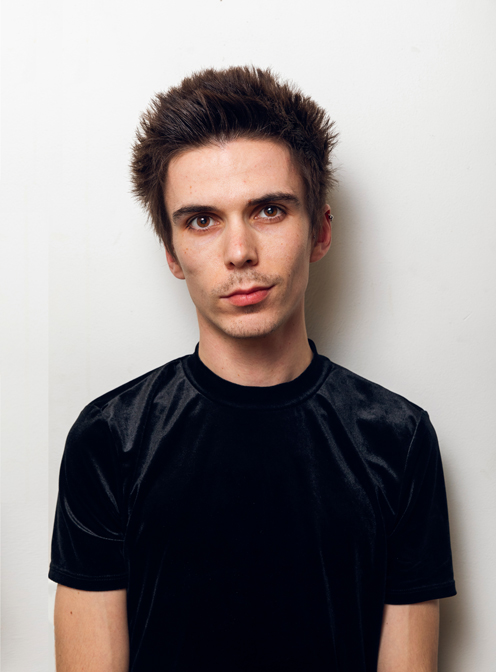 Maxime Figula
Another reason that makes this boutique the 'heart' of Babylon, is the special appetite for extroardinary pleasures of the Lille public; as in most larger cities, the fetish, BDSM and LGBTQ+ communities are well-represented, kinky desires more common, and the overall atmosphere more (sex-)positive and outgoing. Thanks to this liberated (and libertine) atmosphere, and accordingly : our clientele's wishes, we decided in 2015, to accentuate en expand our fetish & BDSM offer. Since then, we haven't stopped specialising in this field, offering something for everyone. With the unfailing support of Mister B and the creation of strong links with clubs an associations in the region, we are proud to say that Lille now has taken a strong spot on the kinky map of Europe.' 
The relationship between Babylon and Mister B, especially in Lille, has been good and growing for quite some years already. Why the Shop-in-Shop collab now, and what can customers expect ?
'Being the first, this shop was also the oldest, and 2019 was the year for the big project : renovate and expand, doubling the shop's surface to create a space that meets the needs of all our clientèle. We wanted a more modern layout with new products, and especially : a fetish & BDSM space, unique for northern France, servicing all kinksters en fetishists with a wide range of premium BDSM accessories, playroom furniture and outfits. This was the right time – and a no-brainer really ! – to  further strengthen our collaboration with Mister B by the creation of a Shop-in-Shop, not only because of the superior quality and diversity of their products, but also our shared positive and uncomplicated vision on sexuality; celebrating diversity, curiosity and the exploration of desire. We now have over 20m² dedicated to the brand. Leather, rubber, sportswear, (extreme) toys & accessories : Mister B fans in the region will now be able to find whatever they want, right here in Lille. Some may say that a good webshop suiffices to 'do (your) business', but I'm sure most readers will agree : being able to smell the leather or rubber of your garment-to-be or feel the cold, heavy metal of your cockring of choice, before going to the cash register, are pleasures that simply can't be digitised ! '
What is your role/position/function in all this ? And do you have any fetishes/kinks yourself ?
'As the Marketing & Communications Manager of the Babylon Loveshop Group, I take care of all the online and offline image and visibility of the entire group, as well as create liaisons with local partners and organisations. Each store and city has different audiences each with their own needs, making my job an interesting and exciting one to do.  My choice to work in this particular business sector wasn't really by chance as much as me just following my kink(s).  Since my teens, I have been convinced of my love of two things: certain materials and role-playing games. Material wise, it's rubber ; for the look & feel, for the silicone flowing on our bodies without moderation, and for the possibility of 'depersonalising' oneself with crazy masks and hoods. On the role-playing side : the beloved and varied 'theatre' of domination and submission. At a party, you will most often see me in the 'skin' of a docile dog, happy to jump across the dancefloor. However, this preference does not prevent me at all from 'crossing the fence' ; having complete control over someone is something I enjoy very much as well…the 'efficiency' of all the above being enhanced by the right equipment of course ! Knowing what you love and getting whatever it takes for it, may have its consequences, in my case : my fetish wardrobe being mixed up with the one for my everyday clothes, sharing my life with kinky people, and my basement being a playroom…but I can tell you : I'm loving all of it !'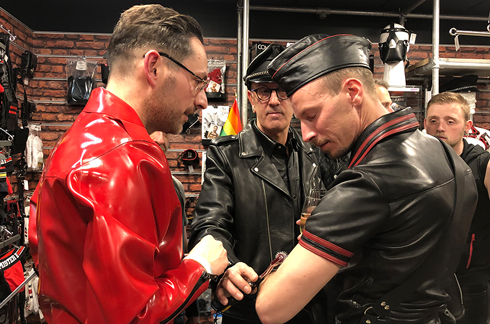 What is the fetish scene like in Lille ? Any tips & tricks for newcomers ?
'With Lille being located quite centrally in northwestern Europe, surrounded by all the aformentioned big cities and their scenes, there's a great mix of influences directly present and available, and it is up to Lille's 'locals' to apply this to their scene. This is done by several associations, collectives and other initiatives.                                                    
First of all, there's Exultaric (anagram for 'cuir' and 'latex'- Ed), an association that brings together fetishists from Belgium and northern France by apéritifs, outings and charity events, all the while putting their favourite materials into the spotlight by wearing them with pride at these events. This is very infatuating ; it is extremely hard to walk around on one of their events without wanting to touch and feel the leather or latex of the people visiting…and honestly : I can't blame anybody for this!  Then there's the regional bears association Les Chti'Nours, who organise various festivities and events, collaborating with various other associations, and raising awareness for the importance of being an all-inclusive, body-positive scene and society.    
In a more 'underground' way, there are collectives, keeping the scene alive and kicking by organising 'private' parties for the creative expressions of and with the body, for example : Dirt, Choupichatte and Hedone in Lille, and Disturbia in nearby Belgium. Dress codes are imposed for everyone's well-being , with diversity reigning and mutual respect being a fundamental rule. Everybody is dancing, proudly dressed up, assisting decadent artistic performances, and especially : meeting kindred spirits. For those who prefer to get straight to the 'heart' of the matter and/or who are looking for a 'quick fix', Lille also offers some good cruising facilities : Le Sling, popular for its decorated spaces and fetish themed nights, and Le Cube for its underground labyrinth and proximity to central station. Nightlife in Lille is generally quite LGBTQ+ friendly, with something for every mood ; for drag shows, 'alternative' concerts and techno parties, you can go to Liquium, Lokarria, Dame C, Red Light District and Le Bayard. And last, but certainly not least, is Privilege, a crazy and festive gay bar in the old town, and the location where the Apéritish events of Exultaric take place.'
The team of Babylon welcomes you in the heart of Lille, at 40 Place de la Gare, right next to Lille Flandres station and close to all that is shopping, restaurants, museums, bars and clubs. Complete your 'gourmet' trip with a visit to this new and improved boutique – now  with Mister B Shop-in-Shop – and be sure to find something of your liking !  For more information and opening hours, please check https://babylonloveshop.com/lille
@babylonloveshop on social media.