MISTER B FANS IN NORTH AMERICA REJOICE! WE HAVE SET FOOT IN THE NEW WORLD! SINCE A FEW MONTHS YOU CAN FIND OUR TOYS AND GEAR IN THE WINDY CITY AKA CHICAGO IN ONE OF THE BEST FETISH STORES YOUR SIDE OF THE ATLANTIC: THE MEN'S ROOM. WINGS TALKED TO OWNER, MANAGER AND CANADIAN EXPAT ALLAN O'BRIEN (35) ABOUT HIS STORE IN THE HEART OF GAYBOURHOOD BOYSTOWN, THE IMPACT OF MISTER B'S GLIDE ON HIS ADOPTED CITY AND THE END OF HIS VANILLA FLAVOURED SEX LIFE. YUM!

Allan, how would you describe The Men's Room to people who have never been to your store before?
"We specialise in fashion, grooming and fetish. We have everything you need for a night out. Are you looking for a nice polo for a dinner date? We have that. Do you want to go to a party afterwards? We sell harnesses, lubes and toys. You can find The Men's Room in Toronto, Montreal and Chicago and in each store we sell different products, so you are always getting a different experience. I spend a lot of time going around and finding local fetish companies. A great example of that is P&C Creations. They do harnesses and wallets made in Michigan, which is the next state over from us. We also sell leather-scented candles that were made 1 kilometre away from here. They are absolutely amazing. If you want to get turned on, light them. I'm telling you, it really turns things around! In addition to these local products we carry a lot of premium European brands like Mister B, that you don't see anywhere else in the United States."
While we are on the subject of Mister B, which of our products do you offer to your customers?
"We have a shop-in-shop from Mister B. This means that we carry a wide range of products. From cock pumps and leather jeans, to harnesses and personal lubricants. Mister B's Glide has actually become our number one selling lube. When my husband and I moved from Toronto to Chicago no one here had ever heard of Glide. But it has quickly become a bestseller. In my opinion it's the best lube available. It's a great feeling when you are going over to someone's house and you see a Glide bottle on the table and you know where it came from."
When you accidentally stumble into someone's house you mean?
"Hahaha, yes, when you accidentally stumble into their house in the middle of the night."
The Men's Room is the only fetish store in Chicago's famous gay neighbourhood Boystown. How did the community react to your arrival in 2016?
"We were welcomed with open arms. Other gay businesses even send us flowers for our opening. The community here is amazing."
Why is Boystown so special for you?
"I used to be a banker and I've travelled a lot throughout my career, but Boystown is unlike any place I've ever been to. It has always been my dream to live in this area. Anything goes here and that's what I love about it. It's all about inclusiveness. In some cities they expect you to be butch when you have a beard, but here you can go out with a full beard and make up and no one will even look at you twice. That feeling of inclusiveness seems to be brought to an extreme here. Our customer base also really shows that. We have customers from all spectrums. Everyone shops at our store – from drag queens to butch queens. There's nothing better than going to a party and seeing a drag queen rocking one of our harnesses."
What are your personal fetish and kink interests? What do you like?
"Well, I'll be very honest, I was a bit vanilla before I invested into this business. I'm married and have been with my partner for 12 years. The store opened me up to a lot of things I didn't even know existed. Visiting the head office of Mister B in Amsterdam was a real eye opener. The Amsterdam store is amazing and I got introduced to some fun things like electro play. I never realised how enjoyable that could be. When it comes to gear I like leather harnesses. They are great as a fashion statement, but they are very functional as well hahaha. I get a lot of surprised messages from old friends when they see me wearing a harness in pics on Facebook. They write things like 'My god, I never thought I would see you like this!' That makes me proud. I'm really happy to own a store like this. The Men's Room was supposed to be a fun little thing on the side for me, but it morphed into a whole experience on its own and I'm loving it."
Do you have a tip for readers planning to visit Chicago?
"The bar scene here is amazing. We have more than forty gay bars and restaurants. I've lived here for three years now and there are nearby bars that I haven't even been to. It's crazy. The number one bar you should visit when you're in town is called Sidetrack. It's a massive complex across the street from our store. We partner with them to throw a fetish inspired party on the first Wednesday of every month called The Men's Room Party. It's hosted by a drag queen, we play a lot of games on stage and people can win fun prizes, gift cards and things like that. Sidetrack is also the place where all the hot tourists go. It has six different rooms and in every one of them something else is going on. You never know what you are going to get when you're there!"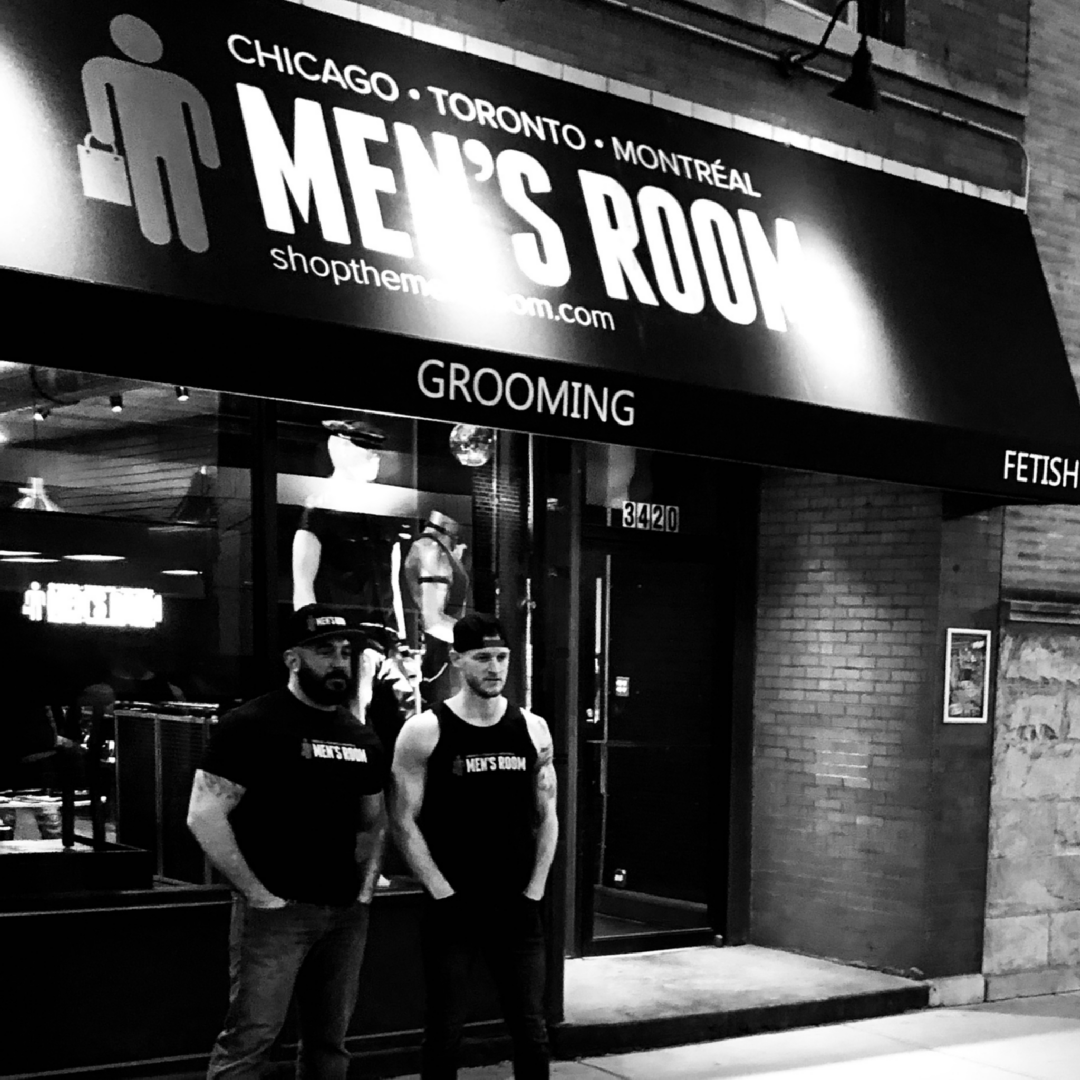 The Men's Room is located @ 3420 N Halsted Street in Chicago. It's the perfect place to do your (last minute) shopping for all the huge fetish parties in Chicago like North Halsted Market Days, International Mr. Leather (IML) and Circuit Points. And while you are there make sure to get your hands on a Hairy Bastard (which is a beard oil for men who like to look pretty yet rough)! Visit https://shopthemensroom.com for more information.