WINGS loves to travel. For this issue, we headed to Lisbon to see what this sunny city has to offer to queer kinksters. Our second stop is The Late Birds Lisbon, a gay urban resort in the heart of Lisbon's historical centre. We caught up with owner Carlos Sanches Ruivo (he/him) to find out more about his guesthouse that comes with its own app.
---
Carlos, what's the idea behind your resort?
"The seed for what I call the 'gay urban resort' was planted in South Africa. I was celebrating my 40th birthday in a beautiful gay resort in Cape Town, and it was around the same time that I had to present a business plan for my MBA (Master of Business Administration). My professors told me the best business plans are the ones that are really personal. In Europe, there are a lot of gay guesthouses, but most of them are in the countryside. I wanted to create one that was in the centre of a city, and Lisbon just made sense to me. I've lived in Paris most of my life, but I was born in Portugal, and I wanted to go back. Lisbon is a laid-back and genuine city in the south, the weather is great, and at the time it was much easier to find properties with a garden there. I wanted to create a resort that's social. Most of our guests are gay men over 35, but we're open to everyone. Sixty to seventy per cent of our visitors come from The United States and Canada, the rest is from all over Europe."
What can guests expect from your urban resort?
"The original building is from the 19th century. It was in ruins when we bought it, so we demolished everything, except for the facade, and we kept the staircase. Architect Pedro Domingos was responsible for the redesign of the building, and part of the furniture was designed especially for The Late Birds by Marco Sousa Santos from the furniture brand Branca Lisboa. The hotel is well-isolated, modern, comfortable, and cosy. We have sixteen rooms, most of them are suites, with views over the garden, the swimming pool, or the city. Every room has an iMac, air conditioning, a private bathroom, and Wi-Fi. Our beds are either queen or king size with fantastic mattresses, and fun to mention for your readers, they can find two copies of WINGS in every room. A big part of our appeal is that it's easy for guests to meet and connect, either in our breakfast room, lounge bar, pool bar, garden, heated pool, or on the deck. All of this makes it feel like a real guesthouse."
Do you offer a day pass for non-guests?
"Yes! It's important for us to have a mix of locals and guests. People who are not staying with us need to book in advance. They are very welcome to enjoy the social areas and meet with our guests in a friendly atmosphere. We want to make sure that the ambience at the pool and in the garden stays nice and cool. That's why we check every day if our guests want to relax at our resort, or if they want to go to the beach or wander around the city. Based on that, we decide how many people from outside we allow to buy a day pass. In the gay community it's easy to meet new people and creating these new connections is fundamental to The Late Birds. Our biggest reward is that we have a lot of returning guests. They come back because they know they're gonna meet new people, that they'll feel at home, and that there's an amazing team that takes great care of them."
And your resort comes with an app. What can guests use it for?
"The app is our personal guide to Lisbon. It has recommendations from our team, places that all of us at The Late Birds like to go to ourselves. Lisbon has a lot of gay bars, gay venues, and thousands of restaurants; we list the ones that are close by, where you'll have a memorable experience, and that offer great value for your money. Plus, we recommend interesting tours and other fun activities. We want our guests to experience Lisbon to the fullest."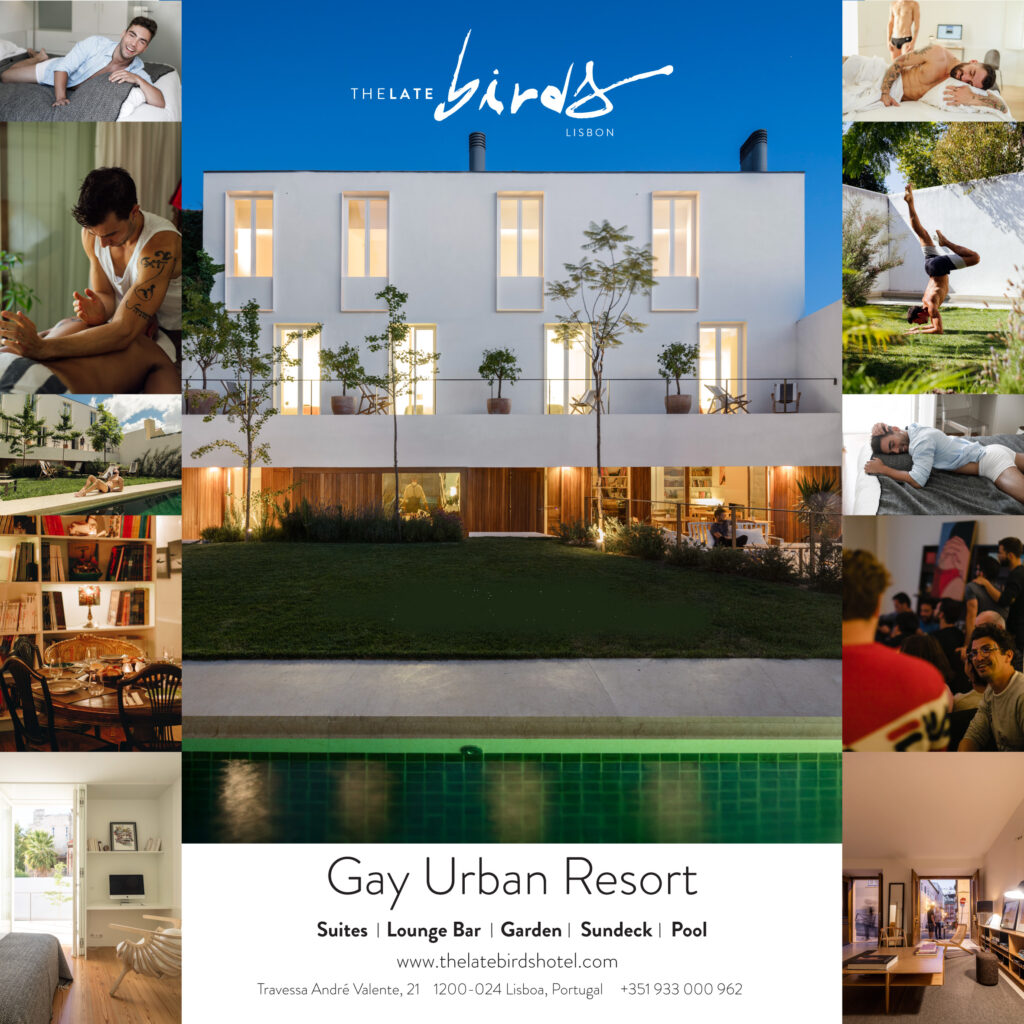 Can you give us an example of one of your favourite activities?
"There's a gay sunset boat tour over the Tagus River that I love. It's a two-hour experience with our partner SailTagus (gay owned and operated) and it's amazing. They have an open bar, you can have a dance, and enjoy the scenic views of the city. When the sun goes down, the boat makes a stop, and the captain starts playing American Pie by Don McLean or Hotel California by The Eagles. It's a moment – especially when you're there to enjoy it with a loved one. There are people who get emotional during the trip. It gives me goosebumps thinking about it."
How did you come up with the name 'The Late Birds'?
"In 1994 I was in New York City for the 25th anniversary of Stonewall. We stayed with a friend who told us he was going to have a garage sale at his place in Long Island, and that at 6 a.m. there would already be people arriving who would be interested in buying things. He called them 'early birds'. It was the first time I heard that term, but it stuck in my mind. When I was looking for a name for the resort, I first thought of The Nomad Hotel, but I found out that that was taken already by a hotel on North Madison (The NoMad) in New York. Lisbon has a connection with birds, especially swallows (in spring) and crows (historical), and gay men like to go out late, and wake up late afterwards as well. Somehow, all those separate ideas came together in the name of The Late Birds. And it fits with our concept. We know our audience likes to party till late, so they can have their breakfast at 12 a.m. if they want. Even if they show up at 1 p.m. there will still be something to eat. And the idea of them coming home to their nest appeals to me."
Is there anything else you think our readers should know?
"As a LGBTQ+ business, we think it's important to promote queer culture in all its different forms. That's why we're partners of Queer Lisboa/Queer Porto, the oldest queer film festival in the world, which takes place this year from the 16th until the 24th of September in Lisbon, and from the 29th of November until the 4th of December in Porto. We offer accommodation to filmmakers, host press conferences, and organize the official pool party. We're planning more events at the moment, including a drag show with live singing, a drag dinner where guests will be transformed into drag queens themselves, and we exhibit art by queer artists. We have a 'spicy' exhibition coming up named All You Can Eat Behind The Green Door with art by Carlos Barahona Possollo. He painted the official portrait of the former President of the Portuguese Republic, and even offered a painting of Santo António to the Pope. He's a very serious artist, but also very kinky."
Want to know more about The Late Birds Lisbon? Then visit www.thelatebirdslisbon.com for more information, and make sure to follow their Instagram @thelatebirdshotel. And if you're a movie buff, you should check out Queer Lisboa/Queer Porto here: http://queerlisboa.pt.