It can't really shock anyone that I get to review another set of products for this issue. This specific product, on the other hand, technically can. I hate to say that I hate to be the disclaimer girl, so I won't. I do, however, want to tell you that this review is not a very technical one, as much as it is my very sincere first go at any type of electro play, and therefore is written for an audience that still yet has to dive in to the world of ac/dc stimulation.This review will focus on two aspects of the box, namely controlling it myself and letting others be in control.
Being the first time trying E-Stim, as it were, of course I felt like progressing slowly, and in my own time and space. Here's what I could make out of the box on a first glance with no prior knowledge:

It has two channels, meaning it can support more than one single toy. It has different settings that produces different patterns of stimulation, and within these settings, adjustments can be made from the user. There's also a microphone and an option to connect to an audio player. So far, nothing seems like rocket science. Speaking of rockets, the supplied butt plug (that is sold separately) was insultingly small for my standards. Little did I know; this would prove to be irrelevant. Size queens will be size queens, but this queen would be screaming soon enough. As a standard in the box, one also receives the electro pads. For those of you who don't know what those are, think of the small patches that are put on your chest by doctors' to measure your EKG.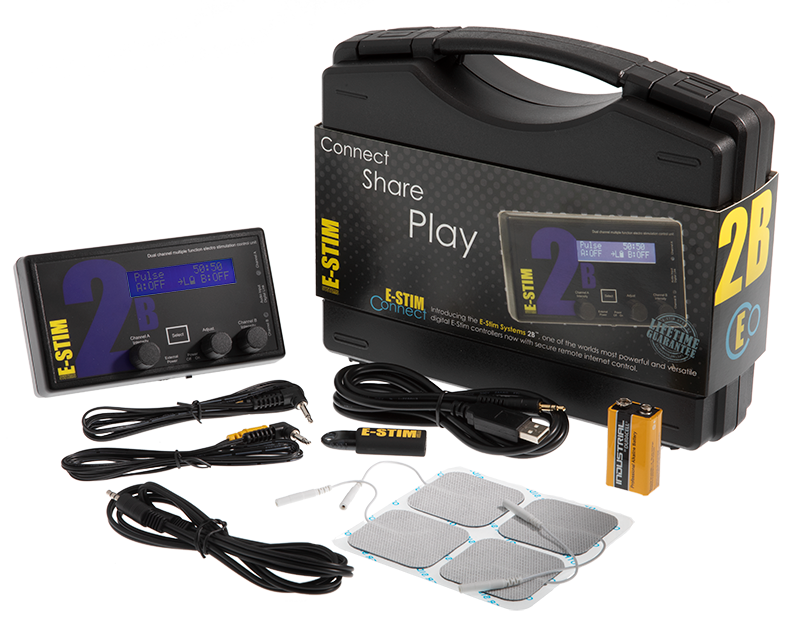 A common rule of thumb is "write what you know", and since I am all about anal pleasure, of course I went for the aforementioned butt-rocket, from the use of which all of the following experiences are written. 
Now, I don't know about you, but I'm not a great fan of manuals. I approach technology with fearless 'trial-and-error' and a 'Masc4Machinery' kind of attitude (Except with cars. If they break down I become a crossing between a 50's housewife and a damsel in distress.)
So with 17(!) different presets, I was buckling up for a ride. I connected the butt plug with the control unit and my first thought was how counter intuitive it was for me to shove something in my derriere that had wires in it. But even at 31, I've tried my share of oddities in life, and lubed up with no hesitation. First note to self: warm up a metal butt plug before inserting it. (Other note to self: What is the anatomical opposite of a brain freeze?)
The moment of truth: I turned on the unit. The first available setting is "pulse", which sounded both familiar and logical, as I could monitor the beat of the pulse on the unit; that was currently ready to amp the intensity from zero. With a very careful turn on the knob, I got to about 25% before feeling a pulsating tingle, and all of a sudden I realized that indeed: Size won't matter right now.
The small electrical pulse would send a very new tingling sensation to the surrounding area of the plug, and more importantly – to the prostate. A smile grew on my face simultaneously with the ascending intensity of the setting, and surprised "oh's" turned into moans and exhaled grunts of pleasure and disbelief. Very soon, I made it to 100% intensity, safe and sound. And what a sound! Eager for more, I selected a new setting (and the intensity automatically drops to 0 while doing this.)
As mentioned before, there are 17 different kinds of presets, all of which have adjustable settings within them, making the unit extremely customizable to anyone's preference. I decided to just go by standard settings all the way through. Settings like "throb", "waterfall", "thrust" and "milk" were the favorites and do exactly what they sound like they do: different small variations that could do a lot of difference in terms of sensation, which so far was very controlled.
As done before in my product testing, I take (fair) use of scruffy manservants to replicate the potential sexual behavior in an authentic way, and knowing that sex and stimulation is all in the brain, I found it more curious to have someone else be in control of the intensity.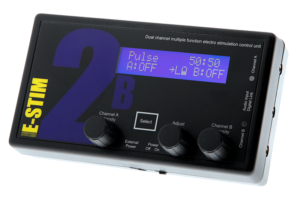 So for the next chapter of this review, I left the control unit in the eager hands of someone else, praying to my maker that my cause of death would be anything than this.So for the next chapter of this review, I left the control unit in the eager hands of someone else, praying to my maker that my cause of death would be anything than this.
For me, this is definitely how the magic happens. Not knowing what setting that was coming, while at the same time not knowing how the intensity would escalate, made the whole experience tremendously pleasurable. Literally. I shivered, moaned, grunted, jerked, twitched and just gave in to this overpowering feeling. Again; literally.
I later on tried the microphone and audio function but I have to admit that they did not really make sense to me within the limits of patience that I have available for gadgets like this. This does not mean they are useless features what so ever, but it just supports the notion that every single setting has an abundance of options within itself to make the experience even more unique and enjoyable. After having almost electrocuted my sphincter to Bohemian Rhapsody, I concluded that these three settings, however, demand a bit more preparation time and a thorough understanding before (careful) implementation.
Overall, as a newbie, I found the 2B very exciting with its palette of options to dig in to new sensations, and although not being too intuitive for newcomers, with a bit of learning and patience, this E-Stim control unit most definitely is worth trying out if you are curious about electro play.
I would personally suggest trying this with someone who knows the system on beforehand, so you feel safe and get the best pleasure out of it.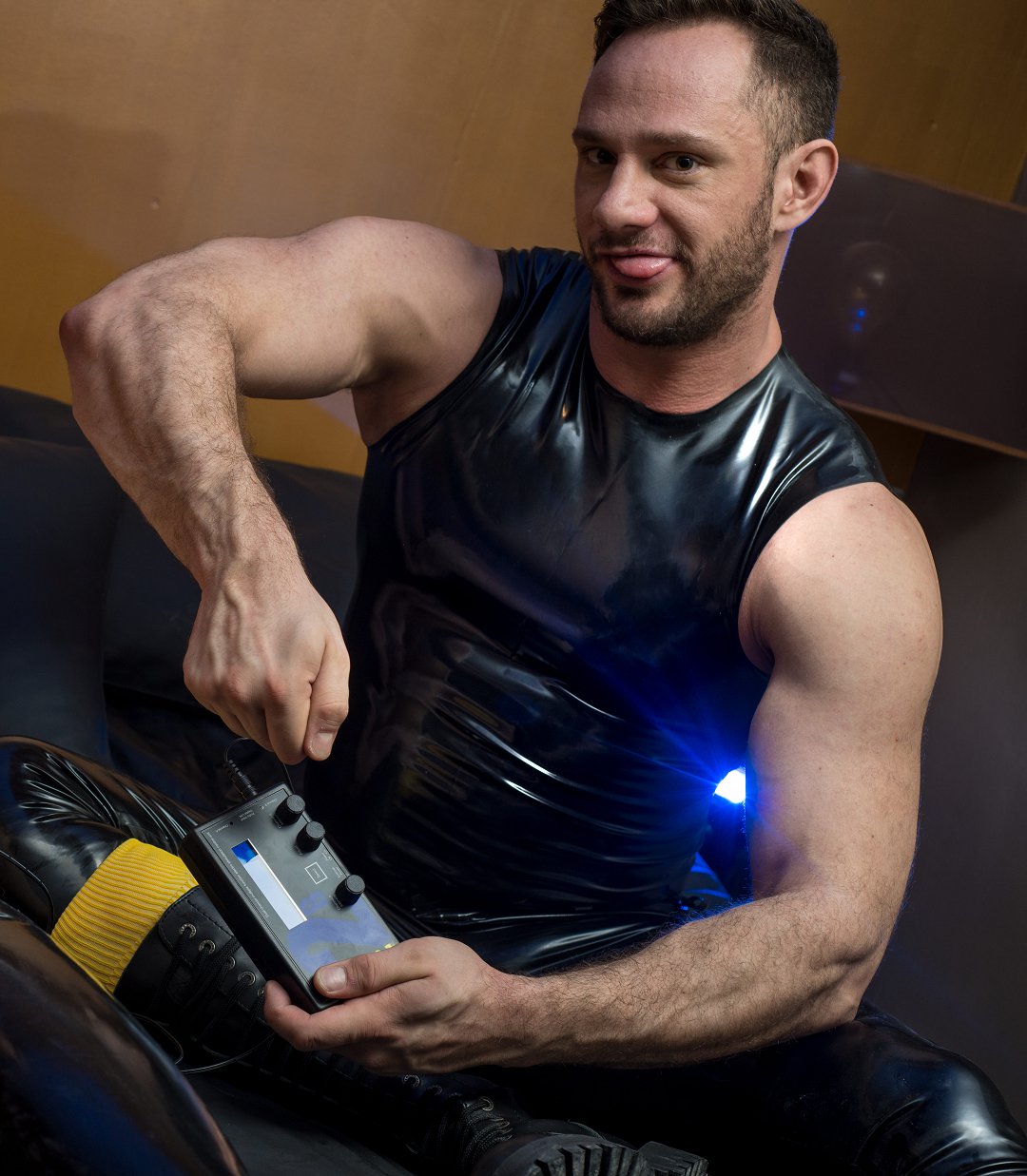 E-Stim Connect is a brand new creation from E-Stim Systems that allows you quick, easy and secure remote control of an E-Stim Systems 2B over the Internet via a simple program and a web browser.
Plug a 2B into a PC or Mac, run E-Stim Connect and then share the secure and unique connection key with your partner – anywhere in the world. As long as they have a device with Internet access, from a PC to a mobile phone, IPhone to Android, Tablet to Mac, they can control your 2B from the comfort of their device, anywhere, anytime.
Connect – Share – Play
Looking for the Hardware needed? All you need is a PC/Mac, an E-Stim Systems 2B, a Digital Link Interface and the E-Stim Connect software.
You also need to have an active internet connection. All your partner needs is a device with Internet access running a web browser, and your connection key.
Looking to install the software? Or Looking for instructions on how to run E-Stim Connect?  Go to www.e-stim.co.uk
Have a key and want to play?
Then visit the server https://e-stim.online/connect