ONLY FANS FRIDAY
Position: Master/Sir Top

Posts: 31

Cost: $10/month
What do you
 do in your personal life and 
what made you 
start an Only Fans?
"I do background acting for shows like Pose, Ray Donovan, and the remake of First Wives Club. I started my Only Fans to showcase and document my journey, ability, and skill with BDSM. Not to mention, it helps a lot with financing the gear since it's so expensive!" 
What can people expect from your Only Fans page?
"I'm an insatiable dominant top based in NY, with a military–grade pierced dick. 
My sessions represent some of the many different styles within the BDSM/kink and bondage communities. You're going to be seeing things like bondage, chains, whips, leather, pain, and pleasure – to mention a few."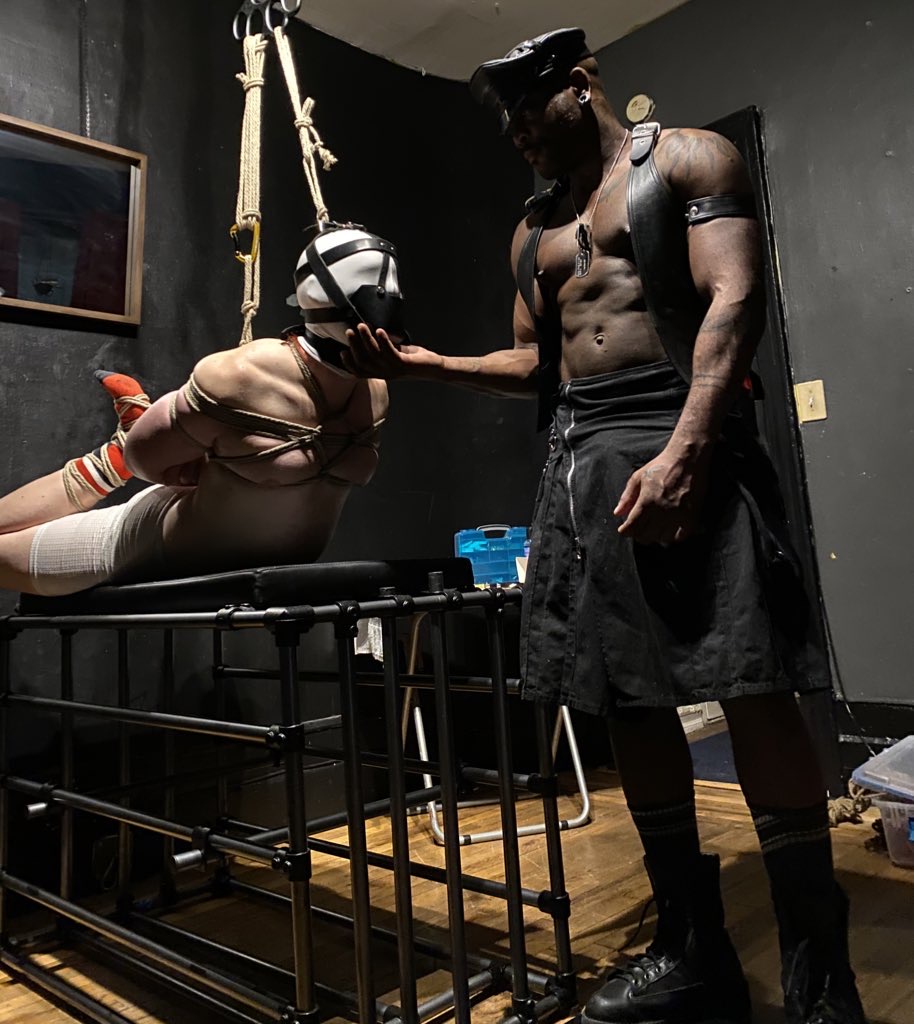 Pictures by:


@

frocktheworld

What has been your roughest 
/ 
most intense moment on Only Fans?
"I am still pretty new to the Only Fans platform, so I don't have a vast repertoire to choose from. That said, I recently shot a fisting scene with a friend here in New York City, and we were going at it pretty rough! Now, if we're talking about intense moments – Y'all should see the scene I did with my bunny for the fundraiser KASFORG. 
(KASFORG stands for Kink Activist Support Fund Organisation.) 
That sounds like a super exciting organization! Can you tell us any more about it?
"Madame Posh, a fellow shibari artist, started it as a non-profit organization to support activist and marginalized communities through fundraisers and representation. I was asked to showcase my talent amongst other riggers of all backgrounds and ethnicities. It was inspiring to watch people come together from every corner of the world and share the same love for bondage/shibari as I do. I agreed to do the demo for a few reasons, based on the events that happened in the US during the pandemic and my experience as a person of color living a kink/BDSM lifestyle. I don't find too many other black riggers to reach out to or confide in about anything bondage-related, and so it felt important for me to participate." 
You talked on your Instagram about seeing a lack of men of color in Tom of Finland's fetish imagery. How does it feel now that you are experiencing what you saw in those illustrations? 
"When I started my journey into BDSM, I was heavily influenced and inspired by the 70s and 90s porn stars in Tom of Finland illustrations. Despite the lack of POC, those characters acted as my guide into the community. As time went on, I gained friends and experiences that have expanded, giving me more role models of all backgrounds. That has been crucial for my personal development. I am happy for the strides we've been taking as a community to show the proper representation of other cultures and ethnicities through our art and advertising. It is a good start!" 
What is your favorite product from Mister B?
 "Definitely the rubber vacuum tower." 
Describe the ultimate fantasy video shoot for 
OnlyFans
. Go 
wild with this answer!
"I always thought Janet Jackson would make a good partner and dom. In my fantasy, we would dominate some unsuspecting submissive. This submissive would have forgotten that in his contract, he signed away his rights to me. We would start by blindfolding and stripping him because… submissive's don't deserve clothes. Then we would suspend him in mid-air and spank him until he uses his safe word. If that doesn't make him crack, Janet might just slowly crush his balls. Men do love a nice heel, after all."