Being more of a vers/top Wolf myself, I'm not the most experienced in ass play and toys. My go-to way of ass play is me engaging with someone else's hot bubble butt by using my lips, dick and digits, but on my own/to myself: not so much. However, when I got the offer to try one of the new Topped Toys, my curiosity got the best of me, hereby rendering my 'Wolf' take on this intriguing piece of silicone.
SPIKE 70
First of all, don't be fooled by the plastic wrapping this toy comes in: this is one high-quality piece of premium silicone! After removing the wrapping and sticker, what remains is a very interesting looking dildo. Or is it a butt plug? No, I think it's a dildo…well, for sure I wasn't sure, so I just had to find out.  Only when you actually get to hold this dragon's tail in your hand and feel and squeeze it, you get to really appreciate the high quality of the silicone. Some dildos have an off-putting scent to them, but this one is completely odorless. It's also surprisingly squishy. Far squishier than any other dildo I know. The high-quality material used, makes me feel very secure with this toy. No chance this thing would tear, pill, or rip (anything) when you get trashy with it.
The Spike has a great design too, it has a tall cone shape with a small tip and grows to a nice width on the way down. One side is covered in large ridges from top to bottom and the other side has smaller ones. Ribbed for my pleasure! I was definitely looking forward to feeling that slide in and out of me. Due to the softness of the silicone and small size of the tip – I really hadn't seen anything like this  before – I did wonder if I would have any problems inserting it. Enough admiring gazes though, it was time to start experiencing. Being a silicone toy, you cannot use it with silicone-based lube. Luckily Mister B has a great selection of water-based lubes , so this Wolf could get his toy all wet and ready for play.
As expected, my inexperienced behind didn't make it easy for the slippery and flexible tip to actually enter. I had to use a stiffer dildo to help open me up first. That was a fun warm-up all on its own! After my sphincter became relaxed, I made a second attempt at the Spike. This time it went in way easier. And it felt great! It reminded me of how hot ass play is or how satisfying a good ass filling can possibly be. The softness of the dildo allowed me to ease myself onto it and slowly push the whole Spike inside me, up/down to its base. Due to the materials used, it didn't feel like any dildo I had ever felt before, some of which having felt quite unnatural: instead this felt quite organic, comfortable and nice.
With growing excitement I started riding it, letting the dragon's tail slide in and out of me, feeling the ridges on the side. They were subtle, but constantly teasing my hole. At one point, I stopped to just let the Spike rest inside me. It was very comfortable to be honest, and I was able to let it sit there for a long time. However, the reason why I don't possess any other butt plugs, is because I prefer my toys to be more action-oriented, so I put this dragon right back to work after this little 'play break'.
I like my ass-play to be rich in activity, friction and (range of) motion. With that said, I have come to a conclusion on The Spike 70, and my initial wondering about its function when embarking on this journey: although it's 'officially' made to be a butt plug, easy to wear all day long – something I know for sure after having rested my sphincter around its base! – I must say that for me it was a dildo foremost, simply because I couldn't stop probing this Wolf ass with it! Butt plug or dildo: either way, I really like what Topped Toys did here. It's a big turn on to use and no matter what: you won't be disappointed.
https://www.misterb.com/en/topped-toys-spike-70-forge-red-717021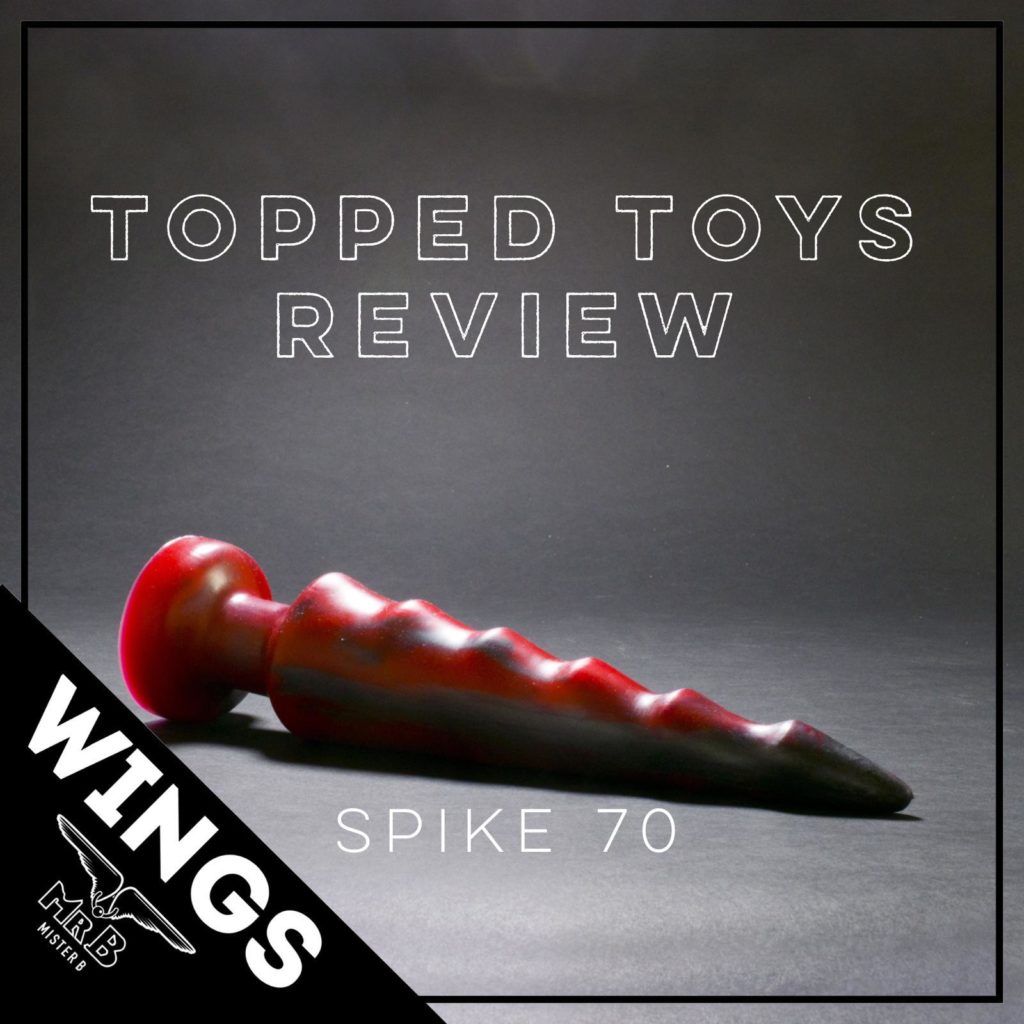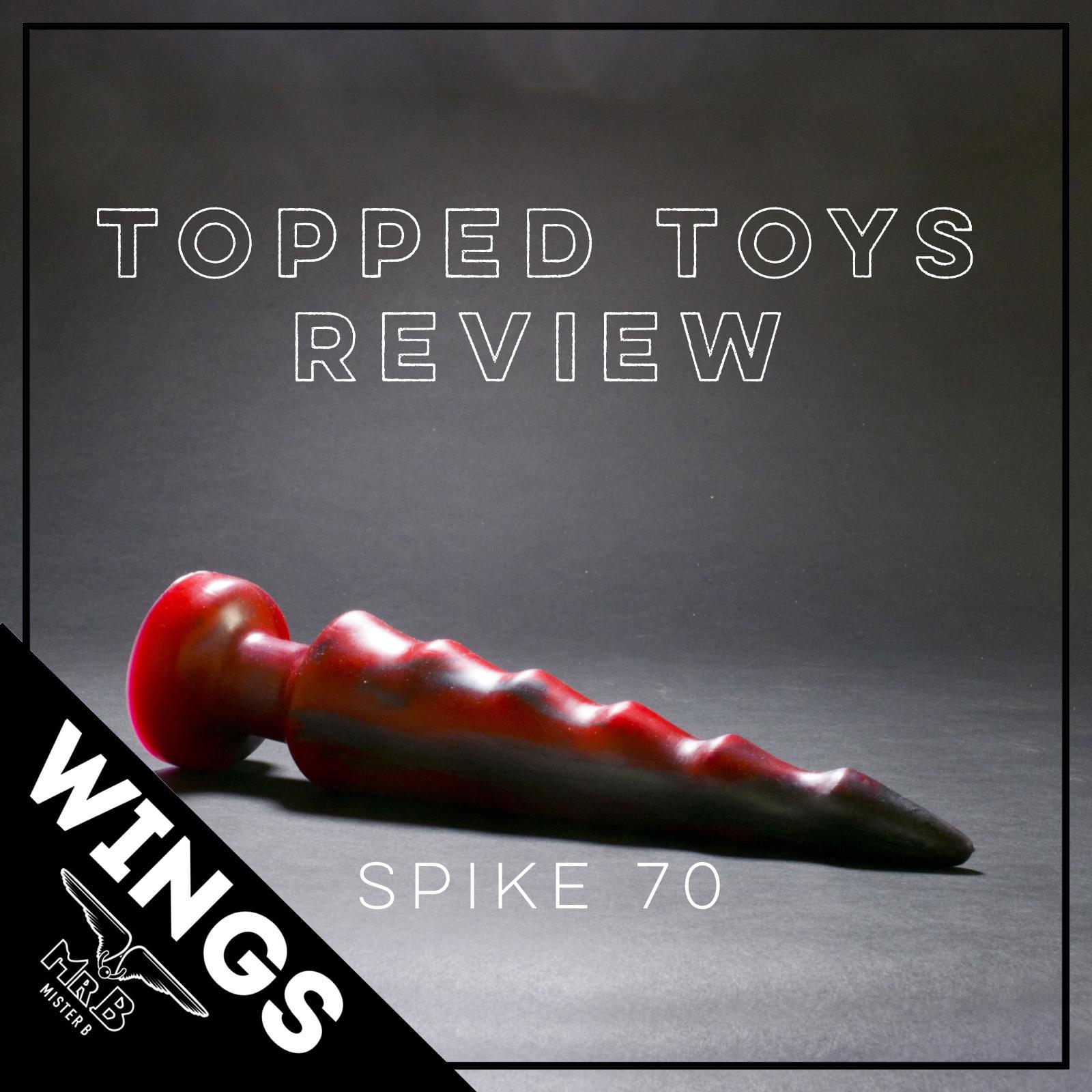 Topped Toys Spike 70 – Forge Red
The spike 70 is an introductory level depth trainer and dildolike toy. The intense ridges make for easy handling and a wild ride as it penetrates deeper inside you. Once it's fully inserted, the plug base locks it in place making it a fun toy for longer wear.
At 9.5 inches long and with a super flexible tip, the Spike 70 is a great introductory toy for exploring your depth. The tapered shape slides in and snakes its way deep enough to pass the first curve for most. Once you've reached the base you'll love how it pops into place thanks to the Grip inspired plug base.
Beyond the deep sensation you'll also enjoy the bumpy shaft as you slide it past your hole and interior. Start your depth experience with the Spike 70.
Available in the following colours: Blue Steel and Forge Red.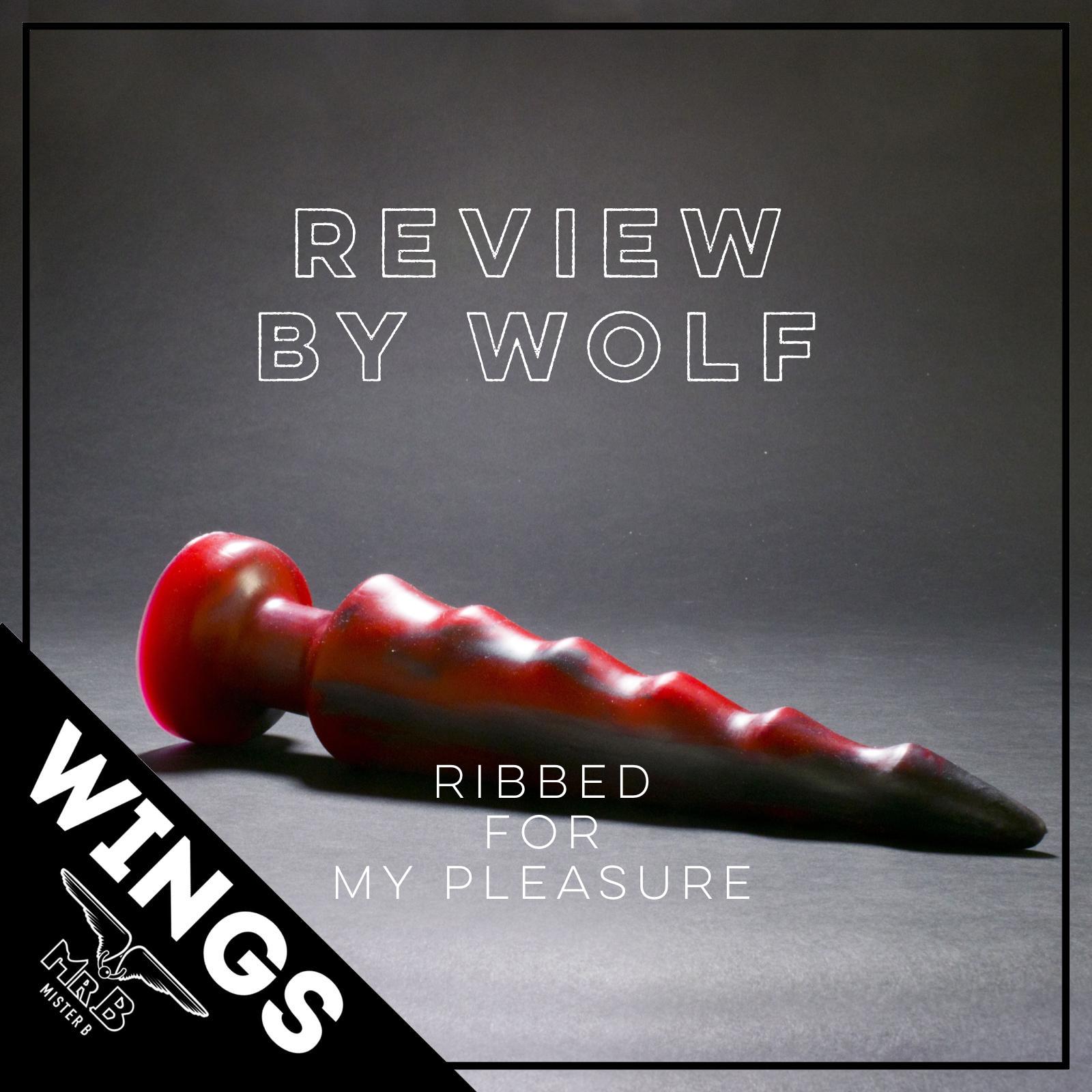 Topped Toys Spike 70 - Forge Red
TOPPED TOYS REVIEW BY ROBIN
I really like what Topped Toys did here. It's a big turn on to use and no matter what: you won't be disappointed.
8.4
Topped Toys Spike 70 - Forge Red