Unless you are steel plant fanatic looking to see the U4 Blast Furnace Park (in which case you are probably reading the wrong magazine!), there has not been much reason for you to visit the little French town of Uckange…until now! Local residents Sam and Ateka have recently thrown the second edition of their hugely successful 'Fetish Party: Rise of Desire', and are here to tell us the story of how they founded that community in the most unlikely of places.
To understand how all this came about, let us start at the beginning with your personal journeys into fetish.
Sam: "As you said, we live in a tranquil area in France near the border of Belgium and Luxembourg – so as you can imagine, there was not a whole lot for a young boy growing up, trying to figure out what his fetish tendencies were all about. I had to make do with what I did have access too. For me, it was asking my parents to take me to the local sport shop and trying on endless wet suits in the changing room! I had to wait six years to live alone before buying my first rubber outfit, and that started my journey into the fetish lifestyle I live today."
Ateka: "At the beginning I was really not into fetish myself, and I was very resistant to Sam having his fetishes. For the first eight years of our relationship, I didn't want him wearing rubber around me so he had to wear it when he got home from work and I was still in the office. Looking back my aversion to it was all down to ignorance. Over time and with a lot of patience on Sam's side, he helped me come to terms with it."
Sam: "We started dating thirteen years ago, and at the beginning of our relationship, online fetish communities like Recon didn't even exist. Eventually, smartphones were created and these online social platforms started to pop up. I started to connect with other people from around the world who were like me and I was able to introduce them to Ateka. Through meeting these people and seeing they were just normal guys, with normal lives who happened to have fetishes and were not afraid to embrace them, he began to see me for who I truly was and started his own journey of discovery."
Ateka: "I tried sportswear, and then I tried neoprene, but neither seemed to click. It took a while for me to discover what I was into. During one of our trips to Paris, Sam took me to a Mister B store. I was browsing and not finding anything that immediately grabbed my attention until I saw a grey leather shirt, hanging there, begging me to try it on. I did and I fell instantly in love. So much so that I left the store that day with, not only the shirt but a whole leather outfit!"
You mention there being a lack of fetish visibility – did that spur you to set up the Rise of Desire party and try and create a fetish community where you live?
Sam: "Where we live, everybody knows everybody. It is a very small community – so if you went to a gay party people were terrified to bring express any fetishes in either their clothing or their attitude. There was a fear of standing out or being judged so everyone would leave their fetishes to the home and locked behind closed doors."
Ateka: "So when Sam won Mister Rubber France 2018 we decided to throw a party to celebrate. The party took place at the local 'Red Gay Sauna'. The owner advertised our party on their social media and we were being very public on our Grindr profiles. The visibility began to grow, more and more. Even the gay guys who are not into fetish started to hear about this party and the word got around pretty quickly. That is one of the benefits of living in a small town I guess! Because the dress code for the party was strictly set for fetish gear only, people in our community were less afraid to run into each other, knowing they couldn't be judged since everyone there would also be in fetish gear."
Sam: "Ticket sales were slow at first, but in the end, the party was a huge success, and there was a high level of support from people from in our area. We knew there were people here who were into fetish but the challenge was to get them to come out and own it – and we achieved exactly that! We broke the stigma and created a safe place for people to be who they truly were. We then had a second edition in November, and it was incredible to see the change in response from the first time. We almost sold half the tickets in the first day!"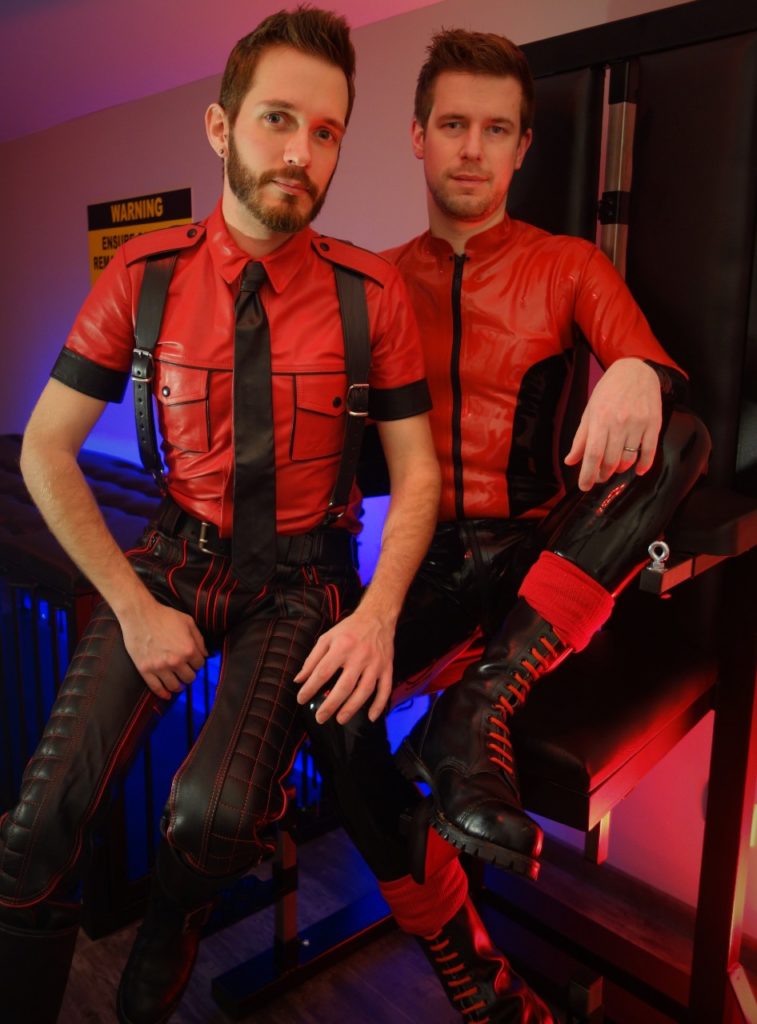 For The Rise of Desire, Sam & Ateka set out to completely refurbish the Red Gay Sauna, turning it into a crazy professor's secret laboratory – the "Centre of researches and study of fetishisms"! The party boasted a 600m2 space, consisting of a highly extensive BDSM play area, a sports-themed porn cinema, a Mister B Puppy corner, private cabins and of course a bar and dance floor. Our boys have already hinted at a third edition, so make sure to keep your eyes and ears peeled for more information regarding this highly-anticipated return!
Now that there is a community forming in your area, how has that affected your lifestyle?
Ateka: "Our lives have become almost entirely intertwined with fetish. All our friends are fetish friends! When people come to our place to watch TV or have dinner, we are decked out in rubber and leather. We met this puppy who started to come over every weekend and the three of us built a big playroom in our house, right off the living room. Originally we had all our gear and toys stored away in boxes, but we have designed it, so now everything is super accessible and ready to be used at a moment's notice!" 
What happens when the folks come over?
Sam: "My family are crazily accepting of it all! My brother let us vacuum him one time and he and his girlfriend helped out at the second edition of the party. My parents were eager to see our new renovations when the garage was being turned into a playroom – we haven't shown them that, but they've seen us in gear, and they have met our puppy. 'The Toy Boy' they call him! We are now living our fetish lives and embracing our true selves with an ever-growing community around us. It took us a long time to get here, but the whole journey was a challenging yet necessary one to take."
For documented and photographic evidence of fetish life in Grand Est, visit the 'Festish' Facebook page @festishFR. For those of you who are admittesly a litte slow on the uptake, let us spell it out for you – quite litteraly. They've sneakily added an extra 'S' in the word Fetish, to incorporate the EST. Make sure you spell it right so you're first to hear when the next edition is announced!