You want sleaze, you got it! WINGS gets the dirt on the sluttiest kid in Japan, Yoshi Kawasaki! This kinky cum-dump was ready to give us all his details (and then some!) in our first one-on-one with the porn actor and director.  We asked this multi-talented pig some fun questions about his story from the very beginnings to places he's been and places he's going, to how he currently wrecks his insides, all to which he happily replied. Check them out below!
Let's begin. What was your first kinky sexual experience?
My very first kinky experience was in a sex club called The Hoist London (sadly closed in 2016). I was 21 years old at that time and I had never been to a sex club at that point in my life. Seeing so many naked men made me so horny that I just climbed up on a sling and got fucked by god knows how many men that night. 
A total slut from the very beginning, I see! What was the first thing you posted online or perhaps rather: when did your online porn journey begin?
In June 2014, I started posting photos and videos of sessions with a friend on Twitter. I just love showing how much of a dirty whore I am 🙂 I guess the principal has not changed yet to this date haha. The only differences are the fact that I am more sexually experienced and the size of my rosebud.
The rosebud does bloom the more attention it gets! You direct as well as star in your films nowadays. What got you into directing?
When I just started out as a porn actor, I had no aspiration of having my own production and directing videos because I was happy and comfortable just being a model. But as I got more experience with more porn studios, I started having the desire to have my own, making my own sexual fantasies come true. And that's exactly what I'm doing with YoshiKawasakiXXX.com: realizing ALL my wet dreams!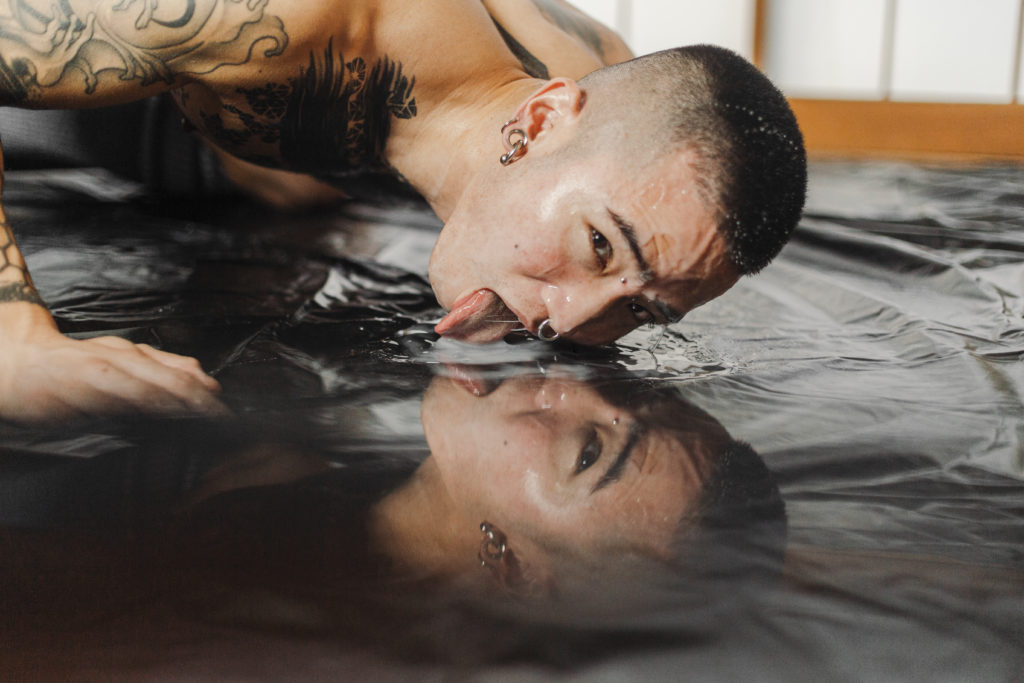 That sounds like great inspiration for all the aspiring cum-dump filmmakers out there. You have already collaborated with a lot of sexy kinksters. Who is still on your list for future collabs? 
Ray Dexter, Scott Keptsecret, Rocco Steele, CutlerX.  Do you see what they have in common?
Yes, they all have giant cocks for that insatiable hole of yours! I can see that you have a lot of fetishes and do all kinds of wild things in your videos, but are there any limits you may have?
I try not to have limits when it comes to fetish because, in my opinion, the level of enjoyment of the session can easily change depending on the situation you are in. For instance, I simply could not enjoy scat when I first tried, but I tried one more time with another dom guy who sort of forced me to clean up his dirty dick and that actually got me really hard! 
My current limits are blood and needles. But who knows? In the future, I might meet a suitable person to do it with and I might get into it 😉
There's no stopping you now. The beast has been unleashed. You've played with billiard balls and wine bottles, among other objects. What is the craziest thing you've ever put up your ass?
For me, food play had been a big no-no for a long time because I thought it was wasteful so shove food in my butt. But I shot a quarantine series called "Lockdown" with Axel Abysse and now I'm a total sucker for food play! In one of the episodes, we fist each other with ass full of pasta and I absolutely loved every noodle I felt. Ever since that experience, I started playing with food like sweet corn, eggplants, bitter melon, yogurt, konjac, etc. You'll see me exploring more in this area in the near future!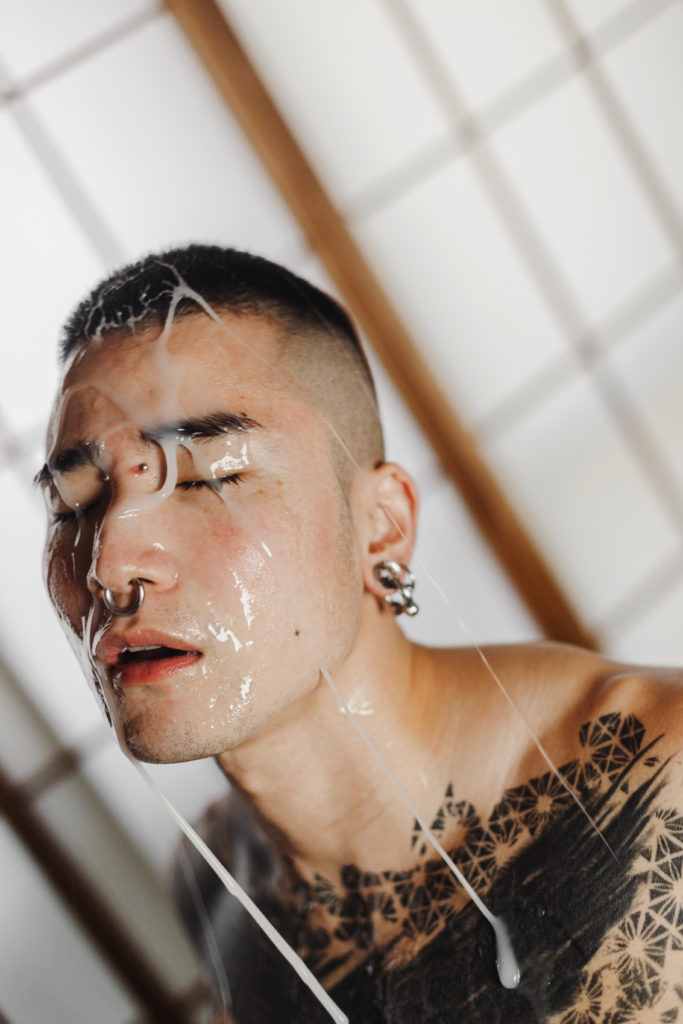 I guess you can add 'foodie' to your resume now too. When you are alone and want to get off, do you watch porn, and if so: what kind?
I used to watch porn every time I wanted to jerk off, but these days I tend to get off on erotic mangas. Needless to say, I love the mangas by Gengoroh Tagame sensei because his work is so twisted, and to me, it is the epitome of fetish fantasy.  Also, I've been going through a lot of male pregnancy erotic comics to jerk off. So MPreg porn is definitely on my list to shoot!
Nice! You're kinky and a pervert.  You're well known to be a proud cumdump. What is the highest number of loads you got in one session?
I filmed a scene called "Generous Donation" on my website where I played with toys after receiving 5 loads in my ass. I think that's the only one recorded so far. This is mainly because most of the time I stop counting how many loads I get after a while. The first night in The Hoist London was one of those nights. At some point in the night, I was full of sperm but stayed on the sling anyway, as guys were still queueing up haha. When I come back to Europe, I would love to film a scene just like that, where I get on a sling and am used as a public cumdump all day long!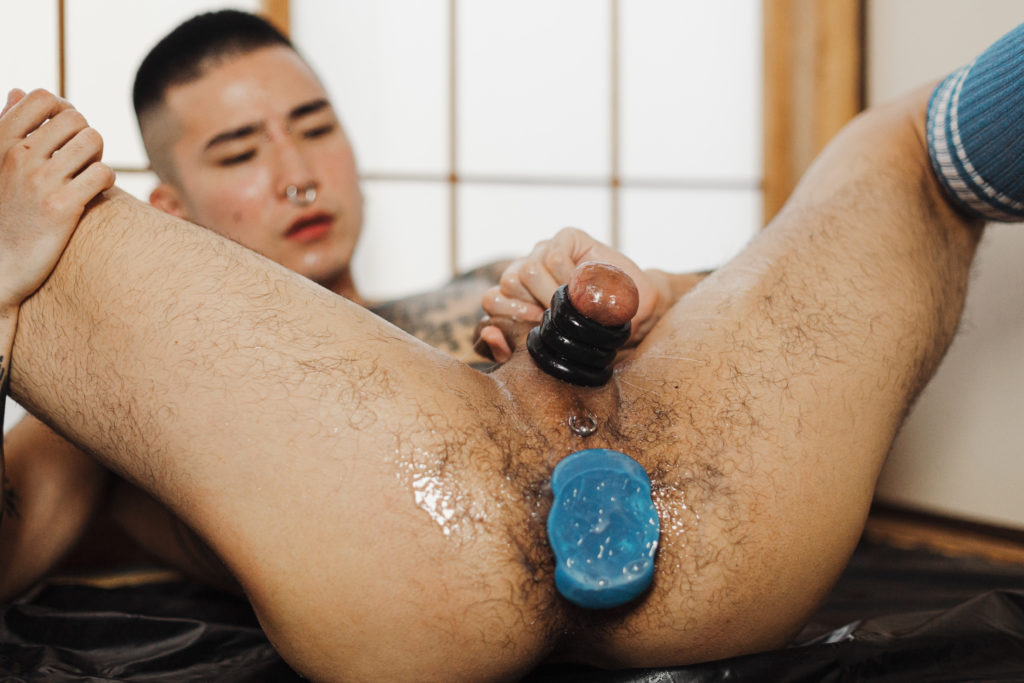 Sounds perfect! We will be looking forward to that, big time! Before you started using PrEP, were you barebacking and can you tell us about that time?
I think if pre-PrEP me could see present me, he would be worried sick because of how much bareback fucks I am having nowadays. To be frank, now I do bareback only. I just think it simply feels better, both as a bottom and a top. Before I found PrEP, I was so cautious about having raw sex, which I think has been the right decision. I always asked guys to put on a condom. Once a condom broke during a session and I stormed off out of his place because I was so scared…now, thanks to PrEP, I wouldn't even go to his place if he doesn't do bareback haha.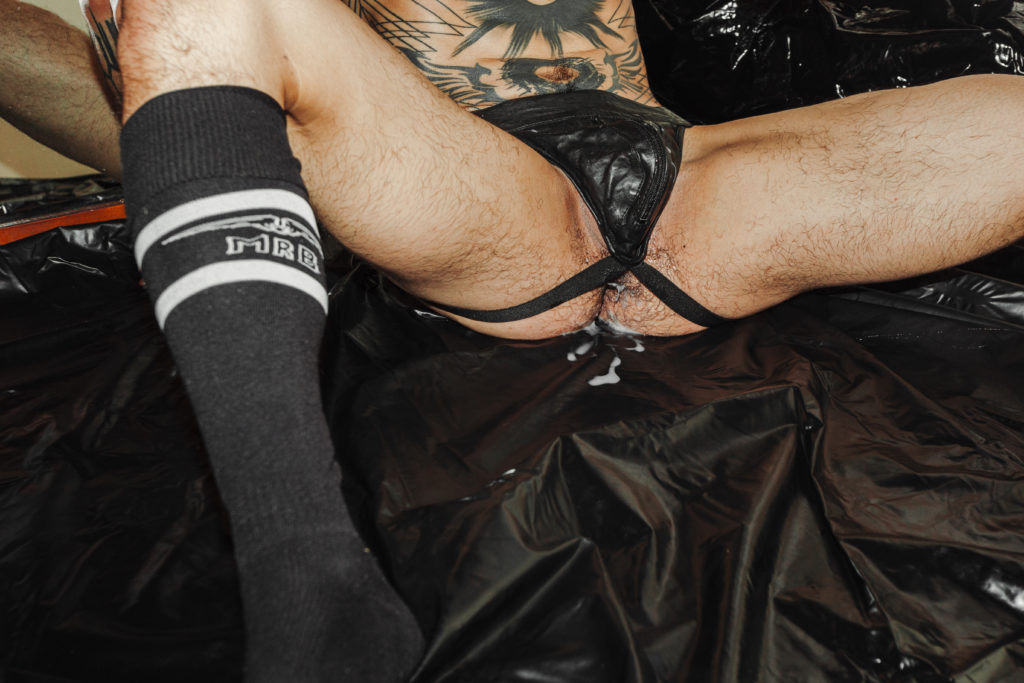 That sounds far too familiar. I think that is a quite common reaction to PrEP. You grew up in and currently live in Japan. For those of us in other parts of the world: can you give us an idea of gay fetish culture and the scene in Japan, or at least of the cities you've lived in?
Japanese people have developed so many unique fetishes such as Shibari, Zentai, Bukkake, Kinpaku, and so on. However, when it comes to the gay fetish scene in Japan, it is very tamed I would have to say. Culturally we are quite closed about both our sex life and the same goes for fetish. These things are treated almost like a taboo for conversation. Also, as far as I'm concerned, the gay fetish community is relatively secluded as well. Even though there are some fetish events in Tokyo, they are nothing like the ones in Europe. However, now that I'm back in Japan, I'm hoping to change the perception of fetish and break the stigma around sex talk!
We understand that sexuality is viewed differently in Europe compared to most of the world, so I'd say that's a great challenge to take on! As you have lived in California and the UK already:  are there any other places on your list where you'd like to spend some time or live in?
I would love to live in Berlin, Germany. Though I really need to be careful with all the temptation because I have been sober ever since I came back to Asia 🙂 Also, Atlanta, USA is on my list to live in as well. I really hope the world gets back to normal very soon and we can all travel the world freely like the old days…
You and me both! 
Thanks for taking time from your slutty day to chat with WINGS! 
To see the latest views and kinky vids from Yoshi Kawasaki go to:
Follow him on Twitter @YoshiKawasakiX