For this issue of 'Watch This Face', WINGS went down on Leather Mister X. Sorry, let's rephrase that: For this issue of 'Watch This Face', WINGS interviewed Leather Mister X – Down Under! As if his thick Aussie accent wasn't enough to make you swoon, this hunk o' spunk also comes with a stunning Yamaha MT-09 motorbike and head to toe leather gear! 
---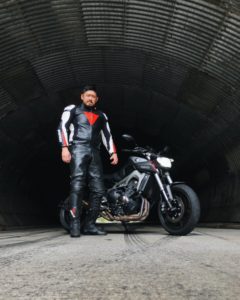 SO, WHAT GOT YOU INTO LEATHER?
"For as long as I can remember, I have seen myself as a very promiscuous person. (That's where the 'X' in Leather Mister X is from – the three x's of sex). I have always had a fetish for leather. Before I actually owned my own leather gear, I would already have kinky sex with leathermen. I attached myself to that identity from an early age, but I didn't financially invest in leather gear until quite recently. It happened two years ago when I first started learning to ride motorbikes. That is when I bought my first leather jacket and all the protective gear. And then I thought to myself 'well, since I have to get leather gear now, I might as well just jump in the deep end and fully commit!' Many people were quite surprised to see my transformation in such a short time within the last few years. It went from 0 to 100, and now it is an addiction I can't shake."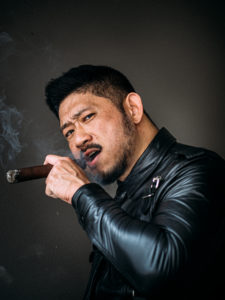 YOUR BIKE IS BEAUTIFUL; SHE COULD TURN ANYONE INTO A LEATHERMAN! AND HOW MUCH IS LEATHER PART OF YOUR LIFE NOW?
"I don't think most leather men can gear up every day. As much as we like the hashtag #gear365 – it's unlikely. Especially in Australia, with summer temperatures reaching over 40 degrees Celsius – it would be impossible for me. That said, it is quite a major of my life. Besides wearing leather when I take the motorbike out for a spin, I will always wear it to social events. It has also happened that I am sitting at home and suddenly really feel it, so I will get dressed up in leather gear and just sit there having a cigar. Although that does sometimes feel a little odd – to be sitting there alone at home, fully leather-clad just puffing away!"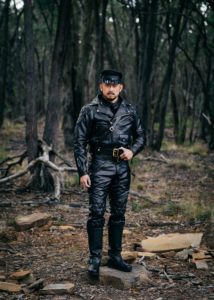 WHEN YOU'RE NOT MISTER LEATHER X, WHO ARE YOU?
"I am Billy. I am originally from Malaysia, but I moved to Australia when I was 19 – so that's about 25 years ago. I was based in Sydney until recently, when I relocated to Melbourne, Victoria. I am currently chatting with you from a guest room, sitting on filing cabinets and surrounded by boxes full of my leather gear! I am actually a ceramic artist. So, I do trade as my full-time job. (He surely serves trade!). Before that, I worked in food photography and always paid a lot of attention to styling. This piqued my interest in making my own plates and bowls for the shoots. I then went on to study ceramics for two years, and now… here I am. Leather-daddy-potter!"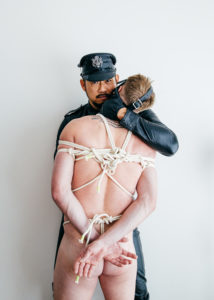 AND A FETISH PHOTOGRAPHER TOO! TELL ME ABOUT THAT.
"I taught myself photography at a very young age. When I started photography, I was focused on portraits and street views, but this never made me any money. It was the food photography that paid the bills, the other stuff was purely my passion project. When I slowly started embracing my fetishes and kinks as a leatherman, I realised that this skill I already had, could open many doors for me. It allowed me to grow into Leather Mister X, meet up with other sexy kinksters and do what I love to do. I definitely prefer to shoot people other than myself, but obviously, it's been hard to meet up this past year. It will get there, though – fewer and fewer selfies! There are a few leathermen I would love to work with. To name a few: Philip Tirgis (the incredible contortionist), Kristofer Weston (the leather daddy) and André Donker (the manager of Mister B's Amsterdam store). They are all very sexy in their own ways.
WHAT IS THE LEATHER SCENE LIKE DOWN UNDER?
"Small! But we make it work the best way we can. Back in Sydney, we don't really have a permanent venue for the leather community per se. So we host a monthly fetish event called The Hide, which I am still actively involved in. We got pretty lucky with those events, which would usually bring in 100-150 people. Most of the leathermen in Melbourne hang out at The Laird, a men-only institution for kinksters, especially on Thursday's 'Spit & Polish' night, with its strict 'no leather, no entry' dress code. As I am still new to the city, I am looking forward to expanding my fetish circle.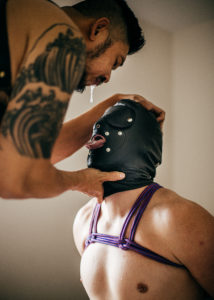 LASTLY, WHAT IS YOUR IDEAL SEXUAL PARTNER AND WHAT WOULD GET YOU INTO BED THE FASTEST? 
"My ideal partner is as insatiable and promiscuous as I am—someone who is not afraid to explore and express themself in kink. Communication is key to great sex. As for what would get me into bed the fastest… I would have to say a hood. A nice leather hood definitely gets me going. When it is playtime, the first thing I would normally do to my sub is put a hood on his head and tie him up so he can't escape. I am really into sensory play, so I like anything that restricts a sub and makes him feel helpless whilst his brain is swimming in darkness with fear, not knowing what comes next. It turns me on the most.
YOU HAVE GOT A REALLY SEXY AUSTRALIAN ACCENT.
"Careful. I'll put a hood on you, and then you'll be forced to listen to it!"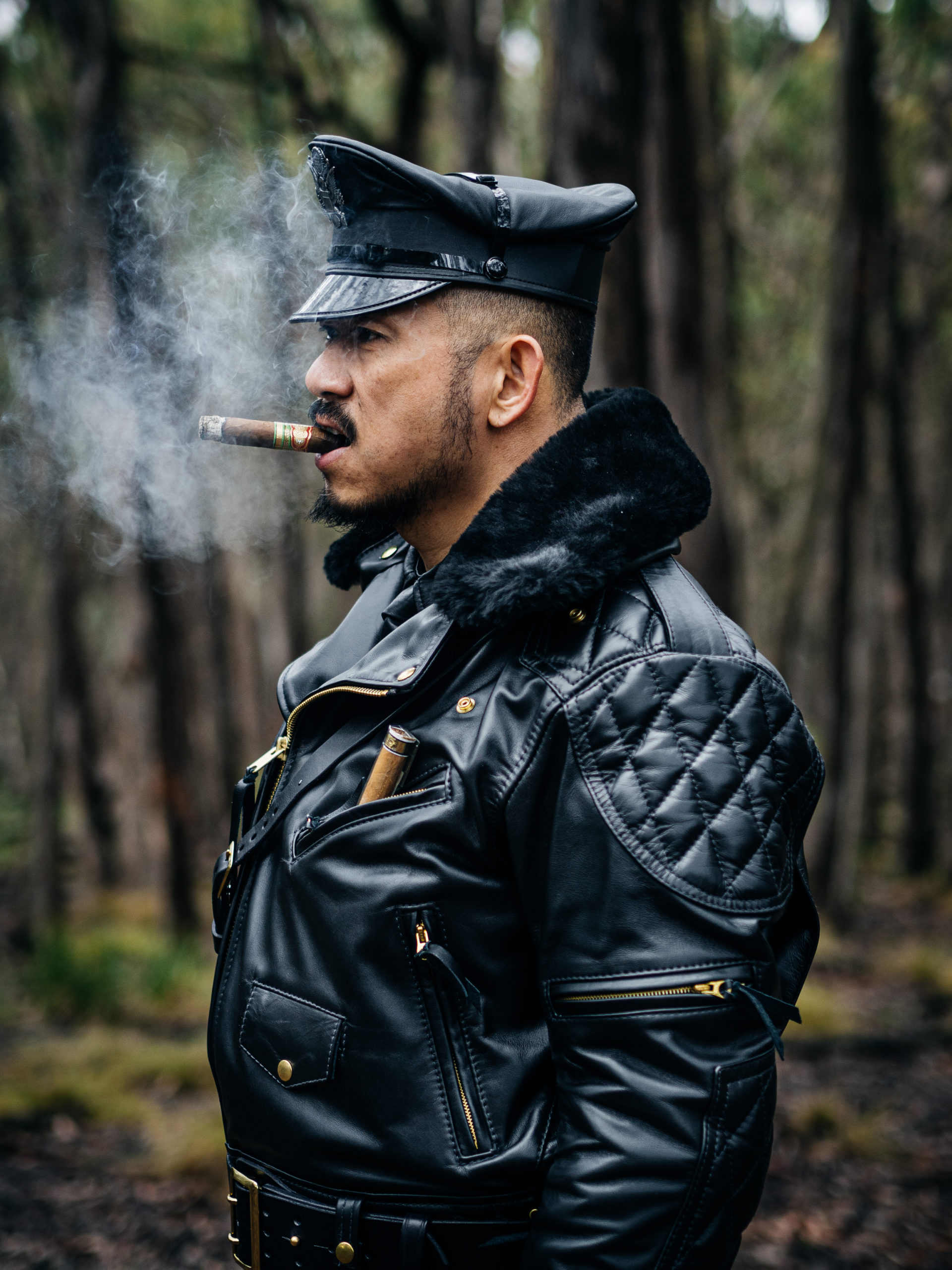 Go check out this hunk o' spunk on Instagram @leathermisterx. His fetish photography account is also deserving of some appreciation so afterwards be sure to head over to @leathermisterxphoto.