Sponsored
Oxballs
BEFORE I START THIS REVIEW, I NEED TO GET SOMETHING OFF MY CHEST: I WOULD LIKE TO SINCERELY APOLOGIZE TO MY NEIGHBORS FOR HAVING TO HEAR ME MOAN ALL NIGHT ON JUNE 17TH 2021. I WAS WORKING LATE – PUTTING IN THAT EXTRA EFFORT, FOR YOU THE READER! – AND I WILL DEFINITELY CLOSE THE BEDROOM WINDOWS TO THE BACK GARDEN NEXT TIME. PROMISED!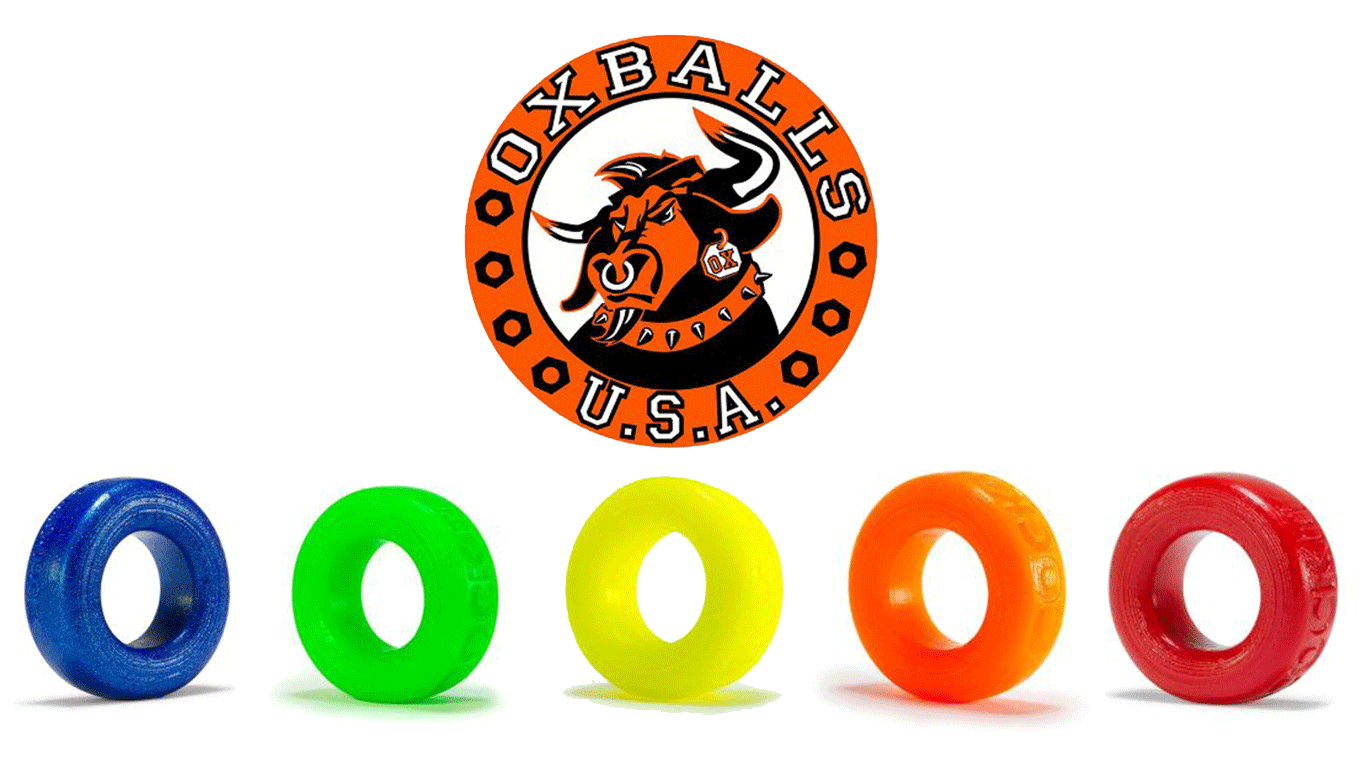 Having said that… 
When it comes to sex toys there's no such thing as enough. You never know what you might need in any given situation (or position for that matter), so it's important to have options! This week my list grew by 5, thanks to my editor-in-chief Tony, who surprised me with a box filled with OXBALLS toys.  
OXBALLS, for those of you unfamiliar with the brand, are shockingly superior sex toys that fit and feel right. They make sex rougher, dirtier and kinkier while looking colourful as fuck. They warm up to your body temperature quickly, retain heat and almost feel like they are part of you, thanks to the silicone of which they are made.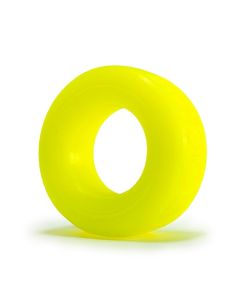 Maintaining an erection is crucial
for a
ny
 good suck or fuck session. The easiest
 way to stay hard is by using a 
cockring
 or a 
cocksling
. My partner and I tried out 
3 
o
ptions
, each with its own benefits. 
I 
started with the 
acid yellow 
OXBALLS 
COCK-T
cockring. This squishy
, 
stretchy toy grab
bed my
 balls and cock gently
 (
yet firmly
)
 and
 its
 thick shape pushe
d my
 package up
,
 result
ing 
in a
 juicy
looking 
bulge
 serving fluorescent fornication realness. 
We also tried the 
ice blue 
OXBALLS 
COCKSLING-2
,
 this toy
combines
 a cockring 
with a
 ball stretcher
. 
It felt comfortable, 
ke
pt my dick
rock 
hard
, 
stretche
d my
 sack
,
 plus 
it gave my partner something to 
hold onto
 while fucking
 me, which 
pushed all the right buttons on that June 17
th
. 
The same goes for the eggplant colored 
OXBALLS POWERSLING
. This 
rubbery 
toy transforms your cock into 
everyone's
 favorite emoji (sort of ;-)) and stretches your balls even more
 (one full inch)! 
Let's get to the good stuff: the part where I'm being split apart and transported to a parallel dimension where neighbours don't exist, screaming in ecstasy, with lube oozing out of my you-know-what! As I mentioned in my last review, I'm pretty new to the wonderful world of anal toys, but I've really started to appreciate the joy they can bring. Dildos for example used to feel intimidating to me, but I'm really into them at the moment. OXBALLS came up with a whole new segment of anal toys called cocksheaths. They're basically hollow dildos that you can stick your erect dick in, with a cocksling at the base that grips your balls and keeps the cocksheath on, no matter how hard you play. And they are really, really, REALLY FUN!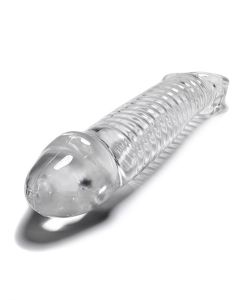 We got to play with two completely different cocksheaths: the clear OXBALLS MUSCLE cocksheath and the space blue OXBALLS INVADER. If you like getting plowed by a fat dick or if you want to put more mass on your cock while fucking, the OXBALLS MUSCLE sheath is the toy for you. While bottoming it felt incredibly intrusive and I really had to concentrate on my breathing; as a top seeing my already huge dick (just stating facts LOL) pressing against the see-through cocksheath and entering my partner's hole over and over and over again was a major turn on. It felt slightly evil and empowering watching the huge head plop in and out; feeling the suction of the toy and the ribbing on the inside stimulating my cock only added to the experience.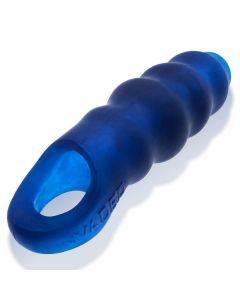 And then there was the OXBALLS INVADER, which made me think of the Trojan Horse just crashing through that city gate, not waiting for the doors to open, ramming its way in. As a bottom, this toy had no respect for my hole and I fucking loved it. It made my day, nay, it made my week. When you're topping it feels like you enter a puss thrice with every thrust because of the wavy ripples on the shaft. The texture on the inside massages your dick and at the end of the toy your cockhead sticks out, so you feel EVERYTHING. If I had to bring one toy to a deserted island (next to my new Masters of the Universe Skeletor action figure from Mattel) the OXBALLS INVADER would be it!  
You can find these and many more OXBALLS toys online at www.misterb.com. On a final note: when you play with silicone toys it's important to use lube. My advice is to use any water-based lubricant because it won't damage or deform your toy. Plus the lube keeps your legs and balls from chafing, especially when they are hairy (been there, done that).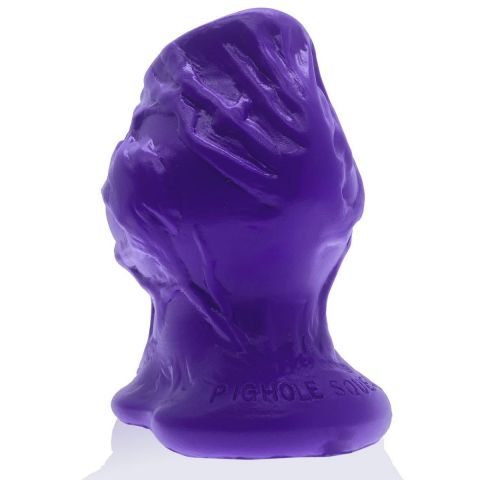 PS
.
 There was actually a 6
th
 toy
 in the box:

the eggplant coloured 
OXBALLS PIGHOLE SQUEAL
,

the company's biggest
,
 pluggable, fuckable, 
fistable
,
 hollow 
fuckplug
, and 
w
a
aaa
y
 out of my league. A friend 
of mine 
volunteered to test it for me with one of his regular fuckbuddies, but – you can't make 
these 
things up – his basement flooded (literally) and he had to cancel 
the
 date. 
I'll review it another time when he has his plumbing fixed, so to say! 
OXBALLS COCK-T cockring.
7.5