"It's our goal to make more sluts!"
An in-depth interview with Topped Toys founders Rod and Michel
Written by Marco Hohl 
Would you like to explore Deep Space*? Then get a Grip* and read the interview WINGS did with Rod and Michel from Topped Toys! It might Spike* your interest. Don't forget to bring your own lube!  
* The Deep Space, The Grip and The Spike are all sex toys made by Topped Toys in Vancouver, Canada, designed to help you explore the limits of pleasure, and available at Mister B.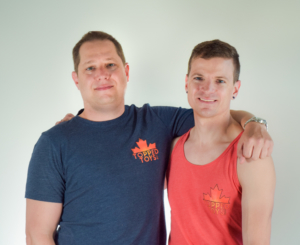 When Rod and Michel started their sex toy company Topped Toys they were looking for something bigger. A plug that could be worn for an extended period of time; a toy that they could enjoy while going on a bike ride or a hike.
Michel: "The idea of wearing a plug all day was pretty new. We found a toy that was the biggest size on the market and intended to be worn for a much longer term, but the design wasn't good. We talked about buying it for months, but we knew it wouldn't be as much fun as we wanted it to be. Finally we decided to design a plug ourselves, which led to the creation of our first toy The Gape Keeper."  
But clearly that one toy wasn't enough for Rod and Michel, who have enjoyed playing with sex toys for decades. They combined Rod's business brains with Michel's design and marketing skills to turn their passion into a profession and Topped Toys was born.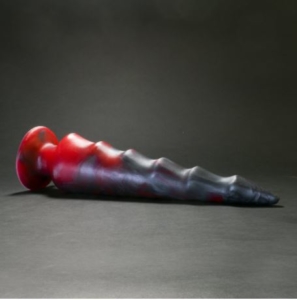 Michel: "We are both very kinky – always were, always will be – and Topped Toys is a reflection of our personal ideology around sex, play and kink."  
Rod: "With Topped Toys, Michel and I want to make fetish and kink available in an open and accessible way to people from all walks of life. We both didn't necessarily fit the classic kink stereotype when we started getting into big toys, fisting and S&M, so we want Topped to be a home for a more diverse group of kinky people, to discover and enjoy their bodies." 
Michel: "To give you an example: we thought a lot about the colors of our toys, which are really bright; 'blue steel' and 'forge red'. We worked hard to come up with attractive colors that don't imply gender. We get requests from customers who would like to see some military or hyper masculine colors, but that's already available elsewhere, and we also don't want to participate in the fetishization of violence. It's kind of problematic in our opinion. It took us a long time to land on colors that could be adopted by anyone." 
Rod: "The red and blue we went with look sexy and beautiful. They offer a good contrast with any type of skin tone, plus it looks great on camera. We like to share pics and videos of what we do in sex and we thought others would appreciate that added bonus as well."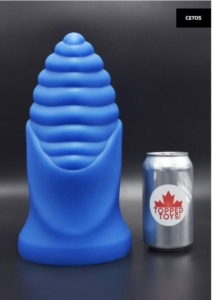 What goes into designing sex toys? 
Michel: "Our toys are always meant to do something. We go into the designing process when we have the need for a specific play experience or feeling. A good example is The Spike, which is a depth toy."
Rod: "Usually depth toys are long and floppy and they don't support themselves, which makes it virtually impossible for one person to use them on their own." 
Michel: "Which is kinda frustrating because training for depth is often a solo project. It's you sitting in a bathtub, covered in lube, trying to get this perfectly smooth, bendy, slippery thing in. You can't grab it, you can't hold on to it, and it just ends up being this incredibly messy experience. We wanted to make the user experience a lot more pleasurable and effective, so we came up with the idea to add bumps to the design. You put the first bump in, hold on to the next one and gradually work your way down, eventually reaching the plug at the base of The Spike. The bumps make the toy easier to hold, and they let you feel your progress. Personally I really enjoy standing up with a toy inside of me; a lot of the pleasure comes from moving my legs and flexing my muscles around the mass that's holding me open. The plug on the base makes it possible to hold onto the toy once it's all the way in. That's exactly what you need if you are trying to relax and open your second ring. And who doesn't want that?"  
Rod: "I think that's what makes us unique; we play with our own toys a lot and test them rigorously!" 
Michel: "We might not have as many toys as other brands, but every toy we come up with is phenomenal, extremely usable and fun. It's our goal to make more sluts, so we have more sluts to play with (laughs)."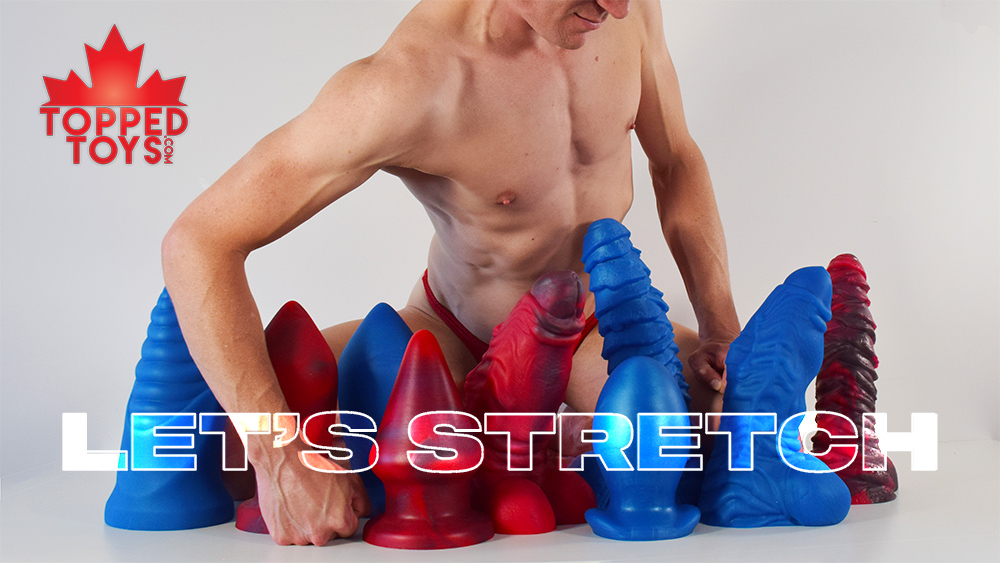 Your love for sex toys must have started somewhere. What was the first plug or dildo that really got you sold on playing with toys?  
Rod: "I'll tell you about this trip I made to Amsterdam in my late teens. I went to a sex shop and almost came in my pants just from seeing all the options available. I bought a relatively simple plug and an average dildo. When I popped them in, there was this dual feeling of misery and pleasure, of 'oh my god what have I done', and then coming… that was so much fun."  
Michel: "The first toy that really got me hooked was The Flint Large by Bad Dragon. It was the first dildo I got that was a challenge, but I really enjoyed the journey of getting there. It was the first toy where I understood how much pleasure they could offer."  

All Topped Toys are proudly designed and manufactured in Canada and Canadian values are an essential part of the company's mission. Every toy features a sticker with a huge red maple leaf and the company even opened its doors for business on Canada Day. Rod: "In a world where it feels like we are going backwards, in terms of freedom and gay rights, we thought something like this coming from Canada is a good thing.
Values like acceptance, diversity and safety are important to us. We don't compromise on safety, so we use medical grade silicon that is made for use in implants or orthopedics; we provide a lot of information on how to stretch and play safely on our blog – nicknamed The Training Center; and we offer product 'sizing' that doesn't pass judgement." Michel: "You won't find any S, M, L or XL on our products – instead we name our sizes simply based on the circumference of the toys, so no one feels like they are too small or too big to play with them. Everyone is welcome. People should feel good about themselves and their accomplishments regardless of the size they're playing with."  
What is the most important thing you've learned about playing with toys?  
Michel: "The best tip I've ever gotten is to take it at your own pace. You have lots of time and you'll get wherever you want to go. One of the worst things I see is when someone pushes themselves too hard – when they've been told it needs to hurt – and it results in injury. We both play at least twice a day and we have a joke between the two of us: if either of us ever gets injured it's the other one's job to take the injured party to the vet to put them down (laughs). Clearly I couldn't survive a day without playing – I would go crazy! So, use a size you're comfortable with, pick a goal, take your time, have lots of fun getting there. And if you can wear a toy comfortably, then move up to the next size!"  
Rod: "The best advice I can give is: think outside of the box. Step out of your comfort zone. Try to play with toys in different positions, wear them around, listen to different types of music to set the right mood and try out different sizes. It makes you reach places that are super fun." 
Do you have some Topped Toys recommendations for our readers? 
Rod: "Definitely check out our toys that have HD Finish, like the Deep Space series. HD Finish gives a slight texture to the plug, which feels amazing when you put it all in and turn it around, plus it grabs lube very well, which is often a problem with sex toys." 
Michel: "The Mordax 115 just came out and it's the first in a series of dildos we designed specifically with the idea of a fuck machine in mind. The toy is Vac-U-Lock compatible – which means you can also use it as a strap on. The Mordax 115 looks like an absolute monster and it will drive you wild when going in."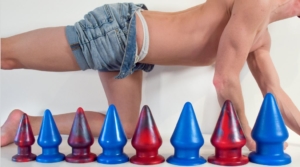 Topped Toys are available on 
www.misterb.com
. You can also buy and check them out in our Mister B stores in Amsterdam, Berlin and Antwerp. On 
www.misterbwings.com
 you can read multiple reviews of Topped Toys by our expert staff, including The Gape Keeper 93, The Grip 126, The Chute 75 and The Spike 70. Get ready to explore your boundaries and push them!