Darklands 2022 was a huge success! It went smoothly and we helped a lot of kinksters have a fulfilling and kinky weekend. Some folks got new leather outfits, for some, a jockstrap to wear to the party and some just needed some lube to take to their hotels or to Shine for their rubber. Either way, we like to think we helped. We had a wonderful team working on this event and we all worked very hard. But it was worth it!
On Thursday we spent the entire day putting the booth together. We had a variety of products and I'd say we had the best-looking booth there, as you'll see from the photos. We had giant banners that wrapped the booth with our new campaign photos and big LED screens that showed hot and kinky videos all weekend long.
Everyone from the Mister B family stopped by the booth at one point, from staff who had the weekend off to enjoy the event, past staff, photographers, models and influencers, folks from other brands and retailers we work with and many loyal customers from across Europe and the world. Darklands is the perfect event to see those who you don't get to see as often because they live far away. Some of the nicest moments for me were when customers remembered me from when they were shopping in the Amsterdam store two and three years ago. It's nice knowing they had such a good experience with us.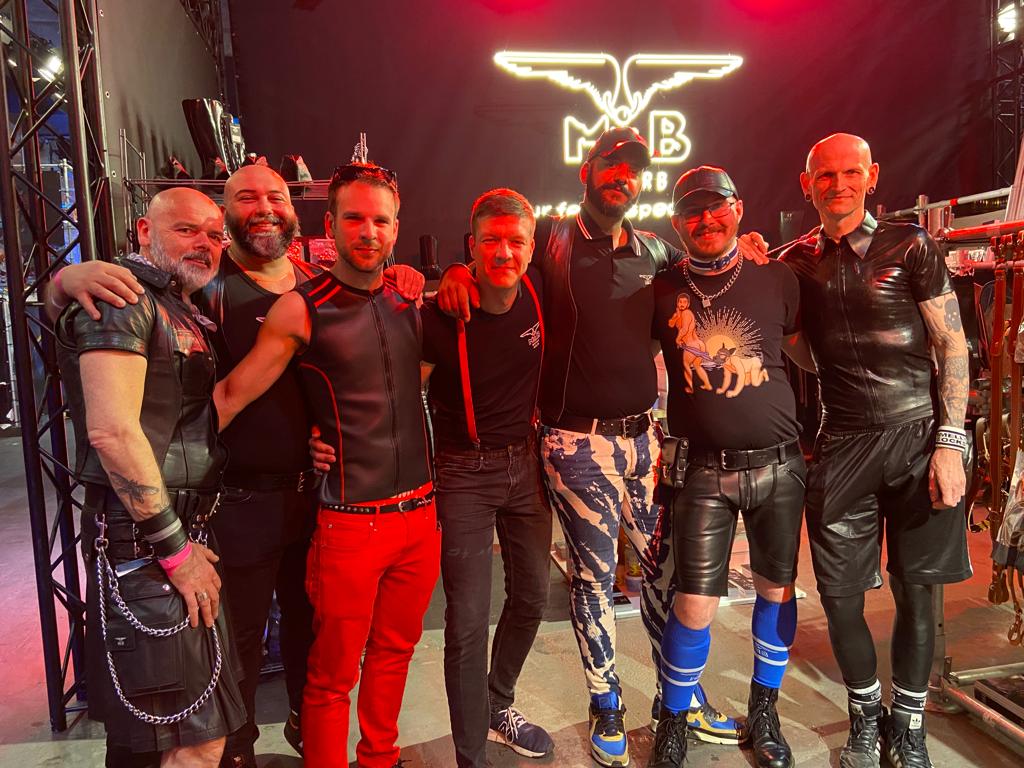 During the day, while the booths welcomed customers, there was a long list of other events happening at different corners of this huge venue. From puppy play-pits to live dildo demonstrations, there was something for everyone all day every day. We had the honour of hosting a few other key points of the weekend, including the Trans Social, hosted by my colleague Max Groen and Alistair LeatherHiraeth, Bootblack Europe 2020.
The days at the market were social, but the nights were, of course, very social too. On Friday, Saturday and Sunday nights you've got amazing parties with top DJs and kinky performers. To be able to do it all both day and night is a lofty goal, but for some it is achievable. For those of us who are… let's just say not-in-our-twenties, it was a daytime-only kind of weekend. So, you'll have to ask for the party review from someone else. But don't worry, I made sure to have fun after hours too, even if it wasn't on the dancefloor.
At Darklands, you'll find that all fetishes are represented as you can see folks dressed in a variety of ways, from full leather or rubber to furries, superheroes and ABDL (adult baby diaper lovers). And some folks were simply nude. It's a wild and welcoming event and a must-see. This was my first time at Darklands, but it most definitely won't be my last.