American hip-hop sensation and part-time philosophers The Black Eyed Peas were faced with a huge dilemma in one of their hit songs from 2005: "Watcha gonna do with all that junk, all that junk inside your trunk?" Ten years later, two young leather men from Scotland found an answer to this important question: "We're gonna become 'Insta famous' and sell calendars with our humps, our humps, our lovely laddish lumps, check it out!"
Paul McNulty (29) and Andres Santana (28) are big in more than one way. This muscular couple from Edinburgh hits the gym multiple times a week and makes sure you stay up to date with their progress on Instagram – where they have a combined following of 304.000 people – and on gay party stages all over Europe  – where they gogo dance until the sun comes up. Wings sat down with these lovable giants for an intimate chat.
 'Andres (l) takes control of Paul (r).' ⇒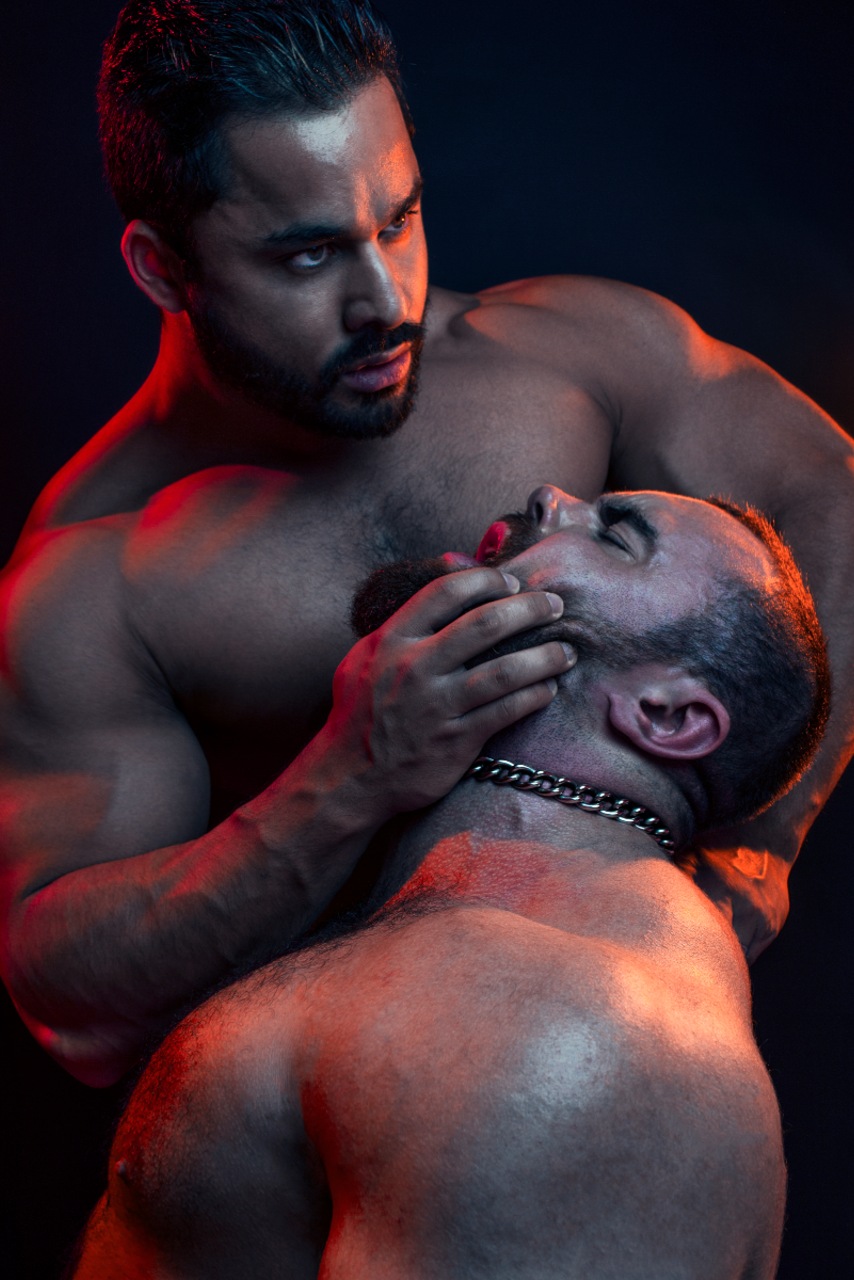 So, gentlemen, how did you meet and what do you love about each other?
Paul: "We met online nine years ago, like everybody else hahaha. Back when it wasn't Tinder and Grindr, but good old Gaydar. I like how laid back Andres is. We have quite similar interests like going to the gym, travelling the world and seeing places. We both want to experience new things all the time. I never had a boyfriend before Andres, so everything new we experience together, which is amazing."
How about you Andres, what do you love about your man?
Andres: "Paul's ass…that's it (he says cheekily)."
Paul: "Then I'd like to add that I love his cock."
Andres: "And he's sweet."
Both of you are 'Insta famous' aka Instagram celebrities. How did you get so many, followers?
Paul: "For me it began when Instagram wasn't even that big. I posted random pictures of workouts and stuff. Then when my body began changing a wee bit I gained more followers. And when I decided to show more flesh it skyrocketed. Basically the more ass you show, the more followers you get."
You started using your Instagram fame to your advantage last year by selling calendars and prints called The Dark Room Collection. They mainly feature Paul in submissive and sexual positions photographed by Andres. How did that come about?
Andres: "Initially we came up with that idea to generate more income. We looked at other popular Instagram accounts and saw that they made a calendar every year, so we thought 'let's do that too!' But we didn't want to reuse old photos, bang them on a calendar and sell them off. We wanted to do something more artistic and homoerotic. Initially, we only printed 100 of them. The first few hours they went on sale nothing happened. Then we pushed it a bit online and we sold our first one, then our second one, and then all of a sudden all of them were gone within a day and I thought 'Fuck yeah.' We sold over 300 copies but stopped sales because sending out the calendars became too much work. I couldn't combine it with my job as a graphic designer. After that, we decided to sell prints from the photos that are featured in the calendar because even in the new year people kept asking about it."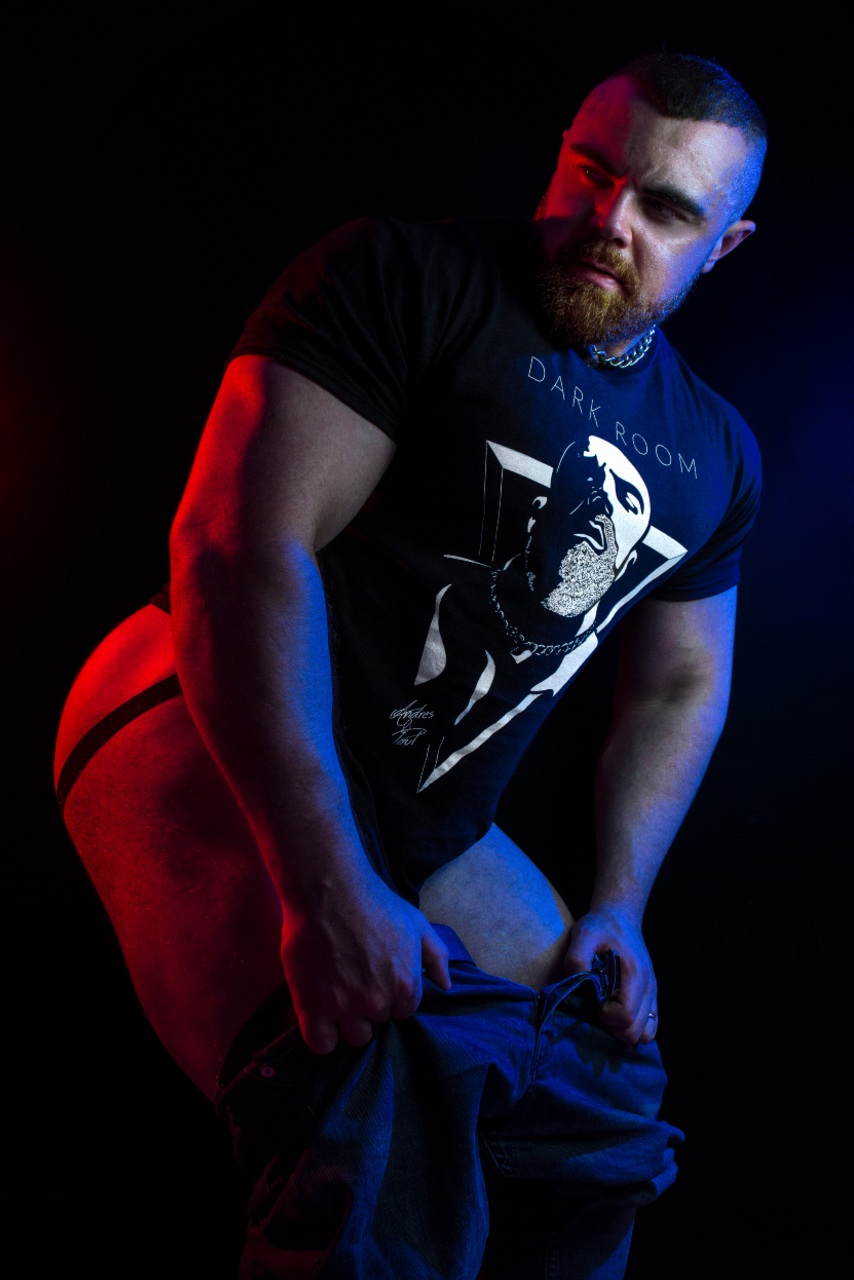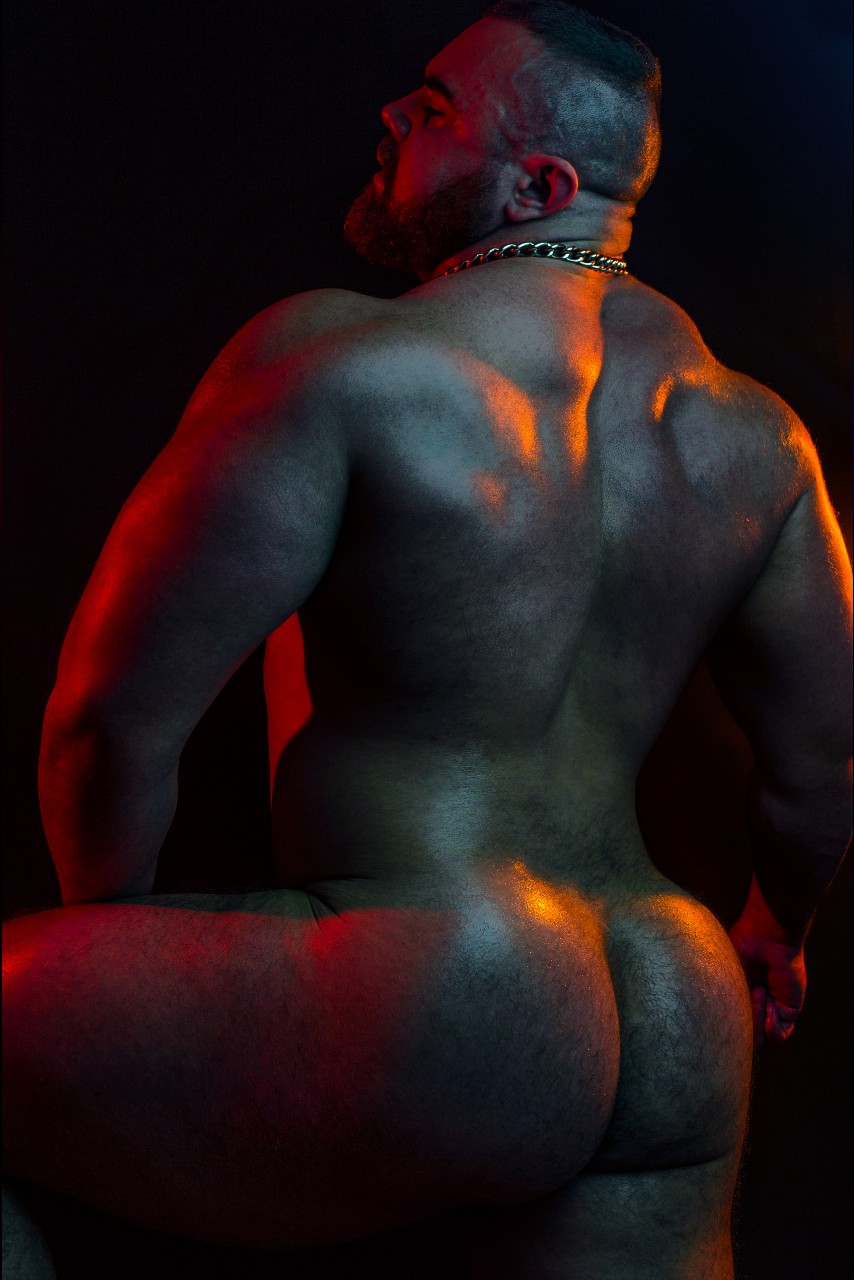 ⇑ 'Paul shows off his best assets.'
Paul, in the Dark Room Collection you explicitly show us your submissive side. Can you tell us a bit more about your fetishes and kinks?
Paul: "When it comes to fetish gear I love dressing up in leather. I always prance around in a harness and a jockstrap at parties. When it comes to sex I love being the sub. But we don't really 'role play' in bed. For me being submissive really is about Andres being the dominator. It's hard to explain how our sexual chemistry works. He doesn't put his feet up on me or anything, but I do have a leash (he says with a big, naughty grin on his face)."
Our readers might have seen you shake your bubble butts this summer at World Pride in Madrid, London Fetish Pride and/or Mykonos Pride, to name but a few of the events you attended. How did your international gogo dance adventures start?
Paul: "Well, we found out that you don't necessarily need to be a world-class dancer to be a gogo. In our case, all it took was a huge following on social media and the ability to shake our asses (they both laugh at this). The first time we performed was in London. Scruff – the app – was throwing a party and they were looking for beefy guys to host their night and do some dancing on stage. We got a message on Instagram asking if we 'would be up for it?' For us, it felt like the first step and soon after we were hired to dance at the main party of Madrid Pride last year. Since then we've been ambassadors and dancers for the WE and Macho parties and danced at events like Darklands in Antwerp. The really commercial parties usually look for dancers with six-packs and shaved faces. We mostly get booked for the 'male only', fetish and bear parties."
In closing, is there anything you would like to tell our readers or your Instagram followers?
Paul: "Well, we get a lot of messages from guys who saw us perform in a club, but who were too shy to come over and say 'hello' to us. But we're actually really friendly, we might not look like it sometimes, but we are!"
Andres: "Yeah, I sometimes have a severe case of 'resting bitch face', which makes people think twice before approaching me. But if you have an interest in us, just come up and say 'hi' and talk to us anytime. We love meeting new people."
Paul: "Well maybe not 'anytime'…at the end of the night we might be too tired hahaha."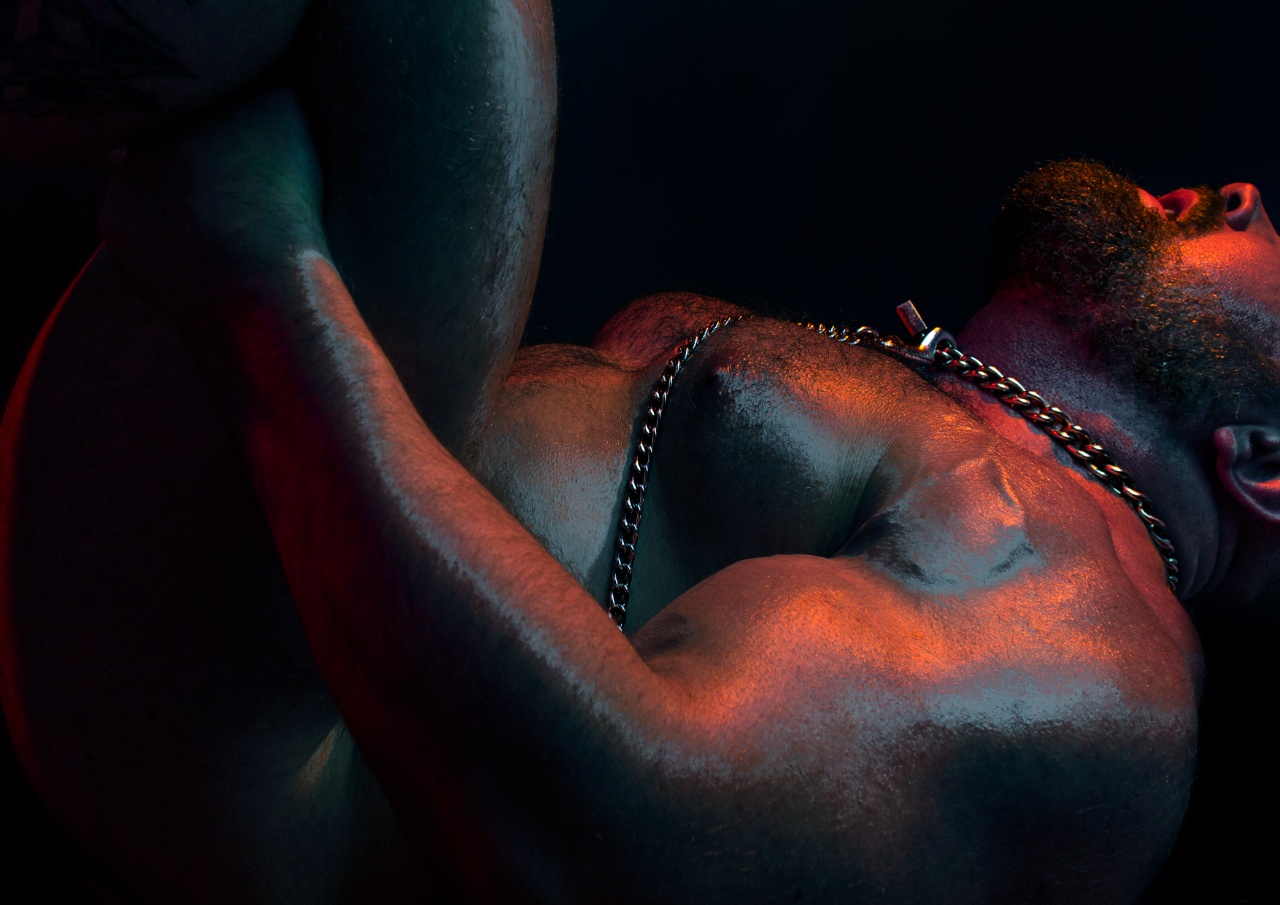 WANT TO KNOW MORE ABOUT PAUL AND ANDRES?
Follow Paul @djpjm1 and Andres @thesan_edin on Instagram and check out DarkRoomCollection.com for their posters, prints and tons of other fun stuff!
Photography by: Andres Santana