Mister B at Unleashed!
January 3rd Paradiso Amsterdam , Mister B is collaborating with the renowned international fetish party Unleashed for their New Year's party.  Mister B will be hosting the Upper Room with their favourite Dj's, sexy dancers and kinky performances. Like Logan Moore, Dennixx, Nereida Deadlysin and much more. As you would expect from us, there will also be a fully equipped MEN ONLY play area on the Balcony next to a Mixed dungeon in the basement. For our line-up we invite local legend Bo Monde (Club church, Life ball, CSD Cologne) and the amazing William Sizen Bell from Manchester (Damage ,Mister B Playgrounds, RAW, Crash).
UNLEASHED Amsterdam
PARADISO | 23:30 till 05:00 hrs
Friday, January 3rd 2020
UNLEASHED NEW YEAR PARTY at PARADISO!
Amsterdam's wildest party as never seen before!!!
With great pride and pleasure, we announce our grand New Year 2020 celebration will take place in one of the world's most famous and beautiful venues, Amsterdam's center of art, music and nightlife culture, PARADISO Amsterdam.
Celebrate New Year's party in our International gathering, inviting UNLEASHED followers from all around the world to the CHAPEL OF LOVE AND LUST.
Promoting freedom, transformation, music, nightlife, culture, passion, creativity, genderosity and more than all… all kinds of love.
International guests | Glorious models & Mistresses | Chill-out zones | Entertainment equipment | Dungeon & Play areas | VideoArt visuals | Changing area & Lockers.
UNLEASHED parties fuse straight and gay with an attractive crowd that is looking for fetish fantasies in complete freedom and festive spirit; we invite you to UNLEASH your desires.
ARE YOU READY TO CELEBRATE WITH US?!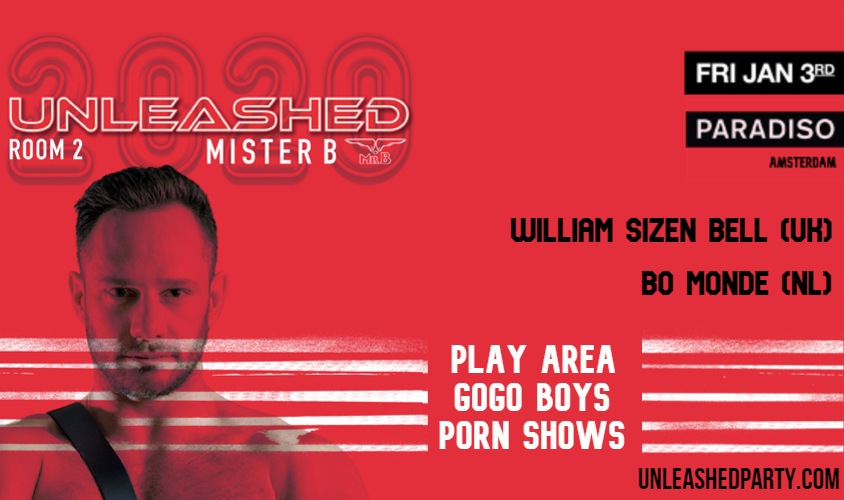 ▬▬▬▬▬▬▬▬▬▬▬▬▬▬▬▬▬▬▬▬▬▬
TICKETS
Early Bird | Sold out
Regular | €42 (Ex-fee)
➠ Ticket link: https://eventix.shop/xvqa2gen
Door | €50
DJ LINEUP & SHOWS
▬▬▬▬▬▬▬▬▬▬▬▬▬▬▬▬▬▬▬▬▬▬
TBA
DRESS CODE
▬▬▬▬▬▬▬▬▬▬▬▬▬▬▬▬▬▬▬▬▬▬
Leather, rubber, pvc, lingerie, cross-dress, mini bikini, metal, elegant (complete suit dark), fetish-glam, medical, fetish-goth, burlesque, body art, sensual, corsets, incognito masks, bondage, erotic dark, transformation, drag, cyber, fantasy, uniform and fetish steam-punk – No street clothes.
The dress code is checked by our door host; the decision is final. Please respect the dress code, no refunds at the door for non-adequate dress code. No (phone-) cameras allowed.
Info & E-tickets: www.unleashedparty.com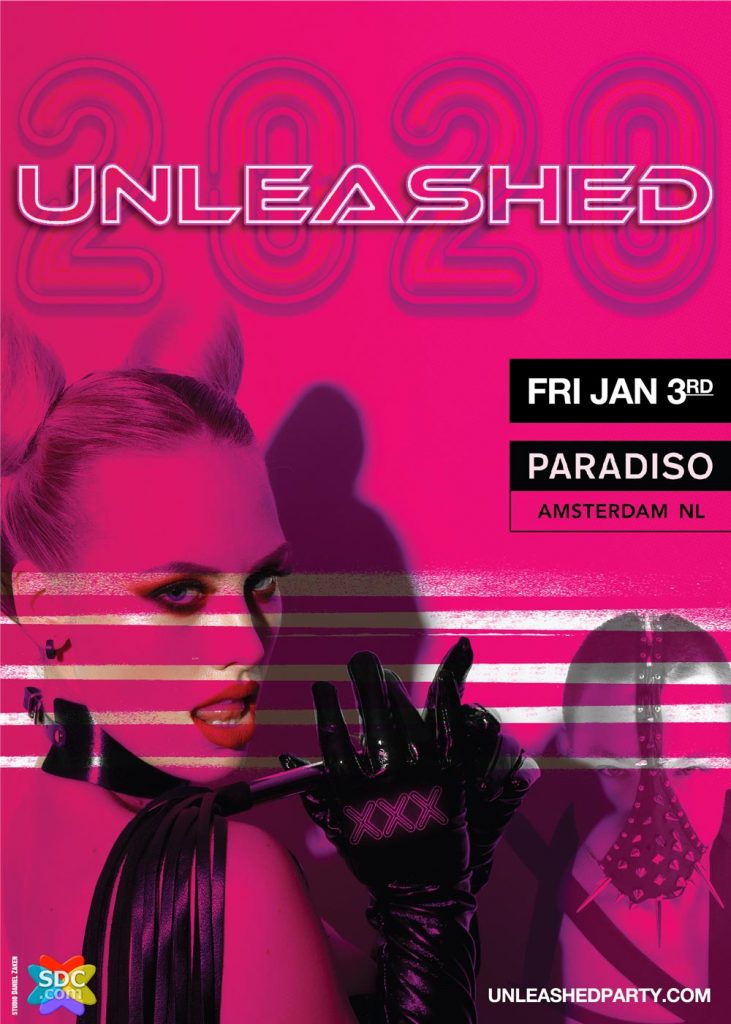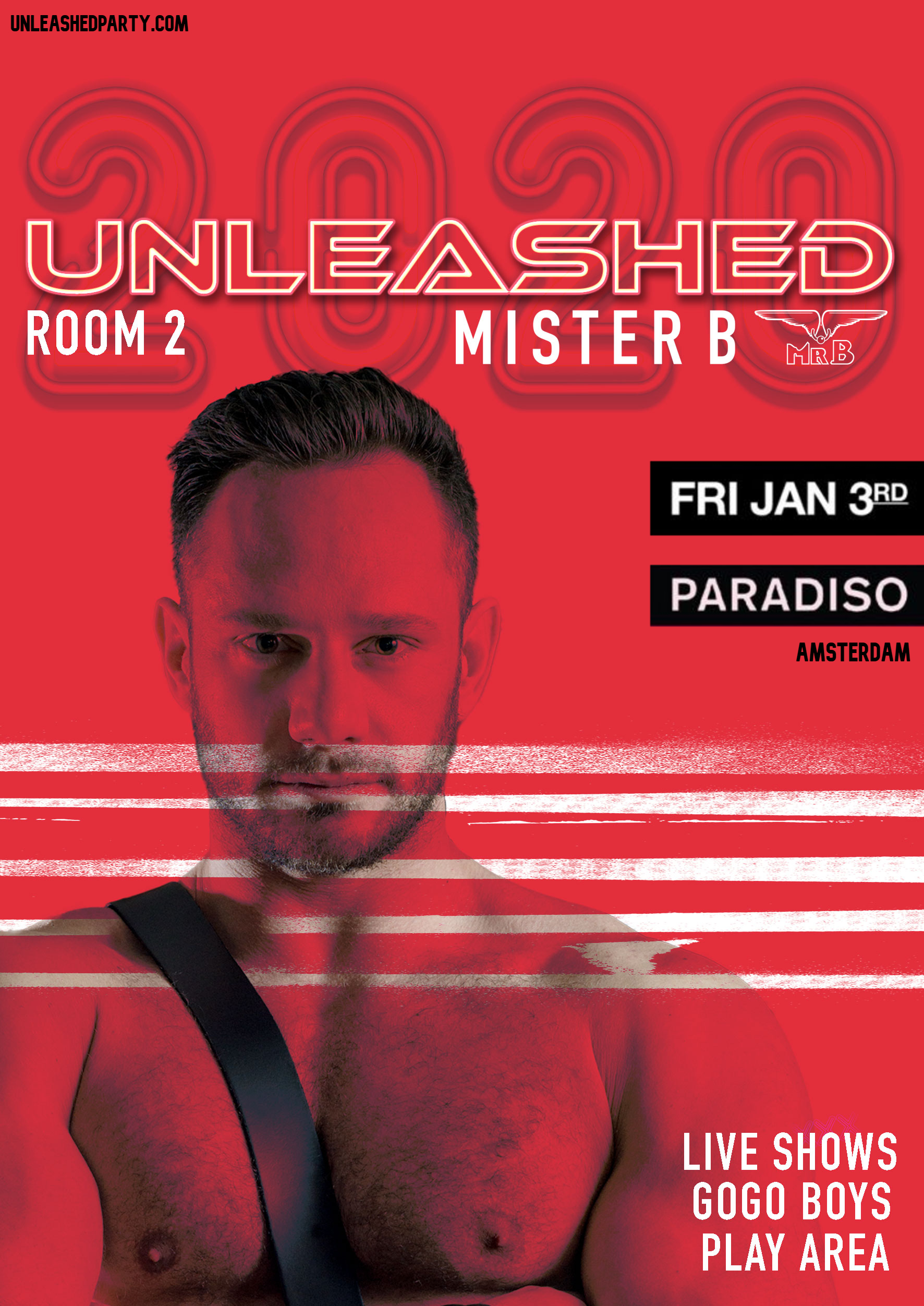 PARADISO, Weteringschans 6-8, Amsterdam, Netherlands
About PARADISO
On March 30th, 1968 'Cosmic Relaxation Center Paradiso' opened its doors. The goal was to offer an open place for creative talent. From this day, the church building on Weteringschans was a place that attracted youngsters, audiences and artists from Amsterdam, The Netherlands, Europe and the rest of the world. In the 40 years that followed, Paradiso has become a pop venue, a club and a cultural center in one.