An interview with Mister Fetish Finland 2022
Eero Lahti is fairly new to the fetish scene. The 27-year-old kinkster professed his love for all things leather a little over 1,5 years ago, but that didn't stop him from becoming the current Mister Fetish Finland. WINGS sat down for a tête-à-tête with Eero, to find out what his plans are for the coming year, and what it means for him to win the title.
Congratulations on becoming Mister Fetish Finland 2022. Why did you decide to take part in the contest?
"Thank you! I have had an interest in leather and fetish since I was 12 years old. That interest has been growing and blossoming inside of me for many, many years. Around 1,5 years ago I was finally ready to come out of the fetish closet. I get a lot of feedback on Instagram, where I talk about different topics that are on my mind, from having had a burnout, to facing my fears. I also talk about my own journey into the world of fetish. I receive very deep and personal messages. Guys tell me that they are into leather, but that they are afraid to go to parties, or they talk about toxic behavior in the scene. It means a lot to me that they share their stories. I felt the need to represent these guys who are just starting their fetish journey and the ones who are struggling to come out, just like me. I have a notebook full of ideas for MSC Finland, the fetish club that organizes the competition. I talked to a lot of members and listened to their wants and needs. Those are the main reasons for me to take part in the competition; to turn the vision that I have for the club into a reality."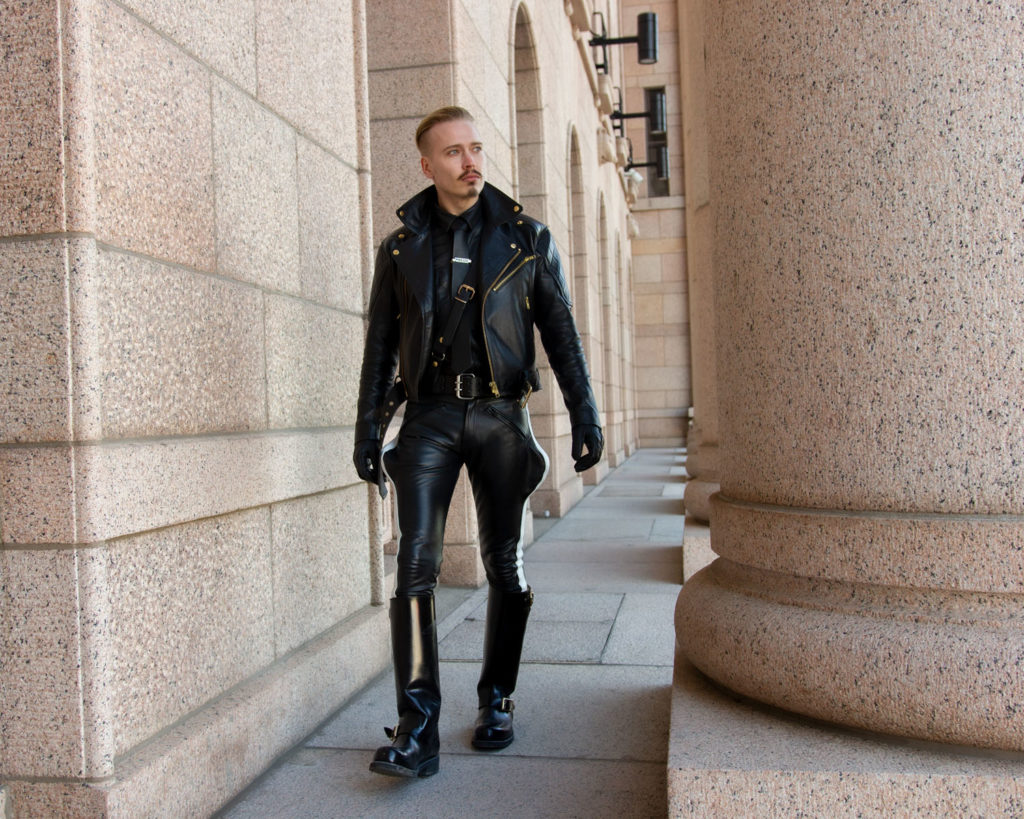 What does winning the title mean to you?
"Usually multiple MSC Finland members compete, but this year I was the only one who applied. Finnish people can be shy, or they don't like to be in the spotlight. During the pandemic a lot of guys isolated themselves; I think that also played a part in me being the only contestant. I was nervous about having to compete with others, but being the only one felt even worse. The MSC members still had to say 'yes' or 'no' to me becoming Mister Fetish Finland. Everyone I talked to seemed certain that I would be elected, but I wasn't so sure at all. It turned out to be an amazing night. People said some wonderful things and they praised me; all of them screamed 'yes'. I have never felt so accepted in my life."
What are your responsibilities as Mister Fetish Finland? Do you have any plans?
"My main responsibility is to be there for the club members and make sure that they will have an amazing year. I am starting a new concept. I will host pre-drinks before the MSC fetish parties for guys who are interested in kink, but who are too afraid to go to the club all by themselves. It will make it easier for them to take their first steps into the fetish world. It is a great way to show them how much fun it can be. Two weeks ago the previous Mister Fetish Finland and I hosted a similar event for young kinksters and they really liked it. I am also planning an art exhibition during Pride in Helsinki. The theme is 'fetishists = humans'. It will showcase work from talented Finnish artists, and it will feature my own photography of fetish guys and HIV positive men doing regular things, like buying flowers or working remotely from home; one of my goals is to show that fetishists are not sex driven perverts, but guys with regular lives that enjoy being in gear."
Let's talk fetishes. What turns you on the most?
"Leather. Boots. PVC. I really enjoy seeing guys in rubber. I have tried rubber myself and I love it. But because I am quite thin, it is difficult to find anything that fits. Everything needs to be custom made and that is expensive; but I am ready for it. I am open to pretty much anything. This spring I am planning to visit one of the Mister B stores for the first time. As Mister Fetish Finland 2022 I won a Mister B voucher. It is a lifetime dream to own leather pants by Mister B; I might even leave with more than one pair after my visit to the store."
Can our readers meet you at any of the upcoming fetish events?
"I will go to Darklands in Antwerp and Folsom in Berlin. I have never been to events abroad, and I am still trying to figure out where I should go. I would like to visit a couple of European cities for Pride as well. It is all very exciting. It is going to be a lot of fun. I am probably going to be in a corner; shy and not talking to anyone. But my friends think guys will be all over me. And I am like: 'Me? No way!'"
You can follow Eero on Instagram @leatheero. And if you see him during Darklands, Folsom, or any other event for that matter, go up to him, say hello and lure him out of the corner. He is a lot of fun to talk to!