Most Bavarian men squeeze themselves in traditional 'lederhosen' quite regularly from an early age on. When Stefan aka Hyper939 from Munich was a teenager he discovered he liked his clothes even tighter and shinier. Wings had an OPEN HEARTED chat with this super charming and handsome 28-year-old about his life, his preference in beer and his love for all things rubber.
Stefan, I would really, really love to talk to you about your job as an international advertising manager, but I think it might be more interesting for our readers to immediately dig into the important stuff – hard facts and such – like what's that beer you are drinking right now?
"It's a local Bavarian beer from the sticks (he laughs), 50 kilometers outside of Munich. It's called Tegernseer and all the locals like it."
So, now that we know what you do professionally and drink for fun, we can finally (!) talk about your kinks. What are you into?
"I'm into rubber and latex. On others and on myself and I'm really into full coverage. It's about the guy who is in it first, but there should be as much material as possible for me. I have always liked people in tight outfits like cyclists on television. I used to take part in swimming competitions and loved the feeling of the caps we had to wear. I was a horny teenager when we got the Internet at my parents place. So I started browsing pictures and came across photographs of people in rubber outfits and I thought 'oooh, that looks interesting, I wonder what it is.' And after some more research (he laughs again) I bought a pair of rubber chaps and a rubber top. I was 17 at the time. I got them in one size smaller and it worked out because they were very tight. I would wear them late at night or whenever my parents were gone for the weekend. It was all very secretive and I think that added to the excitement."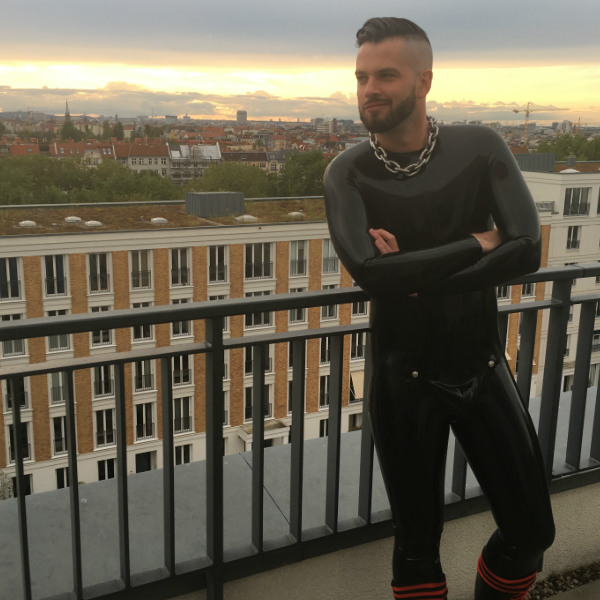 What's the appeal of wearing rubber for you?
"You turn into a superman or a comic book character when you wear it. It's not something you see on the street everyday or not yet anyway (he says with a hopeful smile). It makes you feel special. Because of the tightness you are constantly aware that you are wearing something different than other people. You move differently. I also love the look of other people wearing it and being confident about it. It's about the smell of the material, about touching and feeling it. I love when people approach me and start asking questions about what I have on."
How does wearing rubber and latex tie into your sexual kinks?
"That's difficult to say. It depends on my mood really. Sometimes you feel a bit subby or dominant and you let your partner know or your partner lets you know. But generally wearing rubber or latex is already enough for me. I want to be social in it or I want to wear it around the house. Have some 'me time' in it. And sometimes you want to go for the full thing: all night, the next morning, afternoon and evening and maybe even the day after."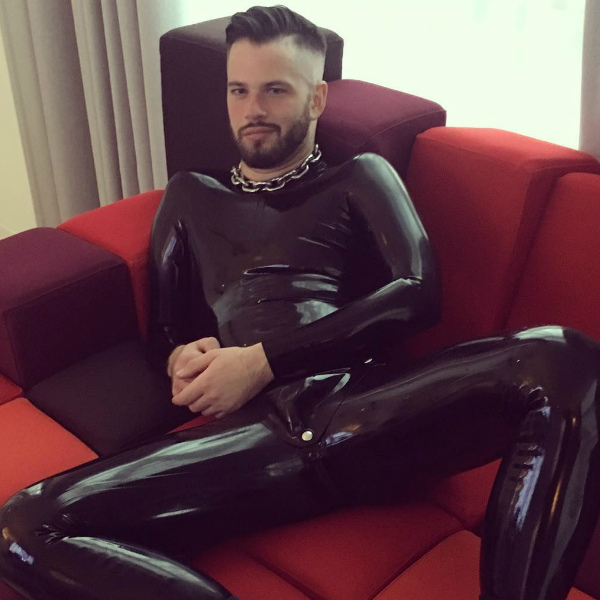 What's the best experience you have had in rubber?
"There are plenty of good times, but the best one might sound a bit cheesy. One of the first pictures I ever saw on the Internet of someone wearing rubber was of a super fit guy. He looked cool and hot at the same time. I actually tracked down the outfit that he was wearing and bought it for myself. That picture became the main photograph in my 'wank bank'. Then one evening I went to a club wearing the outfit, minding my own business, and then wooooooosh there was this guy from the picture and he was even wearing the same outfit. I couldn't believe my eyes. My fantasy had suddenly become reality. That was nine years ago and now he's my husband (he smiles proudly). He's sitting in the next room on the sofa. Shit became real (he laughs)."
Good for you! What an amazing story. It must be fun to share your fetish with your significant other…
"It absolutely is. I can't imagine how it would work otherwise. When you're out in rubber, it's sometimes very serious and butch, but there are also a lot of silly bits. Slipping in the shower in a puddle of silicone oil or not being able to get of your shirt off and asking (in a high pitched voice) 'Honey can you help me?' I enjoy that."
People can check your many looks in rubber and latex on your Instagram account. You take all of the photographs yourself (#spotthehiddenremote). Have you ever considered publishing them?
"I mostly take the pictures for myself. I like to have memories of really good days when I'm wearing my gear. It's nice to flick through the pictures on my phone when I'm bored at work for example and think 'wow, I really enjoyed myself that night'. I started putting the photographs on Instagram to show people it's a normal thing to do. One time some friends and I did decide to publish a little calendar with artsy pictures of us dressed in rubber for a local charity. I printed out a couple of the pictures at my parents place, but forgot to take all of them. My mom found some that I had left behind and she was a little shocked by what she saw. She wasn't sure how to talk about it. So she came up to me and told me 'I just want you to know that I'm not going to iron these clothes for you' (he laughs)."
To wrap up this interview tightly, do you have any party tips in Munich for your fellow fetishists?
"Every first Friday of the month there's a little gathering at Sub – our local gay center. The bar staff dresses up in fetish gear and they want you to do the same. But you're also welcome if you don't have anything to wear, but are interested in the scene. My friends and I are there quite regularly. We also have a great fetish club called the MLC that hosts a party called The Underground. The great thing is it's run by the community, the prices are low and they're supporting a good cause. Check it out when you're visiting Munich!"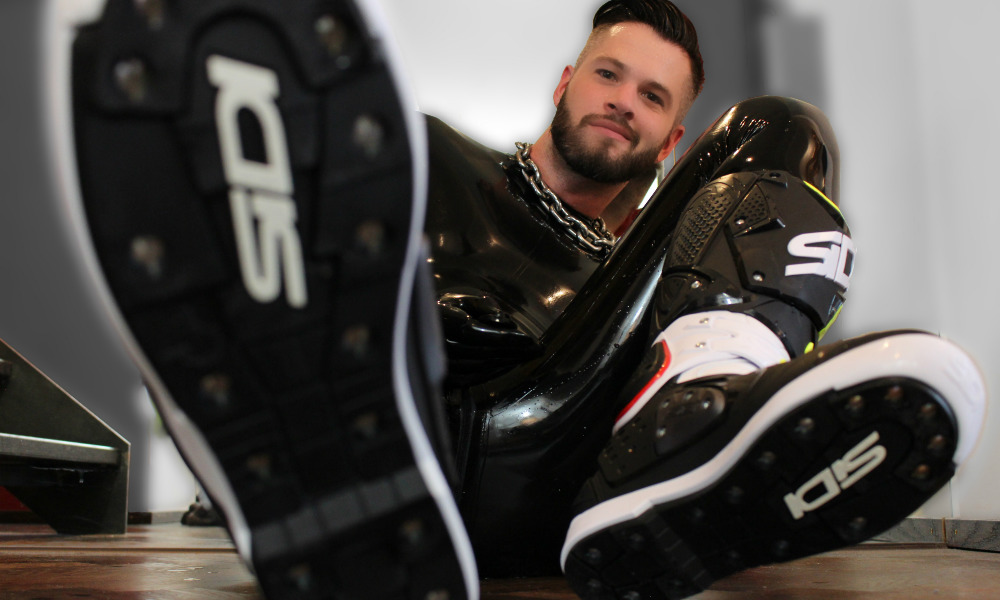 Want to know more about Stefan? 
Check out his Instagram @hyper939

Photography by Stefan Göppel.